Book cheap hotels in Réunion
La Réunion is a piece of France in the middle of the Indian Ocean. La Réunion can be described as an idyllic island in the warm azure water between Madagascar and Mauritius. It is a very luxurious island with wonderful restaurants and exclusive resorts. Striking about this country is that it seems as if you are in France. So you can pay with the euro, you can buy French cheese and baguettes and you can drive on well-maintained asphalt roads. However, there is an important difference with France. You can enjoy tropical temperatures here. You will also find breathtaking mountain landscapes, glittering waterfalls and one of the most active volcanoes in the world. The Piton de la Fournaise has erupted more than 150 times since the first measurements in 1640. La Réunion is therefore a sought-after destination for an active holiday, with over 1000 kilometers of well-marked trails for walkers, mountain bikers and horse riders.
Do you want to go to Réunion? It is a wonderful destination. There are many reasons: a wooded area, delicious food and drink, architectural landmarks and a very warm culture. You can choose from numerous hotels. There are quite a few budget hotels from €69,00 per accommodation. Do you want a luxury holiday? Then the prices rise towards €167,00 per overnight stay. You can enjoy a sun holiday here. It is also a beautiful country in winter. Book your own hotel room in Réunion right way! Compare the providers below and find the best deals.
| | |
| --- | --- |
| Country | Réunion |
| Capital city | Saint-Denis |
| Average hotel price | €162,00 |
| Official language | French |
| Currencies | Euro (EUR) |
| Best travel time | January to March |
| Population | 974.052 |
| Area of the country | 2517 km2 |
| Time zone | GMT+4 |
| Flag Airline | Air Austral |
| Central Airport | Aéroport de La Réunion Roland-Garros (IATA:RUN) |
| Government website | www.en.reunion.fr |
Handy travel information
Are you planning your trip to Réunion? Below we offer some practical information. The capital of the country is Saint-Denis. The national currency is Euro (EUR). The Réunionese time zone is GMT+4. People speak here in: French. The current population is about 974.052 inhabitants. The total land area is 2517 km2. Most important information about electricity: the voltage is 230 V, 50 Hz and the socket type is C / E. The country code is +262.
Compare best hotels in Réunion (December 2023)
The best regions for your hotel stay in Réunion
Réunion has beautiful areas to spend a holiday. Please select one of the available regions below. You can then read additional details and research the different hotel offers. Also check out hotel accommodations in Northern Ireland or Colombia.
Populaire plekken in deze regio: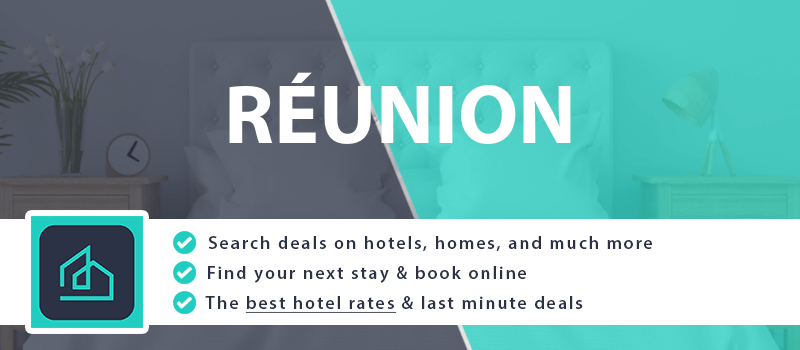 ---
Details about public transportation in Réunion
Réunion has good public transport facilities. A popular airport in this area is Aéroport de La Réunion Roland-Garros. Good transfers are available. The national airline is Air Austral. They fly to different destinations. Also research the last-minute deal options. Via www.en.reunion.fr you can find more information about: tax for tourists, laws and regulations and the (passport) visa application process.
Regular hotel rates
Réunionese hotel prices depend on many factors. We place a price indication in the next scheme.
| Accommodation type | Prices |
| --- | --- |
| Budget accommodation | €69,00 |
| Common room | €162,00 |
| Luxurious accommodation | €167,00 |
| Full weekend | €486,00 |
| Dining (per person) | €36,00 |
Basic rates for an hotel stay in Réunion
Climate & Weather Forecasts December 2023
Réunion is a versatile country. We define the climate as a Tropical dry savanna climate. The normal annual temperature is 24,0 degrees centigrade °C. In the winter months it is slightly colder. It is then an average of 22,0 degrees Celsius °C. It is warmer in the summer period. Arround 26,0 degrees Celsius. In the table below we show the weather forecast for this week.
{{current_weather.dt | momentjs( atts.date )}}
{{current_weather.temp | temp}} °{{units}}
{{day.dt | momentjs(atts.date)}}
{{day.temp | temp}} °{{day.temp_min | temp}} °{{units}}
{{current_weather.temp | temp}} °
Humidity: {{current_weather.humidity}}%
Clouds: {{current_weather.clouds}}%
Wind ({{current_weather.wind.deg}}): {{current_weather.wind.speed}}{{units_wind}}
{{current_weather.desc}}
{{day.dt | momentjs(atts.date)}}
{{day.temp | temp}}°
{{day.temp_min | temp}} °