Book cheap hotels in Colombia
Are you looking for the best hotels in Colombia? It is a beautiful holiday destination. This country has a lot to offer: a beautiful nature, good restaurants, monumental buildings and a very warm culture. Hotels are available for every budget. The most affordable budget hotels are available from €24,00 per night. Do you want a more luxurious room? Then you pay an average of €84,00 per overnight stay. A sunny holiday is very popular here. But it is also crowded in winter. Book your hotel room in Colombia without hassle via the internet. Choose one of the hotel providers and get started right away.
| | |
| --- | --- |
| Country | Colombia |
| Capital city | Bogota |
| Average hotel room price | €47,00 |
| Local language | Spanish |
| Official Currency | Colombian peso (COP) |
| Busiest travel time | December to February & July – August |
| Population | 51.874.024 |
| Land area | 1138910 km2 |
| Timezone | UTC−05:00 |
| Leading airline | Avianca |
| Large Airport | El Dorado International Airport (IATA:BOG) |
| Government website | www.estrategia.gobiernoenlinea.gov.co |
Handy travel information
Are you booking a hotel for a trip to Colombia? Below we offer some practical information. The capital city is Bogota. The national currency is Colombian peso (COP). The Colombian time zone is UTC−05:00. The most common language(s): Spanish. The country has approximately 51.874.024 residents. Its total land area is 1138910 km2. Information about power and electricity: the voltage is 110 V, 60 Hz and the plug type is A / B. The phone code is +57.
Things to Do
For picture perfect beaches you'll want to head to San Andres & Providencia. The two islands are home to some of the best beaches Colombia has to offer. Throughout the year, the shores of these islands are coated in sunshine and warmth, making them ideal for sun-seekers and ocean-enthusiasts.
If it's snow you're after, head to El Cocuy. It requires a bit of skill and determination to get there though. A challenging hike leads you up towards this snowy winter wonderland – something totally unexpected in Colombia.
Wildlife watchers will want to check out the Amazon River. It has snaked its way into the dreams and hearts of explorers and adventurous travelers for many years, housing the wildest form of nature in its truest state – with about 4,200,000 m 3 per second pumping its way into the Atlantic there is no way man could contain it. Nuqui is another attraction for nature-lovers – between July and October each year hoards of humpback whales swim to the coast of Colombia (Nuqui).
For some tamer time outdoors, head to the Tayrona National Park. Beautiful beaches wrapped in marvelous mountains filled to the brim with coconut trees – a cheap, dream-like trip, if you can get through the hike to find it.
If you like the National Park, you will also appreciate the Cocora Valley, nestled in the middle of Colombia's coffee region. It's a quaint village that offers a trek through wax palm trees and meandering hills.
City slickers will appreciate Medellin, a city that, not so long ago, was not entirely safe for visitors. Now it is home to world-class restaurants, a grand nightlife and creative architecture.
Stop by Bogota for your fix of history at the Gold or Botero Museums, or for a spot of salsa dancing, if that's more your thing.
As the oldest part of the country, we thing the Bogota is also one of the prettiest, if you'll excuse our dainty language.
Compare best hotels in Colombia (December 2023)
Tourist regions for a hotel stay in Colombia
Colombia has versatile holiday areas. Please select one of the available regions below. We will then share additional data and research the different hotel offers. Advice: also ask about hotel accommodations in Honduras & Madagascar.
Populaire plekken in deze regio: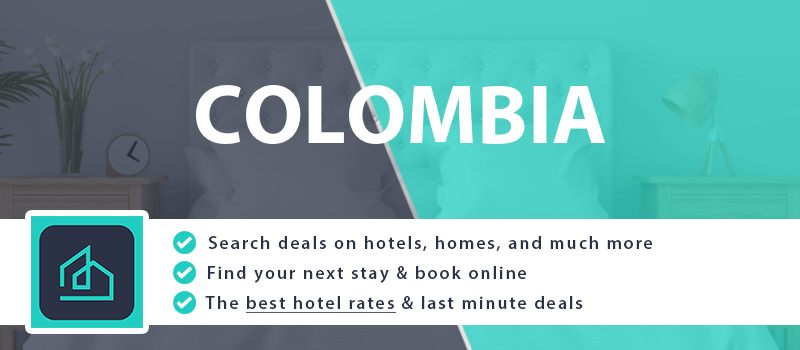 How to get there?
You can access Colombia by plane. International airlines fly to Colombia, as well as a few domestic ones – the most important thing to check is which airline you need to fly in to in order to get to your location, and whether there is a taxi service, shuttle or public bus operating on the day you arrive that can get you to your temporary home. Another popular option are chartered flights as these offer greater flexibility.
If you will be travelling by car you need to check that you can get access from the side you are coming from and whether the cities you will be driving through have roads that your car can travel on. Travelling by boat or bus is also possible. If you're going by bus you will want to check where connections need to be made in order to end up in Colombia – Venezuela and Ecuador are all good options to investigate. On www.estrategia.gobiernoenlinea.gov.co you can find more information about: tourist tax, insurances and visas & passports.
Typical hotel prices
Colombian hotel prices vary widely (based on regio & type of accommodation). We place a price indication in the following table.
| Accommodation type | Costs |
| --- | --- |
| Cheap accommodation | €24,00 |
| Regular room | €47,00 |
| Luxurious accommodation | €84,00 |
| Full weekend | €141,00 |
| Meal (per person) | €15,00 |
Average rates for an hotel stay in Colombia
Climate & Weather Forecasts December 2023
Colombia is a wonderful country. The country has a Temperate oceanic climate. The standard annual temp. is 24,8 degrees Celsius °C. In winter it is a bit colder. During this period it is about 23,5 degrees centigrade °C. It is warmer in the summer period. Assume 26,6 degrees Celsius. Below you will find the weather forecast for the next 7 days.
{{current_weather.dt | momentjs( atts.date )}}
{{current_weather.temp | temp}} °{{units}}
{{day.dt | momentjs(atts.date)}}
{{day.temp | temp}} °{{day.temp_min | temp}} °{{units}}
{{current_weather.temp | temp}} °
Humidity: {{current_weather.humidity}}%
Clouds: {{current_weather.clouds}}%
Wind ({{current_weather.wind.deg}}): {{current_weather.wind.speed}}{{units_wind}}
{{current_weather.desc}}
{{day.dt | momentjs(atts.date)}}
{{day.temp | temp}}°
{{day.temp_min | temp}} °
---