Book cheap hotels in Tunisia
Tunisia is a diverse tourist destination and is suitable for a wide range of visitors. People wanting a beach holiday with sunny weather and warm seas can head to the coastal areas and sea side resorts, which cater for tourists looking to make the most of the tropical climate. There are also plenty of unique and exotic Tunisian attractions for those looking for a cultural trip. While you could spend plenty of cash during your stay, there are also many ways to enjoy cheap holidays to Tunisia, which will be just as enjoyable.
More information about this destination
Are you looking for the best hotels in Tunisia? It is a surprising holiday destination. The country is very popular: a beautiful nature, great restaurants, old buildings and a very traditional and unique culture. Hotels are available for every budget. A cheap budget hotel is available from €38,00 per accommodation. Are you booking a room in a central location? A hotel room will cost you about €94,00 per night. It is a popular destination for a sun holiday. You can also enjoy a great holiday here in winter. Book your hotel room in Tunisia quickly online. Compare the best providers below and get started right away.
| | |
| --- | --- |
| Country | Tunisia |
| Capital city | Tunis |
| Average hotel price | €84,00 |
| Language | Tunisian, Arabic, French |
| Currencies | Tunisian dinar (TND) |
| Favorable travel time | May to June & September |
| Population | 12.356.117 |
| Total surface area | 163610 km2 |
| Time zone | UTC+01:00 (CET) |
| Flag carrier | Tunisair |
| Major Airport | Tunis-Carthage Airport (IATA:TUN) |
| Official government website | www.tunisie.gov.tn |
Before you leave
Are you booking a trip to Tunisia? Prepare yourself well! The country's capital is Tunis. In the hotel you pay with Tunisian dinar (TND). The Tunisian time zone is UTC+01:00 (CET). The official language: Tunisian, Arabic, French. The country has approximately 12.356.117 citizens in the country. The country's total land area is 163610 km2. Information about power and electricity: the voltage of the electricity is 230 V, 50 Hz and the socket type is C / E. The international access number is +216.
Compare best hotels in Tunisia (December 2023)
The best regions for your hotel stay in Tunisia
Tunisia has special areas where you can spend time during your holiday. Below you will find a summary of beautiful regions. You can then read additional details and check the current hotel offer. Advice: also ask about hotel accommodations in Argentina & Belize.
Populaire plekken in deze regio:
Top 5 places to visit in Tunisia
The country of Tunisia is a land of vast cultural and historical richness, from its sun-drenched Mediterranean beaches, to the impressive remains of its ancient desert empires. Upon visiting Tunisia's greatest and most treasured locales, travellers will discover a new and wondrous world of ancient legends, beautiful art, and fascinating peoples.
El Djem is a small city in eastern Tunisia which is home to one of the most impressive collections of Roman ruins in all of Africa. Known in Roman times as Thysdrus, the city was a crossroads of commerce in the Roman empire, becoming especially prosperous in the 2nd century BC and remaining so until the violent uprisings that occurred in the 3rd century AD. It's ancient opulence and grandeur can still be seen today in its magnificent amphitheatre which has been used as scenery for several Hollywood films, including Gladiator and Monty Python's Life of Brian. Archaeological excavations are continually uncovering beautiful floor mosaics and villas that have been buried in the sand, making El Djem a necessary stop for archaeology and history enthusiasts.
Matmatais a small town in southern Tunisia, most famous for its extraordinary "troglodyte" housing complexes, which were virtually unknown to the outside world until the 1960s. The structures were originally created by digging large pits in the ground, and then creating artificial caves in the perimeter of the pits, serving as rooms and housing for the residents. Much folklore and purported history of the settlement exists, but it is not truly known how the region was first settled and by whom. In any case, the town is so unique and its origins so mysterious that it has attracted tourism from far and wide, as well as serving as the setting for multiple Star Wars films.
Sbeitla, located in north-central Tunisia, is home to the Roman ruins of Sufetula, which contain the best preserved Roman temples in the country. A multitude of examples of Roman monuments and structures stand throughout the city, including the Triumphal Arch at the city entrance, the public baths (decorated with lively and colorful mosaics), one of the best preserved Forums in the world, and a variety of temples. Visitors to the site can also visit ruins of Byzantine Christian churches, as well as the remains of barbarian temples, which show the full extent of the importance of the location to many ancient civilizations.
Bulla Regia is a remarkable archaeological site in north western Tunisia best known for its exquisite mosaic floors and its semi-subterranean housing built to protect from the harsh heat and sun. The unique structures include ground-level stories that look down onto subterranean levels, connected by airy, open atriums. While prospering in Roman times, an earthquake in the later centuries collapsed much of the city into its subterranean levels, where it would remain buried until its rediscovery in 1906. Today, visitors can explore much of the reconstructed structures and marvel at the incredibly in-tact, world-famous floor mosaics.
Dougga, a UNESCO World Heritage site, is the best-preserved Roman town in North Africa, as well as one of the largest. With an incredibly rich and well-documented history, Dougga is one of the most important sites in Tunisia, both in modern times as well as in its ancient Roman hey-day. Having been founded in the 6th century BC, the city is home to a spectacular multitude of buildings and monuments from Pre-Roman, Roman, and Byzantine civilizations, all of which are in remarkable condition. An on-site museum showcases the many splendid statues and mosaics discovered at the site, but visitors are also encouraged to explore the extensive grounds that include more than ten temples and churches, multiple bath houses, theaters, amphitheaters, auditoriums, marketplaces, and more.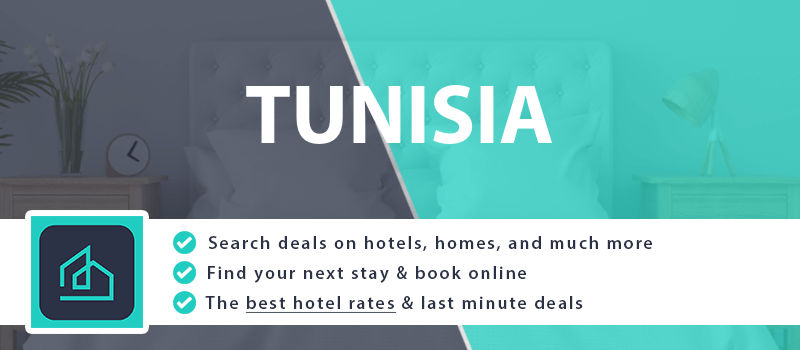 Explanation of public transportation in Tunisia
Tunisia has good public transport facilities. An important airport in this country is Tunis-Carthage Airport. They offer reliable flights. The national airline company is Tunisair. You can book cheap tickets here. You can also go there for a last-minute deal. Via www.tunisie.gov.tn you will find additional explanations about: tax for tourists, public transport and residence permits (visas) and passports.
Average hotel prices
Tunisian hotel prices can be different every day. You can view the expected rates in the list below.
| Hotel class | Costs |
| --- | --- |
| Budget hotel | €38,00 |
| Regular room | €84,00 |
| Luxurious accommodation | €94,00 |
| Full weekend | €252,00 |
| Meal (per person) | €10,00 |
Basic rates for an hotel stay in Tunisia
Climate & Weather Forecasts December 2023
Tunisia is a beautiful country. The country has a Hot deserts climate. The standard annual temp. is 20,3 degrees centigrade °C. Keep in mind some cooler temperatures in winter. It is then an average of 8,7 degrees Celsius °C. Temperatures rise during the summer. Like 32,1°C degrees. In the schedule below you get an impression of the weather of the coming days.
{{current_weather.dt | momentjs( atts.date )}}
{{current_weather.temp | temp}} °{{units}}
{{day.dt | momentjs(atts.date)}}
{{day.temp | temp}} °{{day.temp_min | temp}} °{{units}}
{{current_weather.temp | temp}} °
Humidity: {{current_weather.humidity}}%
Clouds: {{current_weather.clouds}}%
Wind ({{current_weather.wind.deg}}): {{current_weather.wind.speed}}{{units_wind}}
{{current_weather.desc}}
{{day.dt | momentjs(atts.date)}}
{{day.temp | temp}}°
{{day.temp_min | temp}} °