Book cheap hotels in Argentina
With its rich history, vibrant culture, and diversity of destinations, Argentina is one of South America's most significant and fascinating regions. Here are ten of the top places for Argentina tours to visit and for those visitors a good time. Would you like to book a holiday to Argentina? You can enjoy a wonderful holiday destination here. This country has a lot to offer: a wooded area, good restaurants, architectural landmarks and a surprising culture. There are numerous hotels to book. The most affordable budget hotels are available from €44,00 per overnight stay. Would you like to enjoy a more exclusive hotel room? Then you pay an average of €122,00 per night. A holiday in the sun is very pleasant here. It is also a beautiful country in winter. Book your favorite hotel room in Argentina easily online. Choose one of the hotel providers and book the best offers.
| | |
| --- | --- |
| Country | Argentina |
| Capital city | Buenos Aires |
| Average hotel room price | €78,00 |
| Local language | Spanish |
| Payment method | Argentine peso (ARS) |
| Busiest travel time | April – May & September – October |
| Population | 45.510.318 |
| Surface area | 2766890 km2 |
| Time zone | UTC−03:00 (ART) |
| Leading airline | Aerolíneas Argentinas |
| Central Airport | Ministro Pistarini International Airport (IATA:EZE) |
| Official government website | www.argentina.gob.ar |
Useful travel information
Are you going on a trip to Argentina? Below we offer some practical information. The capital is Buenos Aires. The general means of payment is Argentine peso (ARS). The Argentinian time zone is UTC−03:00 (ART). The most spoken language(s): Spanish. The current population is about 45.510.318 inhabitants in the country. The area of the country is 2766890 km2. As for power supplies: the mains voltage is 220 V, 50 Hz and the type of plug is C / I. The phone code is +54.
Compare best hotels in Argentina (December 2023)
Top 10 places to visit
1. Buenos Aires
One of Argentina's most unusual locations, Buenos Aires is an independent city-state that exists alongside the 23 provinces of the nation. Upbeat and vigorous, Buenos Aires is a city that never truly sleeps, and offers countless things to do and see such as learning tango and seeing tango shows.
2. Bariloche
The Bariloche region, along with the Seven Lakes, is an alpine area in western Argentina that features skiing, trekking, and mountaineering alongside confectioner's shope, cafes, and chocolate shops. The classical climate of this area mixes well with the exotic location to provide a truly memorable retreat.
3. Cordoba
The second-largest city in all of Argentina, Cordoba contains a number of buildings left over from Spanish colonialism, such as churches and part of the oldest university in the nation. The university has attracted people from around the country for hundreds of years, and partially as a result of this, Cordoba is often considered to be one of the most culturally rich cities in the nation as well. The destination is also full of things to do such as golf on any of the 25+ golf courses. Or you can trek, horse ride bike and more.
4. Iguazu Falls
Located on the border between Brazil and Argentina, the Iguazu Falls are one of the most powerful sets of waterfalls in the world. With two hundred seventy-five drops and a width of over one and a half miles, this iconic destination is often a highlight of nature-oriented tours and any trip passing through the area.
5. Mendoza
For travelers who prefer a little less snow in their adventures, Mendoza is often the city of choice within Argentina. Despite its easy access to the Andes Mountains, Mendoza features activities such as horseback riding, hiking, and river rafting as well as more cultural activities such as wine tasting (due to the plentiful number of wineries in the area).
6. The Andes Mountains
Speaking of the Andes, however, these mountains are a major feature of South America and offer quite a lot of things for visitors to do. Whether it's skiing down one of the many slopes, climbing Aconcagua (the highest mountain in the entire chain), or simply flying over them for the view, the Andes remain accessible and exciting as part of any vacation.
7. Patagonia
Most often one of the wilder areas of Argentina, Patagonia is an expansive part of the southern region of the nation, and features everything from a particularly high number of beaches to excellent fly-fishing and a petrified forest dated back to the Jurassic era. Due to its size, many visitors often choose to limit their vacation to just this region, as there is already so much to see without heading to the rest of the country.
8. Ushuaia
Perhaps the greatest claim of the city of Ushuaia is that it is generally regarded as the southernmost city of the entire world, a distinction of some renown. The temperature of this area is generally cool throughout the year, so warm clothing is often recommended, and visitors can expect to see an abundance of seals, penguins, and other animals that populate the southernmost regions of the world.
9. El Calafate
One of the smaller towns in the general Patagonia area, El Calafate was originally constructed as a minor settlement, and expansion didn't really begin until Argentina created the nearby Los Glaciares National Park to highlight one of the largest and most-visited glaciers in the world, Perito Morino. At ninety-seven square miles in area and holding the world's third-largest reserve of fresh water, Perito Morino draws nature-lovers from around the world to experience hiking and sightseeing.
10. The Valdes Peninsula
Located on the eastern side of Argentina, the Valdes Peninsula is regarded as a major nature reserve where high numbers of animals come to mate, live, or simply pass time. The area features a high number of protected areas, but visitors can tour certain regions to observe wildlife such as birds, seals, and whales.
With everything from wildlife preserves to modern cities spread throughout the country, and with a rich history and culture to be enjoyed, Argentina is easily one of South America's most attractive destinations for any vacation. Individuals and groups interested in such trips can arrange for tours to any of these destinations through Latin Discover, one of the most popular vacation providers in all of Latin and South America.
The best regions for a hotel stay in Argentina
Argentina has special areas where you can spend time during your holiday. Please select one of the available regions below. You can then find an explanation and check the current hotel offer. Also click further to hotel accommodations in Andorra & Germany.
Populaire plekken in deze regio: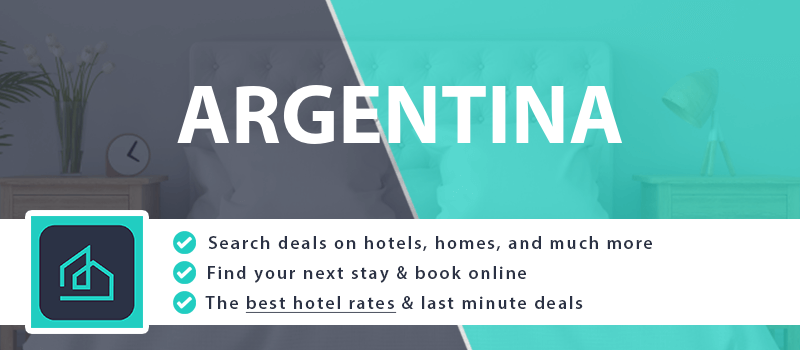 ---
Explanation about public transportation in Argentina
Argentina has great facilities for public transport. A major airport in this region is Ministro Pistarini International Airport. They offer reliable flights. The national flight company is Aerolíneas Argentinas. You can book cheap tickets here. Also research the last-minute deal options. On www.argentina.gob.ar you can find more information about: tourist tax, hospital care and the (passport) visa application process.
Regular hotel prices
Argentinian hotel prices depend on many factors. We place a price indication in the list below.
| Accommodation type | Costs |
| --- | --- |
| Cheap accommodation | €44,00 |
| Normal room | €78,00 |
| Exclusive lodging | €122,00 |
| Weekend holiday | €234,00 |
| Supper (per person) | €20,00 |
Normal rates for an hotel stay in Argentina
Climate & Weather Forecasts December 2023
Argentina is a versatile country. We define the climate as a Humid subtropical climate. The standard annual temp. is 14,6 degrees Celsius. Keep in mind some cooler temperatures in winter. Take into account about 5,2 degrees Celsius °C. Summer can get pretty hot. Arround 22,5 degrees Celsius. In the table below we show the weather forecast for this week.
{{current_weather.dt | momentjs( atts.date )}}
{{current_weather.temp | temp}} °{{units}}
{{day.dt | momentjs(atts.date)}}
{{day.temp | temp}} °{{day.temp_min | temp}} °{{units}}
{{current_weather.temp | temp}} °
Humidity: {{current_weather.humidity}}%
Clouds: {{current_weather.clouds}}%
Wind ({{current_weather.wind.deg}}): {{current_weather.wind.speed}}{{units_wind}}
{{current_weather.desc}}
{{day.dt | momentjs(atts.date)}}
{{day.temp | temp}}°
{{day.temp_min | temp}} °