Book cheap hotels in Sint Maarten
Welcome to the beautiful island of St. Maarten /St. Martin where the sunsets, beaches, restaurants and duty free shopping are rated the best in the world. St.Maarten/ St. Martin is the smallest Caribbean island of 37 sq. miles that is shared by two nations, France and Holland. Discover the excitement of St. Maarten/St.Martin Island living with local cafes, casual beach bars, fine gourmet restaurants which showcase Caribbean – Creole style architecture, luxury villas and ocean front condominiums. Enjoy an abundance of pristine beaches, boating, tennis, golf, island -hopping, exciting nightlife and world class casinos in a tropical setting. Your choice of lifestyle options are endless on our beautiful paradise island.
All info about this destination
Are you looking for the best hotels in Sint Maarten? It is a surprising holiday destination. This country has a lot to offer: a beautiful nature, good restaurants, architectural landmarks and a very warm culture. There are many different hotels. A cheap budget hotel is available from €60,00 per night. Do you want a more luxurious room? Then the prices rise towards €211,00 per overnight stay. A holiday in the sun is very pleasant here. It is also a beautiful country in winter. Book your hotel room in Sint Maarten easily online. Compare the best providers below and book your accommodation online.
| | |
| --- | --- |
| Country | Sint Maarten |
| Capital city | Philipsburg |
| Price of hotel accommodation | €154,00 |
| Local language | Dutch, English |
| Currencies | Antillean Guilder (ANG) |
| Favorable travel time | May, June, between November and mid-December |
| Population | 41.000 |
| Surface area | 34 km2 |
| Timezone | GMT-4 |
| National Airline | Windward Islands Airways |
| Large Airport | Princess Juliana International Airport (IATA:SXM) |
| Government website | www.sintmaartengov.org |
Before you leave
Are you planning your trip to Sint Maarten? Prepare yourself well! The country's capital is Philipsburg. In the hotel you pay with Antillean Guilder (ANG). The Sint Maarten time zone is GMT-4. People speak here in: Dutch, English. The country has approximately 41.000 inhabitants in the country. The area of the country is 34 km2. Most important information about electricity: the current voltage is 110 V, 60 Hz and the socket type is A / B. The international calling code is +1-721.
Compare best hotels in Sint Maarten (December 2023)
Tourist regions for your hotel stay in Sint Maarten
Sint Maarten has beautiful areas to spend a holiday. Please select one of the available regions below. You can then find an explanation and check the current hotel offer. Also explore hotel accommodations in Sweden and Taiwan.
Populaire plekken in deze regio: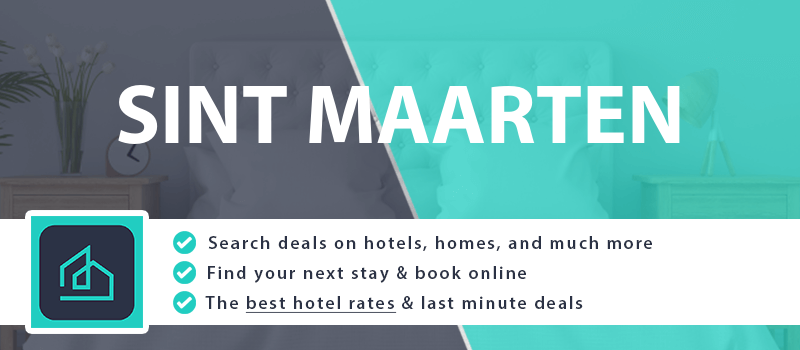 ---
Information on public transportation in Sint Maarten
Sint Maarten has a well laid out public transport network. An important airport in this country is Princess Juliana International Airport. Good transfers are available. The national airline is Windward Islands Airways . You can book cheap tickets here. You can also book a last minute deal. Via www.sintmaartengov.org more background info is given about: city tax (tourism), laws and regulations and residence permits (visas) and passports.
Standard hotel prices
Sint Maarten hotel prices vary widely (based on regio & type of accommodation). We place a price indication in the following table.
| Type of overnight stay | Costs |
| --- | --- |
| Cheap hotel | €60,00 |
| Common room | €154,00 |
| Premium accommodation | €211,00 |
| Weekend trip | €462,00 |
| Supper (per person) | €47,00 |
Expected rates for an hotel stay in Sint Maarten
Climate & Weather Forecasts December 2023
Sint Maarten is a versatile country. Take into account a Tropical wet-dry climate. The average temperature here is 27,2 degrees centigrade. In winter it is a bit colder. Take into account about 28,0 degrees Celsius. Summer can get pretty hot. About 32,0 degrees Celsius °C. In the table below you get an impression of the weather of the coming days.
{{current_weather.dt | momentjs( atts.date )}}
{{current_weather.temp | temp}} °{{units}}
{{day.dt | momentjs(atts.date)}}
{{day.temp | temp}} °{{day.temp_min | temp}} °{{units}}
{{current_weather.temp | temp}} °
Humidity: {{current_weather.humidity}}%
Clouds: {{current_weather.clouds}}%
Wind ({{current_weather.wind.deg}}): {{current_weather.wind.speed}}{{units_wind}}
{{current_weather.desc}}
{{day.dt | momentjs(atts.date)}}
{{day.temp | temp}}°
{{day.temp_min | temp}} °