Book cheap hotels in Vanuatu
Vanuatu lies just off the coast of Australia and boasts a rich and intriguing tribal Melanesian culture. These mystical islands also have exceptional scuba diving, the world's most accessible active volcano and a good selection of hotels making Vanuatu our favourite island in the South Pacific for adventure holidays.
Would you like to get an insight into the most beautiful hotels in Vanuatu? It is a wonderful destination. This country has a lot to offer: a versatile nature, a delicious local cuisine, beautiful museums and a surprising culture. There are many different hotels. There are quite a few budget hotels from €41,00 per night. Are you looking for a luxury accommodation? Then you pay an average of €180,00 per room. You can enjoy a sun holiday here. It is also a beautiful country in winter. Book your favorite hotel room in Vanuatu right way! Compare our favorite hotel websites below and book rooms at the best price.
| | |
| --- | --- |
| Country | Vanuatu |
| Capital city | Port Vila |
| Average hotel room price | €94,00 |
| Spoken language | English, French |
| Official Currency | Vanuatu vatu (VUV) |
| Busiest travel time | April to October |
| Population | 308.000 |
| Land area | 12200 km2 |
| Time zone | UTC+11:00 |
| Leading carrier | Air Vanuatu |
| Central Airport | Bauerfield International Airport (IATA:VLI) |
| Official government website | www.gov.vu |
Important info
Are you booking a trip to Vanuatu? Read carefully about the local rules and protocols. The capital is Port Vila. People pay here with Vanuatu vatu (VUV). The Vanuatuan time zone is UTC+11:00. The language(s) spoken here: English, French. The current population is about 308.000 residents. The total area is 12200 km2. As for power supplies: the default voltage is 230 V, 50 Hz and the socket type is I. The international access code is +678.
Compare best hotels in Vanuatu (December 2023)
The best regions for a hotel stay in Vanuatu
Vanuatu, known as New Hebrides under the joint British and French rule prior to 1980, is a collection of ten large islands and many smaller islands in the South West Pacific. The Melanesian inhabitants live an extremely traditional lifestyle evolving around fishing, planting and drinking kava.
Port Vila
The scenic town of Port Vila sits overlooking a horseshoe bay on the main island of Efate with tiny offshore Iririki Island and Erakor Lagoon the main concentration of tourism resorts. Outside of Port Vila, rural landscapes, extremely traditional villages and dirt roads take over and there is virtually no tourist accommodation except for a couple of secluded beach resorts. There are only three islands with decent tourist infrastructure – The main island of Efate with the capital Port Vila is the countries main centre of tourism with beach resorts and town hotels; Tanna is known for its active and often dramatic volcanic activity as well as its traditional villages and ancient ceremonies; Espiritu Santo has excellent scuba diving, especially the SS President Coolidge Wreck and some good hiking through high mountain ranges. The only other island with instant tourism appeal is Pentecost, world famous for its extraordinary land diving ceremony between April and June but these events are primarily visited on an organized day tour package from Port Vila.
Select your region or city
Vanuatu has versatile holiday areas. Below you will find a summary of beautiful regions. We will then share additional data and check the possible hotel offers. Advice: also ask about hotel accommodations in Italy or Albania.
Populaire plekken in deze regio: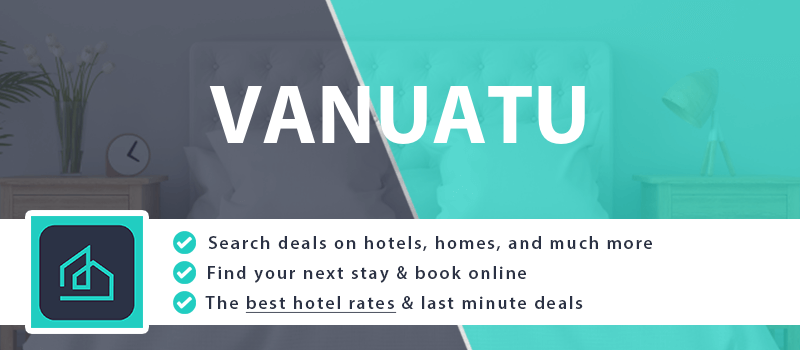 Details on public transportation in Vanuatu
Vanuatu offers many options for public transport. A major airport in this region is Bauerfield International Airport. Here you book direct and indirect flights. The national flight company is Air Vanuatu. They offer good conditions. You can also book a last minute deal. Via www.gov.vu more background info is given about: tourist tax, laws and regulations and visas & passports.
Regular hotel prices
Vanuatuan hotel prices can vary quite a bit. We place a price indication in the following table.
| Accommodation type | Rates |
| --- | --- |
| Budget hotel room | €41,00 |
| Normal room | €94,00 |
| Exclusive accommodation | €180,00 |
| Full weekend | €282,00 |
| Meal (per person) | €39,00 |
Standard rates for an hotel stay in Vanuatu
Climate & Weather Forecasts December 2023
Vanuatu is a special country. The country has a Wet equatorial climate. The normal annual temperature is 24,0°C degrees. In winter it is a bit colder. Take into account about 21,7 degrees centigrade. In the summer it is warmer. Assume 26,2 degrees Celsius. In the table below you will find the weather forecast for today and the next 7 days.
{{current_weather.dt | momentjs( atts.date )}}
{{current_weather.temp | temp}} °{{units}}
{{day.dt | momentjs(atts.date)}}
{{day.temp | temp}} °{{day.temp_min | temp}} °{{units}}
{{current_weather.temp | temp}} °
Humidity: {{current_weather.humidity}}%
Clouds: {{current_weather.clouds}}%
Wind ({{current_weather.wind.deg}}): {{current_weather.wind.speed}}{{units_wind}}
{{current_weather.desc}}
{{day.dt | momentjs(atts.date)}}
{{day.temp | temp}}°
{{day.temp_min | temp}} °