Hotel Deals
We offer hotel tips, links to promotions and search options for the best rates from all the top travel websites from around the world, including Booking.com, Expedia, Hotels.com, Agoda and many more! In one quick and easy search, you'll find just what you're after and can be sure you got the most out of your booking.
Hotel offers Saturday, January 28, 2023
---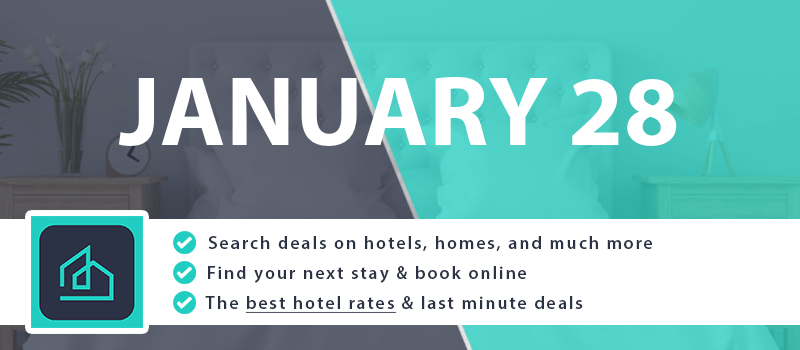 Departure date for your trip
Do you already know when you want to go on holiday? In that case you can search very specifically. The hotel rates differ considerably per departure date. By searching for the day you want to check-in or fly, you filter lots of useless information. You only keep the trips and hotels that fit your agenda and travel plans. You can enter both the day of arrival and the day of departure. Click the button below to proceed directly.
Check hotel offers for Saturday, January 28, 2023
Choose Check-in date
Determining the correct arrival and departure day can be difficult. Sometimes the check-in dates or flight times do not quite match, or you depart from an airport far from your home. You can compare prices online and use different kind of filters. Think of departure airports, departure time, arrival time, airline, etc. In addition, you can also compare the resorts / hotels based on many different criteria. Think of location, facilities, reviews, number of stars, restaurants and excursions. Do you want to leave next week or next month? Then visit one of the pages below.
Next week: Saturday, February 4 2023
Next month: Tuesday, February 28 2023
---
How to search the best hotel deals?
Search based on your requirements

Enter a city, travel dates (check in and check out), how many people and how many rooms you need. Then click "Search" Button. The system will now check the inventory and available properties.


List of available hostels

Receive a listing of hotels for the city you look for. You can order the results by popularity, star rating, location, consumer ratings and price. You can view prices in the currency of your destination or in your local currency, as well as select from a list of major global currencies.


Choose booking website

When you click the "Select Button" of a particular hotel, you will see list of some (or many) online hotel booking providers like Booking.com. Simply click on each provider to find out more information. Don't stop searching just by seeing the prices given by each provider; you need to click each of those online hotel booking provider to find out other and hidden features that they offer with the price. Sometimes, the cheapest price you see is not always the best offer. Therefore, make sure that you click to each provider to find the best deal for you.

Hotel details

Once you click to any of hotel provider on the list, you will be brought to a new page (open on a new window). This process will sometimes be fast or slow, depending on your internet connection. You will then see more complete info about the hotel details you like to search including descriptions, photos, reviews and maps.

Finalize your booking

If you find the price and benefit of the hotel that match to your expectation, you may proceed with the booking. Otherwise, you may start the search process all over again from step 1.