Book cheap hotels in Bahrain
Rarely are there destinations in the world which reflect such genuine warmth and hospitality. A unique culture spanning thousands of years, Bahrain has high quality living standards and a great climate all packaged in a safe and welcoming environment. Bahrain's reputation as a relatively liberal and modern country has made it a favourite with travellers in the region and an excellent introduction to the Gulf. It was once the seat of a great trading empire of the ancient world and is probably one of the world's best kept secrets. It is now easily accessible to the adventurous who wish to explore the delightful mystique and rich culture of the true Arabia. Bahrain offers ancient forts and places of worship dating back as far as 3000BC, traditional crafts still  practiced in the same way they have been for centuries and quaint souks.  These blend harmoniously with modern hotels, sporting facilities and shopping malls. 
More information about Bahrain
Are you looking for the best hotels in Bahrain? It is a wonderful destination. Some reasons to go here: a green nature, good restaurants, architectural landmarks and a very warm culture. Hotels are available for every budget. There are quite a few budget hotels from €63,00 per room. Are you booking a room in a central location? A hotel room will cost you about €116,00 per night. A holiday in the sun is very pleasant here. You can also enjoy a great holiday here in winter. Book your conveniently located hotel room in Bahrain at the lowest rate. Choose one of the hotel providers and book the best offers.
| | |
| --- | --- |
| Country | Bahrain |
| Capital city | Manama |
| Average hotel price | €87,00 |
| Official language | Arabic |
| Official Currency | Bahraini dinar (BHD) |
| Busiest travel time | November to April |
| Population | 1.472.233 |
| Total surface area | 665 km2 |
| Time zone | UTC+03:00 |
| National Airline | Gulf Air |
| Central Airport | Bahrain International Airport Manama (IATA:BAH) |
| Government website | www.bahrain.bh |
Before you leave
Are you booking a trip to Bahrain? Prepare yourself well! The capital of the country is Manama. The general means of payment is Bahraini dinar (BHD). The Bahraini time zone is UTC+03:00. The language(s) spoken here: Arabic. The current population is about 1.472.233 inhabitants. Its total land area is 665 km2. Most important information about electricity: the electricity is 230 V, 50 Hz and the type of electrical sockets is G. The international access code is +973.
Compare best hotels in Bahrain (December 2023)
Tourist regions for your hotel stay in Bahrain
Bahrain has beautiful areas to spend a holiday. Choose one of the regions below. We will then share additional data and check the current hotel offer. Also explore hotel accommodations in Liechtenstein or Austria.
Populaire plekken in deze regio:
Main Bahrein attractions
Al Fateh Mosque
Also known as the Grand Mosque, this is Bahrain's largest place of worship, it offers the non-Muslin a rare opportunity to enter a mosque. It is topped by an impressive 60 ton fibre-glass dome and can accommodate up to 7000 worshippers at a time, it also houses the Religious Institute for Islamic Affairs.
Bahrain National Museum
If you do nothing else during your visit to Bahrain you should take time to visit the National Museum. Dedicated to the island's history and culture, the different periods of Bahrain's history are examined from Dilmun (circa 3000BC) and Tylos (circa 300AD) to the Islamic period (from 7th century AD) to the present day. With reconstructions, ceramics,sculptures, Arabic calligraphy and Quárans, the museum tells the story of Bahrain's history, culture and traditions in an interesting and exciting way.
Qalát Al Bahrain
Historically, this is one of the most important sites in Bahrain. Also known as the Portuguese Fort or Bahrain Fort, it was built in the 14th century, but excavations in the area reveal it to be the site of settlements dating back to the Dilmun period around 2800 BC.
Beit Al Qurán
This museum houses an internationally celebrated collection of historic Holy Quráns and historic Quránic manuscripts from various parts of the Islamic world, including China and Spain. They represent a progression of calligraphic traditions from the 1st century of the Islamic era (7th century) to the present day. Artists have used beautiful calligraphy to write verses on wooden tablets, paper, parchment and even two grains of rice and split peas!
Al Jasra House
Built in 1907 and where the present King's father was born, the house is a good example of traditional Bahraini architecture. Constructed from local building materials, mainly coral stone, gypsum, lime and clay. Date palm trunks were used for strengthening both the outside and inside walls. The rooms are furnished as they would have been in the 1930's when the late Amir was born.
Al Areen Wildlife & Reserve
The sanctuary was built on an 8 sq km area in the south of Bahrain as a unique experiment in conservation in the 1970's. Although the major emphasis at Al Areen is to preserve the animal species from the Arabian Peninsula such as the Arabian Oryx, Gazelle and Houbarra Bustard it has also undertaken to keep Asian and African animals. The sanctuary now houses over 40 species of mammal and over 70 species of resident birds.
Al Khamis Mosque
The original parts of the mosque are thought to date back to 700 AD and its considered to be one of the oldest relics of Islam in the region. Additions and renovations have happened on several occasions most notably in the 10th, 14th and 15th centuries.
Tree of Life
Located about 2 km from Jebel Dukhan (Bahrain's highest point) the flourishing Tree of Life provides the only shade in an otherwise arid desert area. It is a large, green mesquite tree that has been there for hundreds of years but whose source of water and nutrients is still unexplained.
Shaikh Isa bin Ali's House
Once the home of King Hamed's great, great grandfather, this 19th century house is a good example of local architecture. It is complete with a wind tower (an early form of air conditioning), wall carvings and lattice world and has been sympathetically restored.
Salman bin Ahmed Al Fateh Fort
Standing on a low escarpment, overlooking the valley between east and west Riffa, the fort held a strategic position during the 18th century. It was used as a private residence for a while but has now been restored as a fort.
Arad Fort
Situated on the island of Muharraq, this Arab-style fort was built in the 15th century to guard the southern harbour of the island. It was subsequently captured and used by invading Portuguese and Omani forces. Today it has been restored using traditional materials.
King Fahad Causeway
Opened in 1986, the 25 km causeway is one of the most expensive bridges ever built. It links Bahrain to Saudi Arabia, crossing Umm Nasan Island, an area rich in wildlife. At the halfway point is a tower with two restaurants both designed so patrons can enjoy the views.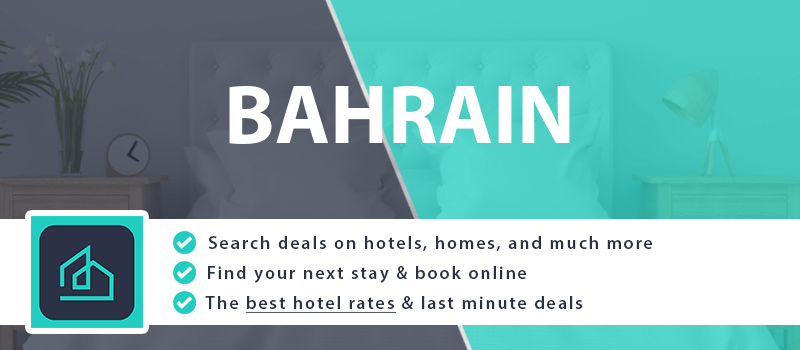 Information on public transportation in Bahrain
Situated midway between Europe and the Far East, Bahrain is well served by over thirty five airlines. For visitors arriving, departing or in transit, the modern airport with efficient customs, immigration and transit facilities ensures a smooth, trouble-free passage. Bahrain also offers a duty-free shopping complex now recognised as one of the finest in the world. Bahrain has great facilities for public transport. A popular airport in this area is Bahrain International Airport Manama. Good transfers are available. The national airline is Gulf Air. They fly to different destinations. Possibly you can find a last-minute deal. Via www.bahrain.bh you can find more information about: tourist tax, hospital care and visas & passports.
Average hotel rates
Bahraini hotel prices vary widely (based on regio & type of accommodation). You can find the average rates in the list below.
| Hotel class | Tariffs |
| --- | --- |
| Budget hotel room | €63,00 |
| Normal room | €87,00 |
| Exclusive accommodation | €116,00 |
| City trip | €261,00 |
| Dinner (per person) | €32,00 |
Expected rates for an hotel stay in Bahrain
Climate & Weather Forecasts December 2023
Bahrain is a beautiful country. Take into account a Hot deserts climate. The average temperature here is 28,2°C degrees. Keep in mind some cooler temperatures in winter. It is then (on average) about 13,8 degrees Celsius. It's much more comfortable in the summer. Assume 39,6 degrees Celsius. In the schedule below we show the weather forecast for this week.
{{current_weather.dt | momentjs( atts.date )}}
{{current_weather.temp | temp}} °{{units}}
{{day.dt | momentjs(atts.date)}}
{{day.temp | temp}} °{{day.temp_min | temp}} °{{units}}
{{current_weather.temp | temp}} °
Humidity: {{current_weather.humidity}}%
Clouds: {{current_weather.clouds}}%
Wind ({{current_weather.wind.deg}}): {{current_weather.wind.speed}}{{units_wind}}
{{current_weather.desc}}
{{day.dt | momentjs(atts.date)}}
{{day.temp | temp}}°
{{day.temp_min | temp}} °