Book cheap hotels in Honduras
Honduras is a relatively unknown holiday destination.What kind of treasures does this small country nestled between Guatemala, El Salvador, and Nicaragua hide? What's there to visit once you land in the capital, Tegulcigalpa, a great city with a strange name? What national parks can you visit without danger? On this page you can find all information about the best spots and hotels of the country.
More information about the country
Do you want to go to Honduras? This is a special holiday destination. You can enjoy here: a beautiful nature, delicious local specialties, monumental buildings and a surprising culture. There are numerous hotels to book. The most affordable budget hotels are available from €32,00 per accommodation. Do you want a luxury holiday? Then the prices rise towards €127,00 per accommodation. You can enjoy a sun holiday here. It is also popular in winter. Book your cheap hotel room in Honduras easily online. Compare the providers below and find the best deals.
| | |
| --- | --- |
| Country | Honduras |
| Capital city | Tegucigalpa |
| Average hotel price | €82,00 |
| Spoken language | Spanish |
| Currency | Honduran lempira (HNL) |
| Favorable travel time | February to May |
| Population | 10.432.860 |
| Surface area | 112090 km2 |
| Timezone | UTC−06:00 |
| Flag Airline | American Airlines |
| Large Airport | Ramon Villeda Morales International Airport (IATA:SAP) |
| Government website | www.presidencia.gob.hn |
Important info
Are you going on a trip to Honduras? It is smart to read well in advance. The capital city is Tegucigalpa. People pay here with Honduran lempira (HNL). The Honduran time zone is UTC−06:00. The most spoken language(s): Spanish. The country has approximately 10.432.860 citizens in the country. Its total land area is 112090 km2. As for power supplies: the voltage of the electricity is 120 V, 60 Hz and the plug type is A / B. The phone code is +504.
Compare best hotels in Honduras (December 2023)
Popular regions for a hotel stay in Honduras
Honduras has beautiful areas to spend a holiday. Please select one of the available regions below. We will then share additional data and check the possible hotel offers. Also click further to hotel accommodations in Mayotte & Netherlands.
Populaire plekken in deze regio: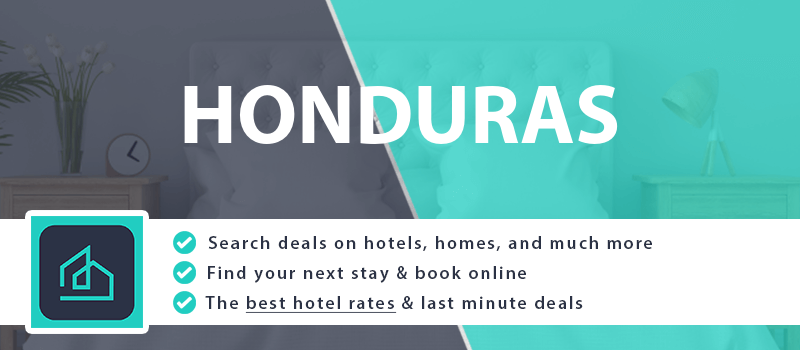 Information about public transportation in Honduras
Honduras has good public transport facilities. An important airport in this country is Ramon Villeda Morales International Airport. Good transfers are available. The flag carrier is American Airlines. They offer good conditions. You can also book a last minute deal. Via www.presidencia.gob.hn more background info is given about: tax for tourists, police and emergency services and visas & passports.
Regular hotel prices
Honduran hotel prices can vary quite a bit. We offer a price estimate in the list below.
| Type of overnight stay | Rates |
| --- | --- |
| Cheap hotel room | €32,00 |
| Average room | €82,00 |
| Premium lodging | €127,00 |
| Weekend holiday | €246,00 |
| Dinner (per person) | €20,00 |
Basic rates for an hotel stay in Honduras
Top Five Places to visit in Honduras
1. ISLA DEL TIGRE in the HEART of the Gulf of Fonseca
You know the desert islands you see in postcards? Those with boats moored, the crystalline waters and the coconut palm trees on the beach? Well, add a volcano and you will get an idea of what the Isla del Tigre looks like. We are south of Honduras, in the middle of the Gulf of Fonseca, in a wild place where your only thought is what pair of flip flops to wear. The average temperature throughout the year: 30 degrees Celsius. City to stay overnight: Amapala.
2. Rio Platano Biosphere Reserve
If you care about the environment as much as we do, you should visit the magnificent Rio Platano Biosphere Reserve, a UNESCO World Heritage Site, for its environmental value. This area of the planet has been greatly exploited and its ecosystem is now threatened (the reserve was declared in danger in 2011). What can a visitor do? Choose guided tours focused on sustainability and respect for nature!
3. TEGUCIGALPA, BETWEEN MUSEUMS, PARKS AND PLAZA
Tegucigalpa is Honduras' capital and despite its reputation as a city with the highest murder rate in the world, it is a fundamental stop to understand the country, its culture, and its long history. Do not miss the Museo Para la Identidad Nacional, Instituto Hondureño de Antropología e Historia, as well as the many plazas and parks scattered here and there, and in particular El Picacho, just outside the historic center.
4. Parque Nacional Jeannette Kawas
Known as Parque Nacional Jeannette Kawas and as Punta Sal National Park, this protected area is managed by the PROLANSATE Foundation (PROtection Of LANcetilla, Punta Sal and Texiguat). The park is located in North western Honduras, in a pristine area full of lagoons, rivers, mangrove forests and many other ecosystems populated by various animals. The Ocean is the best you can imagine.
5. NATIONAL PARK CERRO AZUL "COPAN"
In Honduras there are plenty of national parks, but the Cerro Azul "Copan" is undoubtedly one of the most fascinating ones and deserves to be included in the 5 must see places. At the border with Guatemala, where the other half of the park is located, the Parque Nacional Cerro Azul Copan is very organized and offers many activities and educational projects in every season of the year. Check out their schedule of events in the official website at www.paghonduras.org.
Climate & Weather Forecasts December 2023
Honduras is a special country. The country has a Tropical monsoon and trade-wind littoral climate. The annual temperature is approximately 24,0 degrees centigrade °C. Keep in mind some cooler temperatures in winter. It is then an average of 20,8 degrees Celsius °C. It is warmer in the summer period. Arround 26,3 degrees centigrade °C. In the table below we show the weather forecast for this week.
{{current_weather.dt | momentjs( atts.date )}}
{{current_weather.temp | temp}} °{{units}}
{{day.dt | momentjs(atts.date)}}
{{day.temp | temp}} °{{day.temp_min | temp}} °{{units}}
{{current_weather.temp | temp}} °
Humidity: {{current_weather.humidity}}%
Clouds: {{current_weather.clouds}}%
Wind ({{current_weather.wind.deg}}): {{current_weather.wind.speed}}{{units_wind}}
{{current_weather.desc}}
{{day.dt | momentjs(atts.date)}}
{{day.temp | temp}}°
{{day.temp_min | temp}} °