Book cheap hotels in Mayotte
Mayotte is an island and overseas department of France, located in the Indian Ocean (Africa). The country is part of the Comoros archipelago. Some major towns on Mayotte are: Mamoudzou, Dembeni, Dzaoudzi, Koungou, Pamandzi and Tsingoni. It is a hilly island with lots of greenery. The coastline consists partly of mountain walls and partly of sandy beaches. Especially in the capital, the island is geared towards tourists with various entertainment venues and tourist facilities. The waters around Mayotte are ideal for diving and snorkelling because of the many coral reefs. The highest point of the island is the volcano Mont Bénara with a height of 660 meters.
Would you like to book a holiday to Mayotte? It is a wonderful destination. What makes this country so special: a beautiful nature, great restaurants, monumental buildings and a surprising culture. There are numerous hotels to book. You can book the cheapest budget hotels for €65,00 per accommodation. Do you want a luxury holiday? Then the prices rise towards €150,00 per accommodation. It is a popular destination for a sun holiday. Also in winter you can go here excellent. Book your favorite hotel room in Mayotte quickly online. View the featured providers below and book the best offers.
| | |
| --- | --- |
| Country | Mayotte |
| Capital city | Mamoudzou |
| Average hotel price | €100,00 |
| Language | French |
| Currency | Euro (EUR) |
| Favorable travel time | June to October |
| Number of inhabitants | 326.101 |
| Land area | 374 km2 |
| Timezone | GMT+3 |
| National Airline | Ewa Air |
| Central Airport | Dzaoudz-Pamandzi International Airport (IATA:DZA) |
| Official government website | www.mayotte.gouv.fr |
Useful travel information
Are you going on holiday to Mayotte? Good preparation is important! The country's capital is Mamoudzou. The national currency is Euro (EUR). The Mahoran time zone is GMT+3. The most common language(s): French. There are about 326.101 citizens in the country. The total land area of the country is 374 km2. Some additional practical info: the default voltage is 230 V, 50 Hz and the socket type is C / E. The prefix is +262.
Compare best hotels in Mayotte (December 2023)
Nice regions for your hotel stay in Mayotte
Mayotte has beautiful areas to spend a holiday. Choose from the available regions in the list below. You can then read additional details and view the available hotel offer. Tip: also inquire about hotel accommodations in Belgium & Solomon Islands.
Populaire plekken in deze regio:
Popular Sights and Trips
Mayotte is a French overseas department in the Indian Ocean between Madagascar and Mozambique. It belongs to the archipelago of Comoros and consists of several small islands, the most important of which are Grande-Terre and Petite-Terre. Let yourself be enchanted by the charms of this volcanic island with its beautiful beaches surrounded by a marine natural park and colorful coral reefs. Here you can spot dolphins and humpback whales in their natural habitat. Admire the lush fauna and flora on the one hand, and the historical and religious heritage on the other.
In addition to discovering all the flora and fauna, you can take various other excursions on Mayotte, these vary from the distillation of ylang-ylang flowers to flying an ultralight aircraft (ULM). Mayotte has a cosmopolitan identity and culture. The island is inhabited by a people of festivities and traditions. The Mahorais welcome their visitors to playful rhythms, colored by the song of the women and their shimmering lambas. Taste Mahoran cuisine in the numerous restaurants on the island. The unique mix of culinary traditions from Africa, the East and Europe guarantee a special taste experience.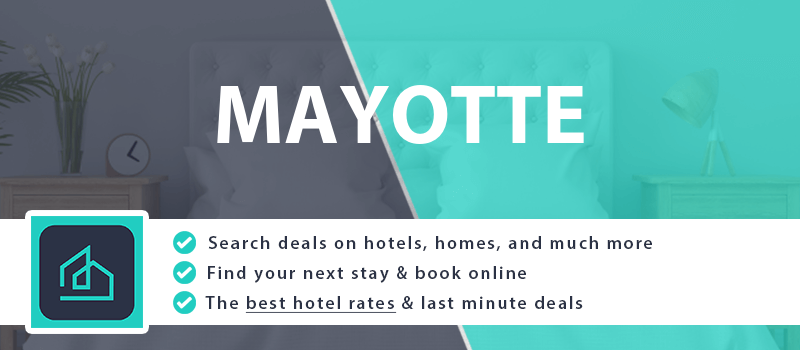 ---
Information on public transportation in Mayotte
Mayotte has great facilities for public transport. A good domestic airport is Dzaoudz-Pamandzi International Airport. Here you book direct and indirect flights. The flag carrier is Ewa Air. They fly to different destinations. Also research the last-minute deal options. Via www.mayotte.gouv.fr you can find more information about: tax for tourists, police and emergency services and visas & passports.
Regular hotel rates
Mahoran hotel prices can vary quite a bit. You can view the expected rates in the list below.
| Hotel segment | Tariffs |
| --- | --- |
| Cheap hotel room | €65,00 |
| Regular room | €100,00 |
| Exclusive lodging | €150,00 |
| City trip | €300,00 |
| Dining (per person) | €30,00 |
Basic rates for an hotel stay in Mayotte
Climate & Weather Forecasts December 2023
Mayotte is a special country. We define the climate as a Tropical wet-dry climate. The average temperature here is 27,0 degrees Celsius. In the winter months it is slightly colder. It is then (on average) about 26,0 degrees centigrade. It's much more comfortable in the summer. Assume 29,0°C degrees. Below we show the weather forecast for this week.
{{current_weather.dt | momentjs( atts.date )}}
{{current_weather.temp | temp}} °{{units}}
{{day.dt | momentjs(atts.date)}}
{{day.temp | temp}} °{{day.temp_min | temp}} °{{units}}
{{current_weather.temp | temp}} °
Humidity: {{current_weather.humidity}}%
Clouds: {{current_weather.clouds}}%
Wind ({{current_weather.wind.deg}}): {{current_weather.wind.speed}}{{units_wind}}
{{current_weather.desc}}
{{day.dt | momentjs(atts.date)}}
{{day.temp | temp}}°
{{day.temp_min | temp}} °