Book cheap hotels in Solomon Islands
The Solomon Islands is a special archipelago in the middle of the Pacific Ocean. It is an archipelago of about 1000 small volcanic islands. On the islands you will also find very high mountains. Most tourists come here for just one reason: pristine white sand beaches, crystal clear blue waters and coral reefs that are perfect for snorkeling and diving.
So, the islands have beautiful white beaches with clear blue water where you can dive and snorkel to discover many colorful fish species and coral reefs. There are also several shipwrecks on the seabed. Crocodiles and sharks can be found in the water around the islands. The population mainly lives from agriculture, fishing and forestry.
Do you want to go to Solomon Islands? This is a special holiday destination. Some reasons to go here: a beautiful nature, a delicious local cuisine, old buildings and a surprising culture. There is a wide choice of hotels. A cheap budget hotel is available from €72,00 per room. Are you booking a room in a central location? Then you have to count on an average of €155,00 per overnight stay. A holiday in the sun is very pleasant here. But it is also crowded in winter. Book your favorite hotel room in Solomon Islands quickly online. Compare our favorite hotel websites below and book the best offers.
| | |
| --- | --- |
| Country | Solomon Islands |
| Capital city | Honiara |
| Average hotel price | €110,00 |
| Language | English |
| Currency | Solomon Islands dollar (SBD) |
| Favorable travel time | July to September |
| Population | 724.273 |
| Surface area | 28450 km2 |
| Time zone | UTC+11:00 |
| Flag carrier | Solomon Airlines |
| Major Airport | Honiara International Airport (IATA:HIR) |
| Official government website | www.parliament.gov.sb |
Information before you leave
Are you booking a hotel for a trip to Solomon Islands? Good preparation is important! The country's capital is Honiara. In the hotel you pay with Solomon Islands dollar (SBD). The Solomon Island time zone is UTC+11:00. The most common language(s): English. The current population is about 724.273 inhabitants in the country. The total land area is 28450 km2. As for power supplies: the voltage of the electricity is 230 V, 50 Hz and the type of plug is G / I. The international access code is +677.
Compare best hotels in Solomon Islands (December 2023)
Popular regions for your hotel stay in Solomon Islands
Solomon Islands has beautiful areas to spend a holiday. Please select one of the available regions below. You will find more information and check the possible hotel offers. Tip: also inquire about hotel accommodations in Wales or Ethiopia.
Populaire plekken in deze regio: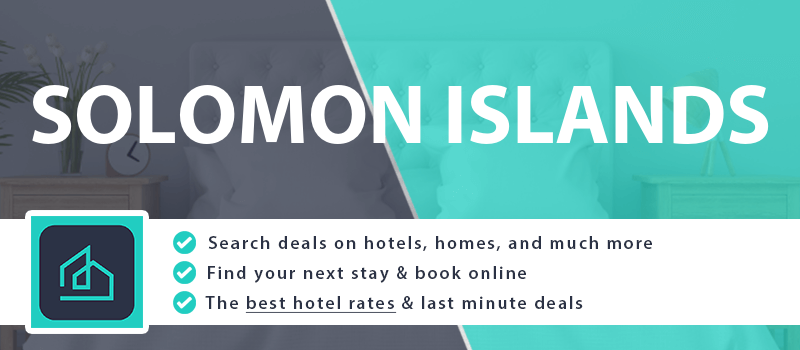 ---
Details about public transportation in Solomon Islands
Solomon Islands has good public transport facilities. A major airport in this region is Honiara International Airport. Good transfers are available. The national airline is Solomon Airlines. You can book cheap tickets here. You can also book a last minute deal. Via www.parliament.gov.sb you can find more information about: city tax (tourism), public transport and visas & passports.
Regular hotel rates
Solomon Island hotel prices vary widely (based on regio & type of accommodation). You can find the average rates in the following table.
| Type of overnight stay | Rates |
| --- | --- |
| Cheap hotel | €72,00 |
| Average room | €110,00 |
| Exclusive accommodation | €155,00 |
| Weekend trip | €330,00 |
| Eating (per person) | €20,00 |
Normal rates for an hotel stay in Solomon Islands
Climate & Weather Forecasts December 2023
Solomon Islands is a wonderful country. Take into account a Wet equatorial climate. The standard annual temp. is 25,6 degrees Celsius °C. In the winter months it is slightly colder. Take into account about 24,5 degrees centigrade. In the summer it is warmer. Assume 26,5 degrees centigrade °C. In the widget below we show the weather forecast for this week.
{{current_weather.dt | momentjs( atts.date )}}
{{current_weather.temp | temp}} °{{units}}
{{day.dt | momentjs(atts.date)}}
{{day.temp | temp}} °{{day.temp_min | temp}} °{{units}}
{{current_weather.temp | temp}} °
Humidity: {{current_weather.humidity}}%
Clouds: {{current_weather.clouds}}%
Wind ({{current_weather.wind.deg}}): {{current_weather.wind.speed}}{{units_wind}}
{{current_weather.desc}}
{{day.dt | momentjs(atts.date)}}
{{day.temp | temp}}°
{{day.temp_min | temp}} °