Book cheap hotels in Ukraine
Please note: due to the current war in Ukraine, this page is no longer up to date. Check the current travel advice.
If you're looking to go abroad any time soon, you should definitely visit Ukraine. So why Ukraine? Well for starters, Ukraine is an absolute bargain compared to other countries. In terms of money, visiting Ukraine would be highly affordable. Gone are the days where you have to spend $400 every night just to stay at a fancy hotel. If you go Ukraine, you can stay at a top of the arts hotel for a fraction of the price. Apart from the cost, one other benefit of going to Ukraine is that it is an old country! If you go back as far the Greeks, you'd know that the Greeks had made it as far back as the Crimean Peninsula leaving behind a memorable ruins site. If you're looking to go, here are the top 10 best destinations in Ukraine.
Are you looking for the best hotels in Ukraine? You can enjoy a wonderful holiday destination here. Some reasons to go here: a beautiful nature, a delicious local cuisine, architectural landmarks and a wonderful culture. There are numerous hotels to book. You can book the cheapest budget hotels for €23,00 per overnight stay. Do you want a luxury holiday? A hotel room will cost you about €70,00 per night.
| | |
| --- | --- |
| Country | Ukraine |
| Capital city | Kyiv or Kiev |
| Average hotel room price | €45,00 |
| Spoken language | Ukrainian |
| Official Currency | Ukrainian hryvnia (UAH) |
| Busiest travel time | May, June & September |
| Number of inhabitants | 39.701.739 |
| Surface area | 603700 km2 |
| Time zone | UTC+02:00 (EET) |
| Airline | Ukraine International Airlines |
| Major Airport | Boryspil International Airport (IATA:KBP) |
| Government website | www.kmu.gov.ua |
Before you leave
Are you planning your trip to Ukraine? Good preparation is important! The capital is Kyiv or Kiev. The national currency is Ukrainian hryvnia (UAH). The Ukrainian time zone is UTC+02:00 (EET). The official language: Ukrainian. The current population is about 39.701.739 inhabitants in the country. The area of the country is 603700 km2. Some additional practical info: the current voltage is 230 V, 50 Hz and the plug type is C / F. The country code for phone calls is +380.
Compare best hotels in Ukraine (December 2023)
Great regions for your hotel stay in Ukraine
Ukraine has different regions for a holiday. Choose one of the regions below. You can then read additional details and view the available hotel offer. Tip: also inquire about hotel accommodations in Solomon Islands & Jamaica.
Populaire plekken in deze regio: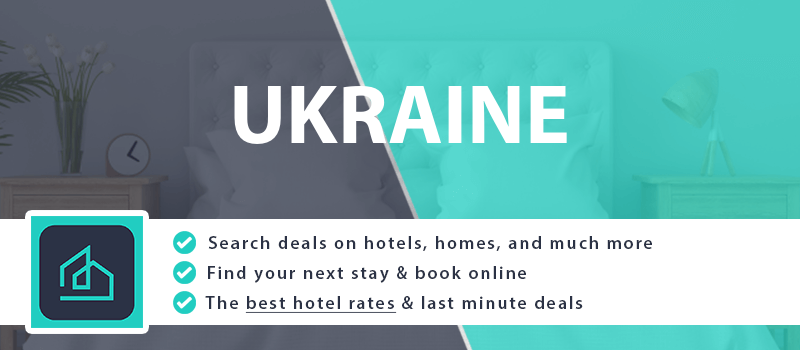 Top 10 Places to Visit in Ukraine
The 10 destinations displayed below are truly remarkable and should definitely be visited when you go to Ukraine. If you're looking for a good time and a taster in ancient history, Ukraine has the baggage to handle it.
1). Poltava:
This historic building can be found between Kharkiv and Kyiv. It is known for being site of a battle hosted in 1709 between a group of Cossacks and the Swedes fighting against the Russian army defending Czar Peter 1.
2). Sophievka Dendro Park, Uman:
This park is the landscape architecture piece of art which is between the end of the 15th century and the beginning of the 19th century. This park had been established in 1796 by a significantly rich Polish magnate in honour of his Greek wife as to which he presented it to her on her birthday on May 1802. The park was created to represent a romantic atmosphere using Greek and Roman mythology.
3). Chernihiv:
This remarkable landscape has been a human settlement for well over 2,000 years. This region is known for being an important historic region.
4). Kamyanets – Podilsky:
This region is one of the most oldest cities in Ukraine and is considered to be of huge importance and a phenomenon for great importance culturally. It is a rocky island which serves as a rare pedestal on which more than a thousand years masters have created a miracle in a stone.
5). Yalta:
This place has steep mountains which serves as a backdrop for the jewel of the Crimean Peninsula. It has a beautiful scenery which cannot be explained. What makes this place so beautiful is the fact that it possesses an atmosphere that is calm and relaxed.
6). Odesa:
This remarkable place is known as the "Pearl of the Black Sea". It is the third largest city in Ukraine but is the largest city close to the black sea. Most importantly, Odesa is known for its trading and because of its incredibly warm climate, it boasts over a hundred thousands visitors every year.
7). Lviv, Ukraine:
This little city is known for being poetic. It has been known for being marinaded in legends both ancient and new. The streets within Lviv are carved out of stone and the cities decorations are made out of different types of styles which miraculously is still in its original state.
8). Carpathian Mountains:
While Odesa is known for being the Pearl of the Black sea, the Carpathian mountains is considered to be the green pearl of Ukraine. It is one of the most popular resorts in the country because of its stunning scenery. The mountains contain a beautiful mix of natural areas, meadows and humans living side by side in nature.
9). Kyiv:
This is the capital city of Ukraine which boasts over 3 million people who are settled in the Dnieper river. The city had reached its prime in the 11th century where trading routines between the Mediterranean and Baltic's. The art within the city are absolute world treasures.
10). The Crimean Resorts:
The Crimea is a remarkable place to visit with its extravagant scenery which boasts a beautiful landscape and clear blue sky. Over the last centuries, the Crimea has attracted a lot of settles including the Greeks and the Genoese. According to the museums and history of Crimea, the Greeks had founded the coasts and inter-married with the local people.
Information about public transportation in Ukraine
Ukraine has great facilities for public transport. A popular airport in this area is Boryspil International Airport. Good transfers are available. The flag carrier is Ukraine International Airlines. They fly to different destinations. Also research the last-minute deal options. Via www.kmu.gov.ua more background info is given about: tourism, tax, hospital care and residence permits (visas) and passports.
Typical hotel prices
Ukrainian hotel prices vary widely (based on regio & type of accommodation). You can view the expected rates in the next figure.
| Hotel segment | Costs |
| --- | --- |
| Cheap accommodation | €23,00 |
| Common room | €45,00 |
| Exclusive lodging | €70,00 |
| Weekend trip | €135,00 |
| Meal (per person) | €15,00 |
Standard rates for an hotel stay in Ukraine
Climate & Weather Forecasts December 2023
Ukraine is a beautiful country. The country has a Warm-summer humid continental climate. The annual temperature is approximately 9,3 degrees Celsius. In the winter months it is slightly colder. During this period it is about -9,3 degrees Celsius °C. Temperatures rise during the summer. Arround 23,7 degrees centigrade. In the schedule below you get an impression of the weather of the coming days.
{{current_weather.dt | momentjs( atts.date )}}
{{current_weather.temp | temp}} °{{units}}
{{day.dt | momentjs(atts.date)}}
{{day.temp | temp}} °{{day.temp_min | temp}} °{{units}}
{{current_weather.temp | temp}} °
Humidity: {{current_weather.humidity}}%
Clouds: {{current_weather.clouds}}%
Wind ({{current_weather.wind.deg}}): {{current_weather.wind.speed}}{{units_wind}}
{{current_weather.desc}}
{{day.dt | momentjs(atts.date)}}
{{day.temp | temp}}°
{{day.temp_min | temp}} °