Book cheap hotels in Jamaica
Jamaica is a beautiful, popular island. Its tourism industry is well-organized and does an impressive job of marketing the island. Of course, nature has facilitated their work by providing impressive and diverse beauty. Christopher Columbus reportedly described Jamaica as "the fairest isle eyes have seen." Waterfalls cascade down lush mountains. Visitors can drive through Fern Gully with its many shades of green. Gorgeous white sand beaches contrast with blue skies. The cliffs of Negril overlook clear, turquoise waters and serve as a popular site for viewing sunsets. Many vacationers will spend much of their time in one of the many all-inclusive resorts which are particularly popular in Jamaica. In addition to food and drink, these resorts tend to include a good variety of activities and watersports. Nevertheless, we'd recommend that people venture out to visit at least one of the many attractions outside of the comfortable realm of the resort.
Jamaica is the third largest Caribbean island, measuring 146 miles at its widest point. Primarily of volcanic origin, the lush island features a mountain ridge that peaks at Blue Mountain which is 7,402 feet high. Many white-sand beaches and clear seas ring the island. Are you looking for the best hotels in Jamaica? Enjoy a versatile holiday destination! You can enjoy here: a versatile nature, delicious local specialties, extraordinary museums and a wonderful culture. There are many different hotels. A cheap budget hotel is available from €61,00 per overnight stay. Are you looking for a luxury accommodation? Then you pay an average of €277,00 per accommodation. A holiday in the sun is very pleasant here. But it is also crowded in winter. Book your hotel room in Jamaica without hassle via the internet. Compare the hotel providers below and find the best deals.
| | |
| --- | --- |
| Country | Jamaica |
| Capital city | Kingston |
| Average hotel room price | €125,00 |
| Spoken language | English |
| Payment method | Jamaican dollar (JMD) |
| Busiest travel time | December to April |
| Population | 2.827.377 |
| Surface area | 10991 km2 |
| Time zone | UTC−05:00 |
| Airline | Caribbean Airlines |
| Large Airport | Sangster International Airport (IATA:SIA) |
| Government information | www.jis.gov.jm |
Handy travel information
Are you going on holiday to Jamaica? Prepare yourself well! The capital of the country is Kingston. In the hotel you pay with Jamaican dollar (JMD). The Jamaican time zone is UTC−05:00. The most spoken language(s): English. The country has approximately 2.827.377 inhabitants. The total land area is 10991 km2. Some additional practical info: the current voltage is 110 V, 50 Hz and the type of plug is A / B. The international access number is +1-876.
Compare best hotels in Jamaica (December 2023)
Popular regions for a hotel stay in Jamaica
Jamaica has beautiful areas to spend a holiday. Please select one of the available regions below. You will find more information and research the different hotel offers. Also explore hotel accommodations in Zambia and Greenland.
Populaire plekken in deze regio: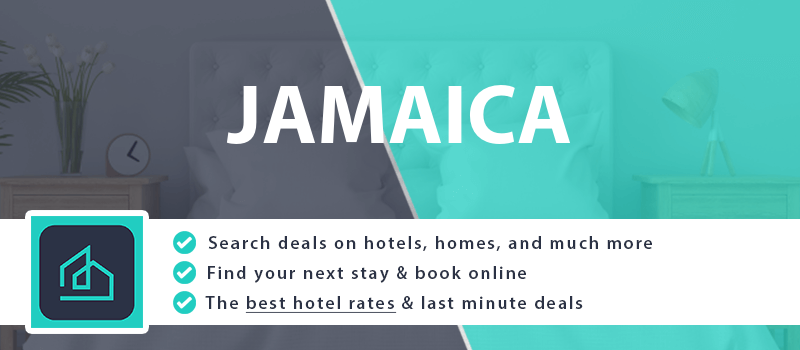 ---
Information about public transportation in Jamaica
Jamaica has a well laid out public transport network. An important airport in this country is Sangster International Airport. They offer reliable flights. The national flight company is Caribbean Airlines. They offer various destinations. With a last-minute deal you can save extra. Via www.jis.gov.jm more background info is given about: tourism, tax, insurances and the (passport) visa application process.
Normal hotel rates
Jamaican hotel prices vary widely (based on regio & type of accommodation). We offer a price estimate in the following table.
| Hotel segment | Tariffs |
| --- | --- |
| Cheap accommodation | €61,00 |
| Common room | €125,00 |
| Exclusive lodging | €277,00 |
| Full weekend | €375,00 |
| Dinner (per person) | €24,00 |
Standard rates for an hotel stay in Jamaica
Climate & Weather Forecasts December 2023
Jamaica is a special country. The country has a Tropical wet-dry climate. The normal annual temperature is 25,0 degrees centigrade °C. In the winter months it is slightly colder. During this period it is about 21,7 degrees Celsius. Summer can get pretty hot. Like 27,1 degrees centigrade °C. Below we show the weather forecast for this week.
{{current_weather.dt | momentjs( atts.date )}}
{{current_weather.temp | temp}} °{{units}}
{{day.dt | momentjs(atts.date)}}
{{day.temp | temp}} °{{day.temp_min | temp}} °{{units}}
{{current_weather.temp | temp}} °
Humidity: {{current_weather.humidity}}%
Clouds: {{current_weather.clouds}}%
Wind ({{current_weather.wind.deg}}): {{current_weather.wind.speed}}{{units_wind}}
{{current_weather.desc}}
{{day.dt | momentjs(atts.date)}}
{{day.temp | temp}}°
{{day.temp_min | temp}} °
---