Book cheap hotels in Zambia
Visitors to Zambia can enjoy up close and personal wildlife safaris and some amazing typical African holiday experiences amongst some breathtaking natural landscapes and surroundings. Perhaps you would want to visit one of the world's most famous landmarks; the Victoria Falls which is perfect for the whole family or the Zambezi National Park for an African adventure. Do you want to book an accommodation in Zambia? This is a special holiday destination. You can enjoy here: a beautiful nature, a delicious local cuisine, architectural landmarks and a surprising culture. There is a wide choice of hotels. A cheap budget hotel is available from €36,00 per accommodation. Would you like to enjoy a more exclusive hotel room? Then you pay an average of €218,00 per overnight stay. A holiday in the sun is very pleasant here. It is also a beautiful country in winter. Book your hotel room in Zambia at the lowest rate. Compare the best providers below and view the best last-minute deals.
| | |
| --- | --- |
| Country | Zambia |
| Capital city | Lusaka |
| Average hotel price | €82,00 |
| Language | English |
| Currencies | Zambian kwacha (ZMW) |
| Favorable travel time | May to August |
| Population | 20.017.675 |
| Area of the country | 752614 km2 |
| Time zone | UTC+02:00 (CAT) |
| Leading carrier | Zambia Airways |
| Central Airport | Kenneth Kaunda International Airport (IATA:LUN) |
| Government information | www.parliament.gov.zm |
Handy travel information
Are you going on a trip to Zambia? It is smart to read well in advance. The capital of the country is Lusaka. People pay here with Zambian kwacha (ZMW). The Zambian time zone is UTC+02:00 (CAT). The most spoken language(s): English. The current population is about 20.017.675 citizens in the country. The total area is 752614 km2. As for power supplies: the electricity is 230 V, 50 Hz and the type of electrical sockets is C / D / G. The phone code is +260.
Compare best hotels in Zambia (December 2023)
The best regions for your hotel stay in Zambia
Planning a trip to Africa can be a big undertaking. There are many things you will need to know about traveling, safety, and obtaining the right paperwork. Africa is one of the most beautiful, stunning, and culturally rich continents on the planet. A real African adventure can be experienced in breathtaking wildlife landscapes like those of Zambia. This country boasts some of the biggest wilderness areas and wildlife populations anywhere. Traveling to this nation should be done with guided assistance and deep research, so that you know you are going to the right areas with the right paperwork. Zambia has versatile holiday areas. Choose one of the regions below. You can then find an explanation and view the available hotel offer. Also check out hotel accommodations in El Salvador & Zambia.
Populaire plekken in deze regio:
Going on a Safari trip
Zambia is less well known than most of Africa's other premier safari destinations. It is however an excellent destination with superb and beautiful game reserves full of Wildlife and relatively few tourists, it is the original home of walking safaris and also of the magnificent Victoria Falls. A safari in Zambia is generally less expensive than in neighboring Tanzania and Botswana but offers high quality wildlife experiences which will appeal to new and experienced safari travelers. The National Parks unusually permit guided walks and night drives within the park boundaries making for an exhilarating safari experience. The cost of your safari is determined by location, exclusivity, season and the quality of guiding. Zambia does offer a great value high quality safari experience at a lower cost than in neighboring countries especially during the peak season months. Typical daily budget including local transfers, air transfers, full board accommodation, park fees and all scheduled game activities based on two sharing in good quality camps and lodges.
Main locations / attractions
The best known game reserve in Zambia is South Luangwa National Park; the game viewing here is excellent with an excellent chance of seeing leopards. Walking safaris with a guide and armed ranger are a specialty and the quality of guiding is very high. South Luangwa is conveniently close to combine with a trip to the very remote Luambe and North Luangwa National Parks or Lake Malawi in neighboring Malawi. Lower Zambezi National Park is an adventure playground with serious game viewing on the Zambezi River opposite the World Heritage Site of Mana Pools on the Zimbabwean side of the Zambezi. Most of the camps and lodges offer a mixture of boat trips, canoeing, game walks and drives. There is superb tiger fishing available from most lodges. Kafue National Park in Southern Zambia is an undiscovered gem with the beautiful Kafue River running along most of its length. Kafue is classic wildlife country a mixture of woodlands and wetlands and grassy plains. The game viewing is excellent with the Busanga Plains in the North the highlight. This is the only park in Zambia where you are likely to see cheetah and it is a stronghold for the highly endangered wild dog.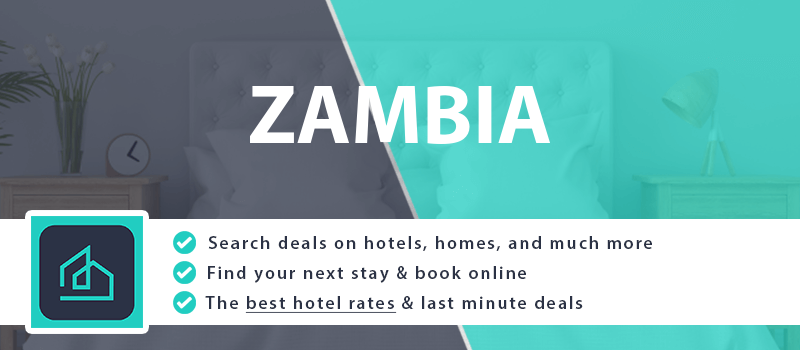 ---
Data about public transportation in Zambia
Zambia has good public transport facilities. A good domestic airport is Kenneth Kaunda International Airport. This is a very nice airport. The national airline is Zambia Airways. They offer good conditions. With a last-minute deal you can save extra. On www.parliament.gov.zm you can find more information about: tourism, tax, police and emergency services and residence permits (visas) and passports.
Normal hotel prices
Zambian hotel prices depend on many factors. We place a price indication in the list below.
| Type of overnight stay | Prices |
| --- | --- |
| Basic accommodation | €36,00 |
| Normal room | €82,00 |
| Exclusive accommodation | €218,00 |
| Full weekend | €246,00 |
| Dinner (per person) | €13,00 |
Average rates for an hotel stay in Zambia
Climate & Weather Forecasts December 2023
Zambia is a beautiful country. The country has a Monsoon-influenced humid subtropical climate. The normal annual temperature is 22,3 degrees Celsius. In winter it is a bit colder. It is then an average of 17,0 degrees Celsius. Summer can get pretty hot. Arround 26,7 degrees centigrade °C. In the table below you will find the weather forecast for today and the next 7 days.
{{current_weather.dt | momentjs( atts.date )}}
{{current_weather.temp | temp}} °{{units}}
{{day.dt | momentjs(atts.date)}}
{{day.temp | temp}} °{{day.temp_min | temp}} °{{units}}
{{current_weather.temp | temp}} °
Humidity: {{current_weather.humidity}}%
Clouds: {{current_weather.clouds}}%
Wind ({{current_weather.wind.deg}}): {{current_weather.wind.speed}}{{units_wind}}
{{current_weather.desc}}
{{day.dt | momentjs(atts.date)}}
{{day.temp | temp}}°
{{day.temp_min | temp}} °