Book cheap hotels in Kosovo
You are planning on visiting Prishtina and don't know what to do? Or thinking about spending a couple of days in the Western Balkans looking for lovely spots to see as a tourist? On this page you will find travel tips, suggestions for day trips and information about Kosovo. Kosovo is the youngest nation in Europe with its vibrant capital Pristina. Even though one would not expect it Kosovo is definitely a travel destination. It is certainly not a country a tourist would automatically think of but the young nation has a lot to offer.
Kosovo is located in the centre of the Balkans bordering Albania and Macedonia in the south Montenegro in the west and Serbia to the north and east. Apart from the capital Pristina, there are towns like Prizren, Peja and Mitrovica with to visit. There are plenty of cultural sites, churches and mosques to see. You can astonish Ottoman and Byzantine architecture as well as remnants from the Roman empire.
More information
Would you like to book a holiday to Kosovo? It is a beautiful holiday destination. The country is very popular: a wooded area, delicious food and drink, old buildings and a very traditional and unique culture. There is a suitable hotel for every budget. You can book the cheapest budget hotels for €45,00 per overnight stay. Do you want a more luxurious room? A hotel room will cost you about €90,00 per night. A sunny holiday is very popular here. But it is also crowded in winter. Book your own hotel room in Kosovo quickly online. Compare the providers below and get started right away.
| | |
| --- | --- |
| Country | Kosovo |
| Capital city | Pristina |
| Average hotel room price | €75,00 |
| Language | Albanian, Serbian |
| Official Currency | Euro (EUR) |
| Favorable travel time | April to September |
| Number of inhabitants | 1.802.250 |
| Surface area | 10887 km2 |
| Timezone | GMT+2 |
| Flag carrier | Kosova Airlines |
| Central Airport | Priština International Airport (IATA:PRN) |
| Government website | www.kryeministri.rks-gov.net |
Before you leave
Are you booking a hotel for a trip to Kosovo? Prepare yourself well! The capital city is Pristina. The general means of payment is Euro (EUR). The Kosovan time zone is GMT+2. The official language: Albanian, Serbian. The current population is about 1.802.250 inhabitants in the country. The total land area is 10887 km2. Information about power and electricity: the default voltage is 230 V, 50 Hz and the type of plug is C / F. The prefix is +383.
Compare best hotels in Kosovo (December 2023)
Tourist regions for a hotel stay in Kosovo
Kosovo has different regions for a holiday. Below you will find a summary of beautiful regions. You can then find an explanation and research the different hotel offers. Tip: also inquire about hotel accommodations in Egypt & Monaco.
Populaire plekken in deze regio:
Countryside and people
The countryside and is partly hilly and suitable for a hike and mountain biking. Tourists can also go climbing in the mountains or do long walks alongside lakes and waterfalls. Kosovo has the youngest population on the European continent. Lot's of youngsters are out and about in the many cafés and on the streets turning the city of Pristina into a pulsating urban area. You can go shopping, wander through town, enjoy restaurants and cafés during the day and enjoy the nightlife. Read about what favourite beers and spirits to drink. Check out where to go for breakfast or dinner. Find out about the specifics of the Balkan cuisine with its tasty dishes and different influences. Get inspiration for daytrips, cultural sites and events in arts and sport a foreigner should definitely do when staying here.
Best travel time:
Best time for travelling to Kosovo is in spring, summer and early autumn when the climate is warm and favouring outdoor activities. However, Kosovo is worth a trip even in winter.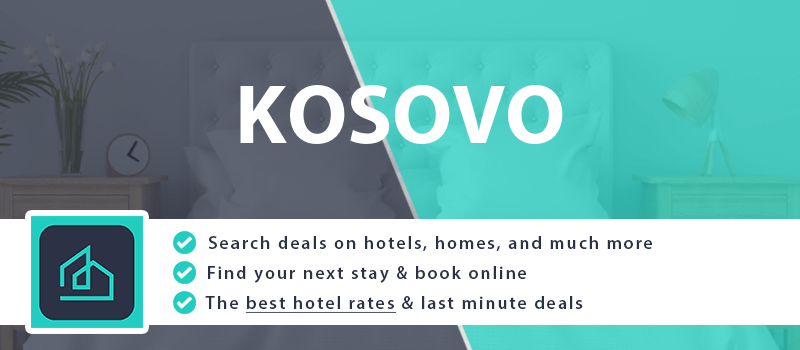 ---
Details about public transportation in Kosovo
Kosovo has good public transport facilities. A popular airport in this area is Priština International Airport. This is a very nice airport. The national airline is Kosova Airlines. They offer various destinations. You can also go there for a last-minute deal. On www.kryeministri.rks-gov.net more background info is given about: tourist tax, police and emergency services and the (passport) visa application process.
Normal hotel rates
Kosovan hotel prices can be different every day. You can find the average rates in the following table.
| Accommodation type | Rates |
| --- | --- |
| Budget hotel room | €45,00 |
| Normal room | €75,00 |
| Exclusive lodging | €90,00 |
| Weekend holiday | €225,00 |
| Eating (per person) | €15,00 |
Normal rates for an hotel stay in Kosovo
Climate & Weather Forecasts December 2023
Kosovo is a special country. The country has a Temperate oceanic climate. The normal annual temperature is 15,0 degrees centigrade °C. Keep in mind some cooler temperatures in winter. Take into account about 1,0 degrees Celsius °C. It's much more comfortable in the summer. Arround 28,0 degrees Celsius. In the widget below you will find the weather forecast for the next 7 days.
{{current_weather.dt | momentjs( atts.date )}}
{{current_weather.temp | temp}} °{{units}}
{{day.dt | momentjs(atts.date)}}
{{day.temp | temp}} °{{day.temp_min | temp}} °{{units}}
{{current_weather.temp | temp}} °
Humidity: {{current_weather.humidity}}%
Clouds: {{current_weather.clouds}}%
Wind ({{current_weather.wind.deg}}): {{current_weather.wind.speed}}{{units_wind}}
{{current_weather.desc}}
{{day.dt | momentjs(atts.date)}}
{{day.temp | temp}}°
{{day.temp_min | temp}} °