Book cheap hotels in Oman
Oman, officially called the Sultanate of Oman, is an Arab state in southwest Asia on the southeast coast of the Arabian Peninsula. It is one of the beautiful Arab countries and surely worth a visit. Oman is truly unique and has a lot of history and beauty to offer the visitors. There are some attractions that are particularly interesting and will allow those who visit to see and experience things that cannot be seen or done anywhere else in the world. Fifty things that you can enjoy in Oman along with your family are listed below:
Would you like to book a holiday to Oman? It is a surprising holiday destination. What makes this country so special: a wooded area, great restaurants, old buildings and a surprising culture. You can choose from numerous hotels. The most affordable budget hotels are available from €63,00 per accommodation. Do you want a luxury holiday? A hotel room will cost you about €130,00 per accommodation. A sunny holiday is very popular here. It is also popular in winter. Book your favorite hotel room in Oman right way! Compare the best providers below and book rooms at the best price.
| | |
| --- | --- |
| Country | Oman |
| Capital city | Muscat |
| Average hotel room price | €103,00 |
| Language | Arabic |
| Currencies | Omani rial (OMR) |
| Best time to visit | November to March |
| Number of inhabitants | 4.576.298 |
| Surface area | 212460 km2 |
| Timezone | UTC+04:00 |
| Leading airline | Oman Air |
| Large Airport | Muscat International Airport (IATA:MCT) |
| Government website | www.oman.om |
Information before you leave
Are you booking a trip to Oman? Read carefully about the local rules and protocols. One of the most important cities is Muscat. The general means of payment is Omani rial (OMR). The Omani time zone is UTC+04:00. The most spoken language(s): Arabic. There are about 4.576.298 inhabitants in the country. The country's total land area is 212460 km2. Some additional practical info: the electricity is 240 V, 50 Hz and the socket type is G. The country code is +968.
Compare best hotels in Oman (December 2023)
The best regions for a hotel stay in Oman
Oman has different regions for a holiday. Choose from the available regions in the list below. You will find more information and research the different hotel offers. Advice: also ask about hotel accommodations in Ecuador & Argentina.
Populaire plekken in deze regio:
Top 10 things to see and to do in Oman
1. Muscat City
The beautiful city of Muscat is one of the most popular tourist destinations of Oman. It is the capital of Oman and its financial and trade centre. The city of Muscat is culturally rich and has a famous heritage, also offers plenty of things to do and see. The capital area is a prime example of intelligent and aesthetic development, blending the ancient and modern.
2. Wahiba
Wahiba is also known as the Ash-Sharqiyah Sands is one of the top tourist attractions of Oman. This attraction of Oman offers a perfect spot for those of the romantic visitor. Rolling sand dunes, varying from deep red to a rich honey color sands stretching as far as the eye can see, making it the most beautiful spot of the country. The Sands here stretch for 180 Km from north to south and 80 Km from east to west. You can hire guided tours to better explore the area.
3. Wadi Daikah
Wadi Daikah is popularly famous as the Devil's Gap, Wadi Dayqah. It is well described by explorer S. B. Miles during the year 1896 as "the most singular piece of earth sculpture in Arabia". The wadi runs through a narrow winding vertical-sided canyon that looks as though the mountain has been split in two, making it the most beautiful spot to visit in Oman. The walls soar to 1,700 meters and close in to 12 meters in some places.
4 Sohar
The city of Sohar, centuries ago was the major region of trade. It is famous for its copper deposits, and archaeological evidence points to copper extraction being carried out 5,000 years ago. Sohar is a famous tourist attraction and you will also find three copper mines in operation even today with over 18 million tons of copper deposits. Beautiful beaches and attractive archaeological sites are the major attractions of this city.
5. Salalah
Salalah is one of the most famous tourist destinations of Oman to be found located on the Arabian Sea, around 1,040 Km from Muscat. The city of Salalah offers magnificent tourist attractions and various attractive historical and archaeological sights. It is said that studies over the years and evidence has been found in the form of writing, inscriptions and signs indicating that a number of different civilizations have succeeded each other here, such as the ruins of Al-Blaid and Samhuram ancient cities. It is here you can find Nabi Ayoub (Jacob) Tomb, housed in a small destictive doomed building surrounded by green hills as well as the Tomb of Prophit Omran.
6. Sea Turtles
Sea turtles are among the major source of attraction to tourist in Oman and are situated in Ras Al-Hadd and the Dimaniyyat Islands. Oman has a profusion of exotic marine life and some of the best dive sites in the world. In particular, the Hallaniyat Islands and the Dimaniyyat Islands offer chances to see beautifully coloured tropical fish and unusual hard and soft corals.
7. Jebel Shams
Jebel Shams is the highest mountain of the Al Hajar mountain range and is situated around 280 km from the country's capital. The meaning of Jebel Shams is "Mountain of the Sun" in Arabic. Jebel Shams are found 9000 feet above the sea level. The mercury here dips to zero in winter and sometimes is followed with snowfall. It is said that that climate of Jebel Shams is the reason enough to visit this region.
8. Nizwa Livestock Market
It is said that Nizwa Livestock Market should be included in the "to do list" of travelers travelling to Oman. This colorful livestock market is a sight full of human interest. You will notice that every Friday morning the ancient capital of Oman's interior becomes a hive of activity as cattle, sheep, and goats are auctioned amongst scenes of great excitement. Numerous of local people are found here.
9. Musandam Fjords
Musandam Fjords is considered of be one of the most beautiful and unspoiled areas in Oman. It is renowned for its magnificent mountains and fjord-like sunken valleys which have led the area to be called "The Norway of Arabia". The relaxing dhow cruise of Khor ash Sham is said to be the most attractive feature of this area. Visit Musandam to explore the dramatic 'fjord' with its incredibly sheer cliffs and crystal clear water.
10. Nizwa
Nizwa is one of the most famous tourist destinations of Oman and offers some of the finest historical monuments, handicrafts and agricultural products. The city of Nizwa is also renowned for having an expansive Souq showcasing a wonderful array of handicrafts – coffee pots, swords, leather goods, silverware, antiques, and household utensils. One of the oldest cities of the Sultanate, this was once a center of education and art. Nizwa fort, completed in the 1650′s, was the seat of power during the rule of the Al Ya'ruba dynasty and is Oman's most visited National monument.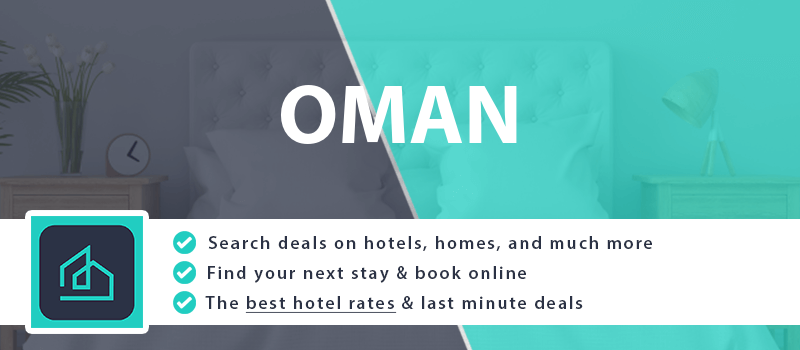 Explanation about public transportation in Oman
Oman has a well laid out public transport network. A popular airport in this area is Muscat International Airport. This is a very nice airport. The flag carrier is Oman Air. They fly to different destinations. You can also go there for a last-minute deal. Via www.oman.om you can find more information about: tax for tourists, hospital care and residence permits (visas) and passports.
Typical hotel rates
Omani hotel prices can vary quite a bit. You can find the average rates in the next figure.
| Hotel class | Costs |
| --- | --- |
| Cheap accommodation | €63,00 |
| Normal room | €103,00 |
| Exclusive accommodation | €130,00 |
| Weekend trip | €309,00 |
| Supper (per person) | €31,00 |
Average rates for an hotel stay in Oman
Climate & Weather Forecasts December 2023
Oman is a special country. The country has a Hot deserts climate. The annual temperature is approximately 26,0°C degrees. In the winter months it is slightly colder. It is then an average of 18,9 degrees centigrade °C. Summer can get pretty hot. Assume 31,4 degrees centigrade °C. In the schedule below you will find the weather forecast for today and the next 7 days.
{{current_weather.dt | momentjs( atts.date )}}
{{current_weather.temp | temp}} °{{units}}
{{day.dt | momentjs(atts.date)}}
{{day.temp | temp}} °{{day.temp_min | temp}} °{{units}}
{{current_weather.temp | temp}} °
Humidity: {{current_weather.humidity}}%
Clouds: {{current_weather.clouds}}%
Wind ({{current_weather.wind.deg}}): {{current_weather.wind.speed}}{{units_wind}}
{{current_weather.desc}}
{{day.dt | momentjs(atts.date)}}
{{day.temp | temp}}°
{{day.temp_min | temp}} °