Book cheap hotels in Romania
Romania is a country situated in the south east of Europe, next to the Black Sea, bordered by Hungary on the west, Serbia on the south west, Bulgaria on the south , Moldova on the East and Ukraine on the north. Some of the main cities in Romania are: Bucharest – the capital, Brasov, Constanta, Timisoara, Cluj, Iasi and Galati. It is a very beautiful and interesting country with a gorgeous landscape and extremely welcoming people. Romania's main touristic attractions are: the Carpathian Mountains, Dracula Castel, the Danube Delta, the painted monastries in Moldavia and the Black Sea.
A wonderful holiday to Romania? It is a wonderful destination. You can enjoy here: a natural environment, good restaurants, architectural landmarks and a wonderful culture. There are many different hotels. There are quite a few budget hotels from €54,00 per night. Would you like to enjoy a more exclusive hotel room? Then the prices rise towards €82,00 per overnight stay. A sunny holiday is very popular here. But it is also crowded in winter. Book your own hotel room in Romania quickly online. Compare the best providers below and view the best last-minute deals.
| | |
| --- | --- |
| Country | Romania |
| Capital city | Bucharest |
| Price of hotel accommodation | €63,00 |
| Local language | Romanian |
| Currencies | Romanian leu (RON) |
| Busiest travel time | May, June & September |
| Number of inhabitants | 19.659.267 |
| Total surface area | 237500 km2 |
| Timezone | UTC+02:00 (EET) |
| National Airline | TAROM |
| Central Airport | Henri Coanda International Airport (IATA:OTP) |
| Government website | www.gov.ro |
Important info
Are you planning your trip to Romania? Prepare yourself well! The capital of the country is Bucharest. In the hotel you pay with Romanian leu (RON). The Romanian time zone is UTC+02:00 (EET). The most common language(s): Romanian. They have about 19.659.267 inhabitants in the country. The country's total land area is 237500 km2. As for power supplies: the voltage of the electricity is 230 V, 50 Hz and the type of electrical sockets is C / F. The country code for phone calls is +40.
Compare best hotels in Romania (December 2023)
Tourist regions for your hotel stay in Romania
Romania has special areas where you can spend time during your holiday. Below you will find a summary of beautiful regions. You can then find an explanation and research the different hotel offers. Also check out hotel accommodations in Costa Rica and Norfolk Island.
Populaire plekken in deze regio:
Country summary
A unique nature and cultural diversity characterize this central Romanian landscape, which is called "the land behind the forests" by its inhabitants. Transylvania is a wooded plateau surrounded by the Carpathian peaks. In the remote areas of this region that have hardly been developed for tourism, people live in a simple way of life and economy based on their rich cultural and folkloric heritage, which has not existed in Western Europe for more than 100 years. Here the farmers still drive in horse-drawn carts and plow their fields with oxen ploughs. However, this is not a romantic staging, the country is not an open-air museum. The Romanian interior is little developed for tourism. For you, this means, above all, getting to know the originality of the country and its people – and still genuine hospitality. In return, however, you should be willing to make a certain (partial) sacrifice of comfort. Armed with a little flexibility and spontaneity, we promise you a great, unforgettable holiday.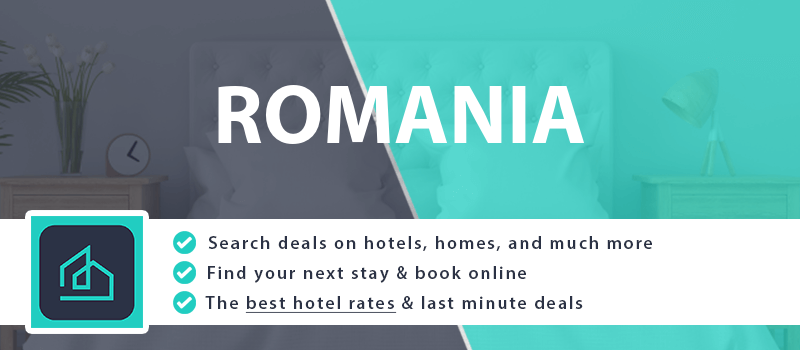 ---
Data about public transportation in Romania
Romania has a well laid out public transport network. A popular airport in this area is Henri Coanda International Airport. Good transfers are available. The flag carrier is TAROM. They offer various destinations. You can also book a last minute deal. Via www.gov.ro more background info is given about: tax for tourists, laws and regulations and passport control.
Main attractions
Romania lies at crossroads in Europe and is easy to reach from any cardinal point, by trans-European railways and roads, by air or on waterways. The country's relief, featuring pans, hills and mountains, is ideal for tourism. The Romanian Carpathians feature a unique landscape in point of variety. The sea shore – one of Europe's widest sea coasts – features a large number of resorts spreading over 45 kilometers, each special in its own way, providing the tourists wonderful holidays and cures in sanatoria. North of the sea coast lies the Danube Delta. Situated in the central-eastern part of Romania, the Delta is enclosed by the three arms of the Danube, flowing into the Black Sea. The Danube Delta is unique in Europe in point of worth and width. The Rhone Delta is much smaller and less complex. Its beauty, the unique landscapes, the rich fauna made UNESCO label it as a reserve of the biosphere.
Owing to its landscapes, Romania is a country where tourism can be practised 365 days a year. The tourist will not forget the Romanian folk art, as that of the area called Sapinta Maramuresului, where the only merry graveyard in the world is to be encountered, born from old Dacian faiths and featuring colours imagined by a local craftsman. We could not possibly forget the culinary art, as the "cuisine" far from being only "a sustenance laboratory" is also a civilisation and philosophy of life. The main tourist spots in Romania are:
the Capital (Bucharest)
the Black Sea coast with its belt of resorts
the Danube Delta
the Bucegi Mountains-the Prahova Valley-Brasov
Bucovina with the famous monasteries and churches with outer frescoes dating back to the 16th century and declared UNESCO patrimony
Maramures and the southern part of Transylvania the Hateg land and the surronding zone, several large cities with rich mediaeval vestiges.
Standard hotel prices
Romanian hotel prices can be different every day. You can view the expected rates in the following table.
| Accommodation type | Rates |
| --- | --- |
| Cheap hotel room | €54,00 |
| Normal room | €63,00 |
| Luxury accommodation | €82,00 |
| Weekend trip | €189,00 |
| Eating (per person) | €22,00 |
Average rates for an hotel stay in Romania
Climate & Weather Forecasts December 2023
Romania is a versatile country. Take into account a Warm-summer humid continental climate. The standard annual temp. is 9,9°C degrees. Keep in mind some cooler temperatures in winter. It is then an average of -6,5 degrees Celsius °C. Temperatures rise during the summer. About 22,6 degrees centigrade °C. In the widget below we show the weather forecast for this week.
{{current_weather.dt | momentjs( atts.date )}}
{{current_weather.temp | temp}} °{{units}}
{{day.dt | momentjs(atts.date)}}
{{day.temp | temp}} °{{day.temp_min | temp}} °{{units}}
{{current_weather.temp | temp}} °
Humidity: {{current_weather.humidity}}%
Clouds: {{current_weather.clouds}}%
Wind ({{current_weather.wind.deg}}): {{current_weather.wind.speed}}{{units_wind}}
{{current_weather.desc}}
{{day.dt | momentjs(atts.date)}}
{{day.temp | temp}}°
{{day.temp_min | temp}} °