Book cheap hotels in San Marino
Do you want to go on holiday to San Marino? This special country is the oldest republic in Europe. The country was founded in the 4th century. San Marino is a tiny country but attracts many tourists every year. Click the tower of Guaita and enjoy the beautiful view. On this page you will find extensive information about the most beautiful hotels in San Marino.
Find the best hotels in San Marino
Would you like to book a holiday to San Marino? It is a beautiful holiday destination. What makes this country so special: a beautiful nature, a delicious local cuisine, monumental buildings and a very traditional and unique culture. There is a wide choice of hotels. You can book the cheapest budget hotels for €65,00 per accommodation. Would you like to enjoy a more exclusive hotel room? Then you pay an average of €135,00 per accommodation. A sunny holiday is very popular here. Also in winter you can go here excellent. Book your hotel room in San Marino right way! Compare the best providers below and book the best offers.
| | |
| --- | --- |
| Country | San Marino |
| Capital city | San Marino |
| Average hotel room price | €92,00 |
| Language | Italian |
| Currency | Euro (EUR) |
| Favorable travel time | April to June |
| Number of inhabitants | 34.000 |
| Total surface area | 61 km2 |
| Timezone | UTC+01:00 (CET) |
| Flag carrier | San Marino Airways |
| Major Airport | Federico Fellini International Airport (IATA:RMI) |
| Government website | www.sanmarino.sm |
Useful travel information
Are you booking a hotel for a trip to San Marino? Good preparation is important! The capital city is San Marino. The general means of payment is Euro (EUR). The Sammarinese time zone is UTC+01:00 (CET). The most spoken language(s): Italian. The country has approximately 34.000 citizens in the country. The country's total land area is 61 km2. Some additional practical info: the current voltage is 230 V, 50 Hz and the plug type is C / F / L. The international calling code is +378.
Compare best hotels in San Marino (December 2023)
Popular regions for a hotel stay in San Marino
San Marino has beautiful areas to spend a holiday. Choose one of the regions below. You can then find an explanation and view the available hotel offer. Also check out hotel accommodations in Cayman Islands & New Caledonia.
Populaire plekken in deze regio:
Top 10 Things to Do in San Marino
Do you want to visit San Marino this year? Then there are certainly a number of sights that you should not miss. Below you will find our top 10
Capital San Marino Città
Enjoy tax-free shopping in the best shopping centers
The Towers of San Marino Città
 Rocca Guaita
Palazzo Pubblico
 Museum of Stato
The beautiful statues in San Marino Città
The Basilica of San Marino
Museo della Tortura
 An adventurous hike (for example the Sentiero della Rupe)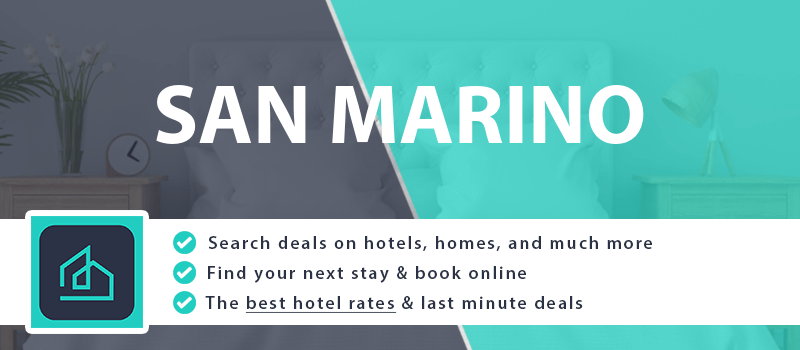 Details about public transportation in San Marino
San Marino has great facilities for public transport. An important airport in this country is Federico Fellini International Airport. Here you book direct and indirect flights. The flag carrier is San Marino Airways. They offer various destinations. Also research the last-minute deal options. Via www.sanmarino.sm you can find more information about: tourism, tax, laws and regulations and passport control.
Typical hotel prices
Sammarinese hotel prices vary widely (based on regio & type of accommodation). We offer a price estimate in the list below.
| Hotel segment | Costs |
| --- | --- |
| Basic hotel | €65,00 |
| Standard room | €92,00 |
| Premium lodging | €135,00 |
| Weekend holiday | €276,00 |
| Eating (per person) | €28,00 |
Normal rates for an hotel stay in San Marino
Climate & Weather Forecasts December 2023
San Marino is a special country. We define the climate as a Temperate oceanic climate. The normal annual temperature is 18,0 degrees Celsius. In the winter months it is slightly colder. It is then an average of 9,0 degrees Celsius °C. It's much more comfortable in the summer. Arround 31,0 degrees Celsius °C. In the widget below you will find the weather forecast for the next 7 days.
{{current_weather.dt | momentjs( atts.date )}}
{{current_weather.temp | temp}} °{{units}}
{{day.dt | momentjs(atts.date)}}
{{day.temp | temp}} °{{day.temp_min | temp}} °{{units}}
{{current_weather.temp | temp}} °
Humidity: {{current_weather.humidity}}%
Clouds: {{current_weather.clouds}}%
Wind ({{current_weather.wind.deg}}): {{current_weather.wind.speed}}{{units_wind}}
{{current_weather.desc}}
{{day.dt | momentjs(atts.date)}}
{{day.temp | temp}}°
{{day.temp_min | temp}} °