Book cheap hotels in Lebanon
Lebanon falls towards the Eastern Mediterranean sea, located at the meeting point of three continents, and over the centuries it has been the cross roads of many civilizations whose trace can be witnessed even today. In winter, the high peaks are covered with snow and in summer the limestone slopes glimmer white in the distance. The country is renowned for the architecture of its buildings and also the taste of modernity that is quite apparent in many areas. The country offers plenty of beautiful attractions. Fifty things that you can enjoy in Lebanon along with your family are listed below:
Are you looking for the best hotels in Lebanon? You can enjoy a wonderful holiday destination here. Some reasons to go here: a natural environment, great restaurants, extraordinary museums and a wonderful culture. Hotels are available for every budget. The most affordable budget hotels are available from €36,00 per night. Would you like to enjoy a more exclusive hotel room? Then you pay an average of €131,00 per overnight stay. You can enjoy a sun holiday here with your family. You can also enjoy a great holiday here in winter. Book your favorite hotel room in Lebanon easily online. Choose one of the hotel providers and book rooms at the best price.
| | |
| --- | --- |
| Country | Lebanon |
| Capital city | Beirut |
| Price of hotel accommodation | €116,00 |
| Local language | Arabic |
| Currency | Lebanese pound (LBP) |
| Best time to visit | July to late September |
| Number of inhabitants | 5.489.739 |
| Land area | 10400 km2 |
| Time zone | UTC+02:00 (EET) |
| Flag Airline | Middle East Airlines |
| Major Airport | Beirut Rafic Hariri International Airport (IATA:BEY) |
| Official government website | www.dawlati.gov.lb |
Important info
Are you going on a trip to Lebanon? It is smart to read well in advance. The country's capital is Beirut. The currency is Lebanese pound (LBP). The Lebanese time zone is UTC+02:00 (EET). The most common language(s): Arabic. They have about 5.489.739 citizens in the country. The country's total land area is 10400 km2. As for power supplies: the mains voltage is 230 V, 50 Hz and the type of plug is C / D / G. The prefix is +961.
Compare best hotels in Lebanon (December 2023)
Special regions for your hotel stay in Lebanon
Lebanon has beautiful areas to spend a holiday. Choose from the available regions in the list below. You will find more information and check the possible hotel offers. Tip: also inquire about hotel accommodations in Austria & Greece.
Populaire plekken in deze regio:
Top 10 things to see and do in Lebanon
1.  Qadisha Valley (Holy Valley)
The Aisha Valley is considered as the Holly Valley located towards the northern part of Lebanon that spreads from Bcharreh to the coast. The Holly Valley is included under UNESCO's world heritage, its countless caves, chapels and monasteries as well as its luxuriant vegetation transformed it into the most famous natural site of Lebanon. The town is a very impressive place to visit.
2. The Cedars, Arz Al Rab
Even though several regions of Lebanon shelter cedars forests, 'the Cedars' refers to the Arz-el-Rab massif towards the northern part of Lebanon. You will find it a quite close to the town of Bcharreh, it is referred as the multi-millennial cedars forest. Visitors can visit this symbolic national tree is currently protected, but open to visitors. Moreover, hidden in the heart of the huge, is a beautiful tiny white chapel which reinforces the serenity of the site.
3. Tripoli
It is said that as soon as you enter the city, you cannot help but dream of the 'Arabian Nights'. Erected next to a cliff, Tripoli's old town is an entanglement of alleys. Tripoli has various edifices. In the city you will find magnificent mosques that are surely worth visiting. The finest building of this medieval city is the Saint Gilles' Citadel. You can also find the Lions' Tower; considered significant vestige of the Mameluke epoch.
4. Corniche Beirut
Corniche Beirut is a seashore walkway situated in the Beirut, Lebanon. In this area you will find palm trees in a sequence and offers stunning views of the Mediterranean, in addition, the highest point of the Mount Lebanon can be seen from here. The sunny days here is a major attraction where one can find a number of people jogging. Also it offers stunning views of the water and the local food at the nearby restaurants is a highlight here.
5. Beirut National Museum
The Beirut national museum is one of the most famous tourist attractions of the country. If you are interested in knowing the history of this ancient country, then head towards its national museum. The museum was built between 1930 and 1937, its collections reflect the extraordinary wealth of an exceptional heritage. The collection includes from Prehistory to the Bronze Age, from the Hellenistic period to the Roman period, from the Byzantine period to the Mamluk period.
6. Faqra
It is said that visiting Faqra is one of the memorable experiences and if your tour to Faqra is during in winter, then it will be your one-of-a-kind experience. Not only will you enjoy ice sports, like skiing, but you will also take pleasure from some of the breathtaking man-made wonders and natural landscapes. A travel to the city is already a fulfillment itself, because you will be trekking a high mountain peek before you can get to the center of the city. The city is considered to be one of the naturally blessed places with plenty of things to explore.
7. Dog River
Another point of interest of tourist in Lebanon is the Dog River. It is a famous little body of water that adds beauty to the city's natural landscape. A stroll along this river will lead you to a huge rock where faces of the great rulers of Egypt and the Arab world were carved. It is a perfect destination to visit with the family.
8. Mount Lebanon
If you are interesting is witnessing some of the best natural masterpieces in Lebanon, then Mount Lebanon is just a perfect spot for you. Once here you can explore different landscapes, as well as wild flowers. On a cave located near the base of this mountain, you will find colorful rock formations of stalagmites. It is an ideal destination for a fun filled day tour.
9. The Lebanese Heritage Museum
The Lebanese Heritage Museum is considered a must visit tourist spot for those who are interested in the country's history and heritage. This museum is one of the biggest houses of art in the country; this museum is home to thousands of painting, sculpture, literature, and other artifacts that are considered proofs to the existence of Phoenician culture and the glories of empires that once ruled in the city.
10. Lebanese Cuisine
The Lebanese cuisine is one of the tastiest foods and liked by almost every visitors. The Lebanese gastronomy is a rich mixture of various products and ingredients coming from the diverse Lebanese regions. Olive oil, herbs, spices, fresh fruits and vegetables are commonly used, as well as dairy products, cereals, fishes and meat. The Mezze, an elaborate variety of thirty hot and cold dishes, had made the Lebanese cuisine renowned worldwide. The Lebanese cuisine is extremely rich in flavors and colors and yet often offers recipes easy to prepare and suitable for a healthy diet.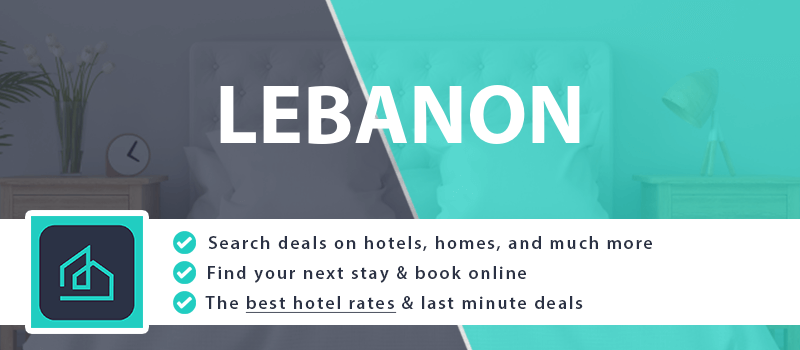 ---
Explanation of public transportation in Lebanon
Lebanon offers many options for public transport. A popular airport in this area is Beirut Rafic Hariri International Airport. Good transfers are available. The national airline is Middle East Airlines. They offer various destinations. With a last-minute deal you can save extra. On www.dawlati.gov.lb more background info is given about: city tax (tourism), hospital care and residence permits (visas) and passports.
Standard hotel rates
Lebanese hotel prices can be different every day. We place a price indication in the list below.
| Hotel class | Costs |
| --- | --- |
| Budget accommodation | €36,00 |
| Normal room | €116,00 |
| Exclusive lodging | €131,00 |
| Full weekend | €348,00 |
| Eating (per person) | €32,00 |
Average rates for an hotel stay in Lebanon
Climate & Weather Forecasts December 2023
Lebanon is a wonderful country. We define the climate as a Hot-summer Mediterranean climate. The average temperature here is 16,0 degrees Celsius. In winter the temperatures drop a bit. Take into account about 3,5 degrees centigrade °C. It is warmer in the summer period. Assume 26,4 degrees Celsius. Below you will find the weather forecast for today and the next 7 days.
{{current_weather.dt | momentjs( atts.date )}}
{{current_weather.temp | temp}} °{{units}}
{{day.dt | momentjs(atts.date)}}
{{day.temp | temp}} °{{day.temp_min | temp}} °{{units}}
{{current_weather.temp | temp}} °
Humidity: {{current_weather.humidity}}%
Clouds: {{current_weather.clouds}}%
Wind ({{current_weather.wind.deg}}): {{current_weather.wind.speed}}{{units_wind}}
{{current_weather.desc}}
{{day.dt | momentjs(atts.date)}}
{{day.temp | temp}}°
{{day.temp_min | temp}} °