Book cheap hotels in Wales
Wales, known as Cymru (pronounced cum-ri) in the Welsh language, is 8015 square miles in area – exactly the same size to the square mile as present-day Israel! Wales has a total population of only 3,2 million, so most of it is far less densely populated than England. Over half of the population live in South Wales, from Newport, Gwent [Monmouthshire] in the east to Llanelli, Carmarthenshire in the west. Wales capital city is Cardiff, a city of around 325,000 population. It is ten miles to the west of Newport. Cardiff's civic buildings, at Cathays Park, are amongst the finest in the UK. Adjacent to these Portland Stone buildings, which include the National Museum of Wales, stands Cardiff Castle.
Are you looking for the best hotels in Wales? This is a special holiday destination. There are many reasons: a green nature, delicious food and drink, beautiful museums and a very traditional and unique culture. There is a suitable hotel for every budget. There are plenty of budget hotels from €67,00 per accommodation. Are you looking for a little more comfort? Then you have to count on an average of €157,00 per accommodation. It is a popular destination for a sun holiday. You can also enjoy a great holiday here in winter. Book your hotel room in Wales at the lowest rate. View the featured providers below and view the best last-minute deals.
| | |
| --- | --- |
| Country | Wales |
| Capital city | Cardiff |
| Average hotel room price | €137,00 |
| Official language | Welsh, English |
| Payment method | Pound sterling (GBP) |
| Busiest travel time | April to June |
| Number of inhabitants | 3.193.665 |
| Area of the country | 20780 km2 |
| Time zone | GMT+1 |
| National Airline | British Airways |
| Major Airport | Cardiff International Airport (IATA:CWL) |
| Government information | www.gov.wales |
Before you leave
Are you going on holiday to Wales? Below we offer some practical information. The capital city is Cardiff. The national currency is Pound sterling (GBP). The Welsh time zone is GMT+1. People speak here in: Welsh, English. The current population is about 3.193.665 inhabitants. The total land area is 20780 km2. Most important information about electricity: the current voltage is 230 V, 50 Hz and the socket type is G. The country code for phone calls is +44.
Compare best hotels in Wales (January 2023)
Special regions for a hotel stay in Wales
Wales has versatile holiday areas. Below you will find a summary of beautiful regions. You will find more information and view the available hotel offer. Also click further to hotel accommodations in Swaziland and Fiji.
Populaire plekken in deze regio:
Great locations to visit during your holiday
On the western fringe of Cardiff is the Welsh Folk Museum at St Fagan's. All aspects of Welsh history and culture are captured here, with whole  historic buildings having been brought in from all over Wales and rebuilt at St Fagan's. A great day out!
North of the Vale, and the M4, are the famed "Valleys" of Wales. This is the area of the South Wales coal-field, consisting of more than eighteen river valleys, running roughly north-south, crammed with towns and villages, with row upon row of stone-built terraced housing. Nearly all the coal-mines have been closed for several years now and the old spoil-heaps have become green again. Parts of the Valleys have regained their pre-Industrial Revolution look and offer lovely natural scenery. Big Pit Mining Museum is worth a visit to sample the area's coal-mining past. Valleys people are renowned for their friendliness and extrovert natures.
The large county of Powys, comprising the old counties of Breconshire, Radnorshire and Montgomeryshire, stretches for over 70 miles north-south along the English border. It is home to more sheep than people!! It also has several old spa towns where people flocked to "take the waters" in Victorian times. Apart from Builth Wells there is Llanwrtyd Wells and  the most well-known of  the spas, Llandrindod Wells, which architecturally, still has a very Victorian feel to it. It is a splendid base for exploring this relaxed uncrowded county of superb scenic beauty. It is not too far from the English Midlands.
The county town, Carmarthen, is a wonderful shopping centre. It attracts shoppers from all over West Wales. The Romans were here. They mined gold at Dolaucothi in North Carmarthenshire. They called Carmarthen, Maridunum, "the fort by the sea". However ships can no longer get this far inland, due to the silting of the Towy estuary. Carmarthenshire, like the whole of Wales, has several wonderful historic castles. Kidwelly and Laugharne have fine examples. However, the favourite with many, due to its location on a high outcrop overlooking the Towy valley, is the romantic, Castell Carreg Cennen. The views from the ramparts are magnificent.
The Lleyn peninsula is a beautiful headland pointing towards Ireland, with wonderful coastal villages like Abersoch and Aberdaron. Pwllheli and Porthmadog are very busy, popular coastal towns throughout the Spring and Summer.
Further east, the Vale of Clwyd is very attractive, as is the wonderful Ceiriog valley. At Llangollen, there is a fantastic International Eisteddfod every summer, attracting choirs and very colourfully dressed traditional folk dancers, from all corners of the world. It is a joyous festival!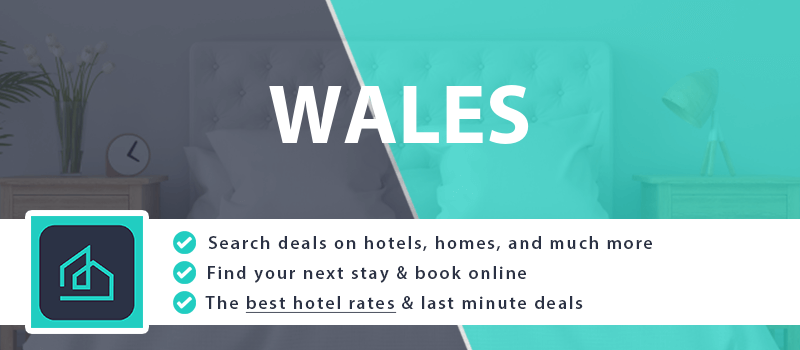 ---
Explanation of public transportation in Wales
Wales has good public transport facilities. A major airport in this region is Cardiff International Airport. Here you book direct and indirect flights. The national airline company is British Airways. They fly to different destinations. You can also book a last minute deal. Via www.gov.wales more background info is given about: tax for tourists, public transport and the (passport) visa application process.
Regular hotel prices
Welsh hotel prices can be different every day. You can find the average rates in the following table.
| Hotel class | Rates |
| --- | --- |
| Cheap hotel room | €67,00 |
| Normal room | €137,00 |
| Premium lodging | €157,00 |
| Full weekend | €411,00 |
| Dining (per person) | €41,00 |
Indication rates for an hotel stay in Wales
Climate & Weather Forecasts January 2023
Wales is a special country. We define the climate as a Maritime climate. The annual temperature is approximately 13,0 degrees Celsius. In winter the temperatures drop a bit. Take into account about 7,0 degrees centigrade. In the summer it is warmer. Assume 19,0 degrees Celsius. In the table below you get an impression of the weather of the coming days.
{{current_weather.dt | momentjs( atts.date )}}
{{current_weather.temp | temp}} °{{units}}
{{day.dt | momentjs(atts.date)}}
{{day.temp | temp}} °{{day.temp_min | temp}} °{{units}}
{{current_weather.temp | temp}} °
Humidity: {{current_weather.humidity}}%
Clouds: {{current_weather.clouds}}%
Wind ({{current_weather.wind.deg}}): {{current_weather.wind.speed}}{{units_wind}}
{{current_weather.desc}}
{{day.dt | momentjs(atts.date)}}
{{day.temp | temp}}°
{{day.temp_min | temp}} °