Book cheap hotels in Swaziland
Swaziland has much in store for adventurers and fun-seekers! From bird-watching, crafts and art galleries and a wide selection of golf courses for the more relaxed visitor to activities that require a bit more energy such as hiking, river rafting, paragliding and mountain biking. Swaziland also has many great fishing spots. We consider Swaziland together with Lesotho two hidden gems of Southern Africa that are often overlooked by travellers that enjoy exploring and discovery. They don't have the fanciest hotels or over-equipped game drives, but offer traveling where you don't have to rough it either. See you next year, Swaziland, when we'll be doing Bushfire again.
More information about this destination
Would you like to book a holiday to Swaziland? Enjoy a versatile holiday destination! There are many reasons: a green nature, welcoming restaurants, extraordinary museums and a very traditional and unique culture. Hotels are available for every budget. There are plenty of budget hotels from €41,00 per room. Do you want a more luxurious room? Then you pay an average of €91,00 per night. You can enjoy a sun holiday here. But it is also crowded in winter. Book your cheap hotel room in Swaziland quickly online. Compare the hotel providers below and book the best offers.
| | |
| --- | --- |
| Country | Swaziland |
| Capital city | Mbabane |
| Price of hotel accommodation | €94,00 |
| Language | English, Swazi |
| Currency | Swazi lilangeni (SZL) |
| Favorable travel time | June to September |
| Number of inhabitants | 1.160.000 |
| Area of the country | 17363 km2 |
| Timezone | GMT+2 |
| Flag Airline | Swazi Express Airways |
| Major Airport | Matsapha Airport (IATA:MTS) |
| Official government website | www.gov.sz |
Useful travel information
Are you booking a hotel for a trip to Swaziland? Make sure you are well prepared. One of the most important cities is Mbabane. People pay here with Swazi lilangeni (SZL). The Swazi time zone is GMT+2. The official language: English, Swazi. The country has approximately 1.160.000 citizens in the country. The total area is 17363 km2. Information about power and electricity: the electricity is 230 V, 50 Hz and the socket type is M. The international country code is +268.
Compare best hotels in Swaziland (December 2023)
Tourist regions for your hotel stay in Swaziland
Swaziland has versatile holiday areas. Please select one of the available regions below. You can then read additional details and view the available hotel offer. Advice: also ask about hotel accommodations in Suriname or Mariana Islands.
Populaire plekken in deze regio:
Five reasons to visit magic Swaziland
It's a great stopover on the way to the Kruger. If you're visiting the Kruger National Park and you're driving there from Johannesburg, take a detour and spend a day or two in Swaziland on your way there. Stay over either at in the self-catering cottages at Malolotja Nature Reserve, or if you're a bit more upmarket at the Royal Swazi Spa hotel. On your day in Swaziland you can take a circular drive through the Ezulwini valley which has many interesting nature and craft stops to visit.
The vibrant Swazi culture. Everyone returns to South Africa speaks of the friendliness of the Swazi people. I think it's borne out of their proud history as a nation and a cultural heritage that remains vibrant and colourful. From the stone carvings sold along the road to their traditional dances and Zulu-like huts
Ngwenya Glass. This factory along the main road to the Oshoek border post manufactures glass objects from recycled glass. You can see the glass blowers in action and browse their extensive showroom. they have a wide range of gift-type objects ranging from glass elephants to shot glasses and paper weights. Prices are very reasonable – on our visit we walked away with a set of six beer glasses for less than the price of a restaurant meal for two.
The Swazi landscape. It only takes about four hours to travel through Swaziland from east to west, and during that time you'll travel through a microcosm of bushveld, rolling, misty hills, deep riverine valleys surrounded by majestic peaks and subtropical plains. The Swazi landscapes are pretty and even though the countryside is relatively densely populated it looks remarkably unspoilt.
Malotlotja Nature Reserve. This is my personal favourite – yes, you can see wildlife in five of Swaziland's game parks but Malolotja is a special place – it's quiet, peaceful surroundings borders on the mystical. No wonder gets a five star rating on Tripadvisor! Early mornings are swatched in dense mist that gently lifts as the morning passes until it gives way to bright, sunny days and fireside evenings. Herds of Blesbok and Zebra roam the veld surrounding the dozen or so chalets built along a ridge that has magnificent views. The main activity here is rambling and hiking – we've taken an hour-long trails to a nearby lake that offers great birding, and on another occasion a full day one that lead to several waterfalls in the reserve. Lately Canopy Tours has constructed a facility in one of the valleys, for the more adventurous visitors. Lastly, Malolotja Nature Reserve is about half-an-hour's drive from Oshoek border post making it an ideal long weekend break.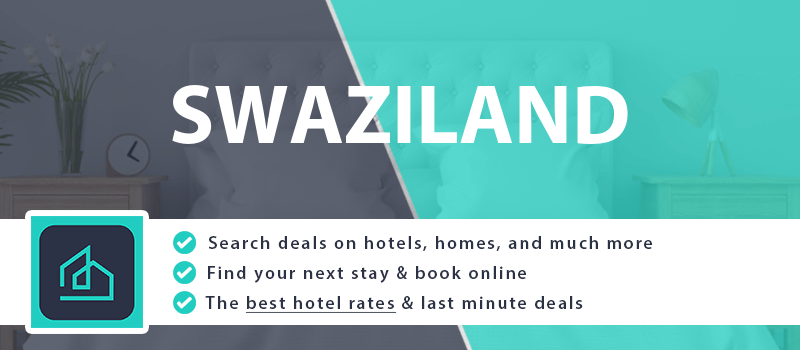 Details on public transportation in Swaziland
Swaziland has a well laid out public transport network. A major airport in this region is Matsapha Airport. Good transfers are available. The flag carrier is Swazi Express Airways. You can book cheap tickets here. Possibly you can find a last-minute deal. On www.gov.sz you will find additional explanations about: tourism, tax, laws and regulations and the (passport) visa application process.
Average hotel rates
Swazi hotel prices can vary quite a bit. You can find the average rates in the following table.
| Type of overnight stay | Rates |
| --- | --- |
| Budget accommodation | €41,00 |
| Average room | €94,00 |
| Premium lodging | €91,00 |
| Weekend trip | €282,00 |
| Dinner (per person) | €9,00 |
Basic rates for an hotel stay in Swaziland
Climate & Weather Forecasts December 2023
Swaziland is a special country. The country has a Monsoon-influenced humid subtropical climate. The average temperature here is 20,8 degrees Celsius °C. In the winter months it is slightly colder. Take into account about 14,4 degrees Celsius. In the summer it is warmer. Like 25,8 degrees centigrade. In the widget below you will find the weather forecast for today and the next 7 days.
{{current_weather.dt | momentjs( atts.date )}}
{{current_weather.temp | temp}} °{{units}}
{{day.dt | momentjs(atts.date)}}
{{day.temp | temp}} °{{day.temp_min | temp}} °{{units}}
{{current_weather.temp | temp}} °
Humidity: {{current_weather.humidity}}%
Clouds: {{current_weather.clouds}}%
Wind ({{current_weather.wind.deg}}): {{current_weather.wind.speed}}{{units_wind}}
{{current_weather.desc}}
{{day.dt | momentjs(atts.date)}}
{{day.temp | temp}}°
{{day.temp_min | temp}} °