Book cheap hotels in Armenia
Would you like to get an insight into the most beautiful hotels in Armenia? It is a surprising holiday destination. Some reasons to go here: a wooded area, delicious local specialties, architectural landmarks and a wonderful culture. You can choose from numerous hotels. There are quite a few budget hotels from €23,00 per overnight stay. Would you like to enjoy a more exclusive hotel room? A hotel room will cost you about €88,00 per room. A sunny holiday is very popular here. All places have its uniqueness and it goes the same as Armenia. You can find out the modernity and the history of some spots around it. It is the best destination for you who love a place with the cultural sense, best landscape and exotic highlander with impressive hospitality.
| | |
| --- | --- |
| Country | Armenia |
| Capital city | Yerevan |
| Price of hotel accommodation | €60,00 |
| Spoken language | Armenian |
| Currency | Armenian dram (AMD) |
| Favorite travel time | May, June, September & October |
| Number of inhabitants | 2.780.469 |
| Land area | 29800 km2 |
| Timezone | UTC+04:00 |
| Flag carrier | Fly Arna |
| Large Airport | Zvartnots International Airport Yerevan (IATA:EVN) |
| Government website | www.gov.am |
Before you leave
Are you booking a hotel for a trip to Armenia? Make sure you are well prepared. The capital city is Yerevan. In the hotel you pay with Armenian dram (AMD). The Armenian time zone is UTC+04:00. The most common language(s): Armenian. The current population is about 2.780.469 inhabitants. The area of the country is 29800 km2. Information about power and electricity: the default voltage is 230 V, 50 Hz and the type of plug is C / F. The country code for phone calls is +374.
Compare best hotels in Armenia (December 2023)
Special regions for a hotel stay in Armenia
Armenia has different regions for a holiday. Choose from the available regions in the list below. We will then share additional data and check the possible hotel offers. Also click further to hotel accommodations in Lesotho & Rwanda.
Populaire plekken in deze regio:
Discover Armenia in just 3 days
If you have a plan to visit Armenia with the 3-day of short trip, it is the time to enjoy the best exploration.
First, visit Yerevan.
Start your destination from the capital of Armenia, Yerevan which is older than Rome. It is known well as a pink city since all buildings are painted in pink tufa. It is also the place for museums and galleries lovers. The popular museum is Matenadaran museum where you can find out ancient manuscripts. Not far from this site, you can find out popular Cascade, a huge staircase where you can enjoy the great view of Yerevan and Mount Ararat. Then, visit the green park, Victory part. At evening, go to Republic Square as the heart of Yerevan.
Second, visit Geghard or Garni
Amazing architectural structure could be found in Kotayk which is 40 km from Yerevan, about 1 hour by car. The monastery is one of UNESCO World heritage list where you can find out Armenian khachkars or the large stones. After that, visit temple of Garni which was built in 76 AD.
Last, visit Echmiadzin or Zvartnots
As a place that is very rich of religious heritage, it is the first country on this earth that adopt Christianity and most of the attractions are related to this heritage. The magnificent event is the construction of Echimiadzin Cathedral which was included in UNESCO World Heritage. Another place to visit is Zvartnots temple with unique view.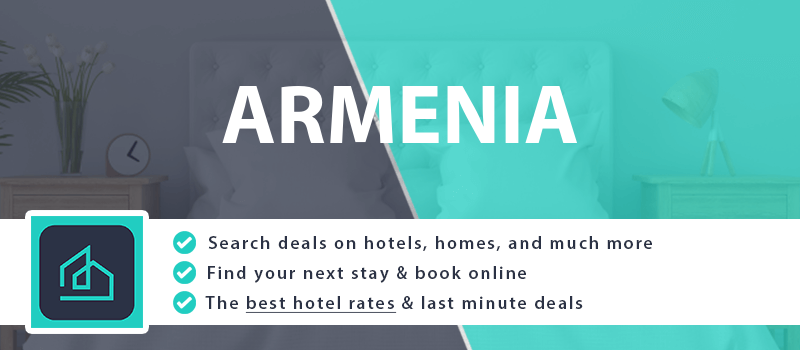 Information on public transportation in Armenia
Armenia has a well laid out public transport network. A popular airport in this area is Zvartnots International Airport Yerevan. They offer reliable flights. The national airline company is Fly Arna. They offer various destinations. With a last-minute deal you can save extra. Via www.gov.am you will find additional explanations about: tourist tax, laws and regulations and passport control.
Standard hotel rates
Armenian hotel prices depend on many factors. We place a price indication in the list below.
| Accommodation type | Costs |
| --- | --- |
| Basic accommodation | €23,00 |
| Average room | €60,00 |
| Premium lodging | €88,00 |
| Weekend trip | €180,00 |
| Dinner (per person) | €22,00 |
Normal rates for an hotel stay in Armenia
Climate & Weather Forecasts December 2023
Armenia is a versatile country. The country has a Warm-summer humid continental climate. The average temperature here is 7,2 degrees centigrade. Keep in mind some cooler temperatures in winter. It is then an average of -13,3 degrees centigrade °C. It is warmer in the summer period. Arround 22,7 degrees centigrade °C. In the schedule below we show the weather forecast for this week.
{{current_weather.dt | momentjs( atts.date )}}
{{current_weather.temp | temp}} °{{units}}
{{day.dt | momentjs(atts.date)}}
{{day.temp | temp}} °{{day.temp_min | temp}} °{{units}}
{{current_weather.temp | temp}} °
Humidity: {{current_weather.humidity}}%
Clouds: {{current_weather.clouds}}%
Wind ({{current_weather.wind.deg}}): {{current_weather.wind.speed}}{{units_wind}}
{{current_weather.desc}}
{{day.dt | momentjs(atts.date)}}
{{day.temp | temp}}°
{{day.temp_min | temp}} °