Book cheap hotels in India
India is a country rich in culture and boasts of its interesting heritage. It is a destination that attracts travelers from all over the world because people are intrigued by the mystery that India brings. It is a country to explore because it has so much to give you and a lot of sceneries to offer from the mountainous regions, sandy beaches, mystic temples and fascinating monuments, great palaces, chaotic markets, to the historically important Ganges river.
Would you like to book a holiday to India? This is a special holiday destination. This country has a lot to offer: a wooded area, delicious food and drink, extraordinary museums and a wonderful culture. There are numerous hotels to book. There are quite a few budget hotels from €32,00 per overnight stay. Would you like to enjoy a more exclusive hotel room? Then the prices rise towards €90,00 per overnight stay. You can enjoy a sun holiday here with your family. It is also a beautiful country in winter. Book your favorite hotel room in India easily online. Choose one of the hotel providers and book your accommodation online.
| | |
| --- | --- |
| Country | India |
| Capital city | New Delhi |
| Average hotel room price | €55,00 |
| Language | Hindi, English |
| Currency | Indian rupee (INR) |
| Busiest travel time | December to February |
| Population | 1.417.173.173 |
| Surface area | 3287590 km2 |
| Time zone | UTC+05:30 (IST) |
| Leading carrier | Air India |
| Large Airport | Indira Gandhi International Airport (IATA:DEL) |
| Government website | www.india.gov.in |
Practical information
Are you booking a hotel for a trip to India? Prepare yourself well! One of the most important cities is New Delhi. The currency is Indian rupee (INR). The Indian time zone is UTC+05:30 (IST). The language(s) spoken here: Hindi, English. There are about 1.417.173.173 inhabitants. The total land area of the country is 3287590 km2. Information about power and electricity: the voltage of the electricity is 230 V, 50 Hz and the type of electrical sockets is C / D / M. The international calling code is +91.
Compare best hotels in India (December 2023)
Popular regions for a hotel stay in India
India is a place that can provide you with the spiritual guidance and where you can find wisdom and inspiration because of its cultural and religious diversity – Hinduism, Buddhism and Islam all scattered in its vast land are some of the reasons why India can leave an enlightening experience to a traveler. Experience more of India by absorbing its diversity through you senses: sought after spices by the world, scent of exotic flowers, feast on the bejeweled colored silks, let your palette experience new tastes. India a country that can overload your senses will leave you an impression to remember. India has beautiful areas to spend a holiday. Choose from the available regions in the list below. You can then read additional details and check the current hotel offer. Also explore hotel accommodations in Aruba or Senegal.
Populaire plekken in deze regio: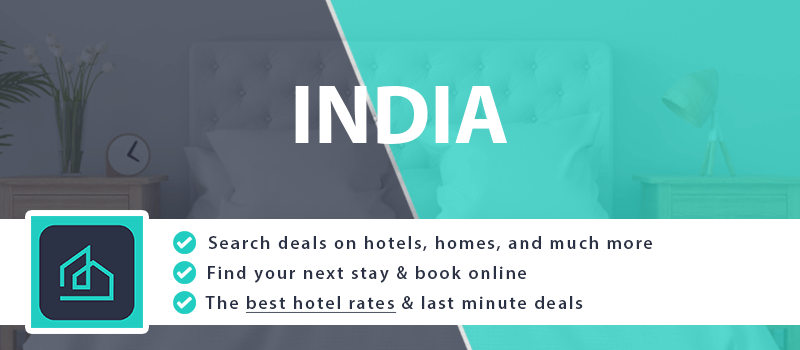 ---
Explanation of public transportation in India
India has great facilities for public transport. A good domestic airport is Indira Gandhi International Airport. They offer reliable flights. The flag carrier is Air India. They offer various destinations. Possibly you can find a last-minute deal. Via www.india.gov.in you will find additional explanations about: tax for tourists, laws and regulations and passport control.
Typical hotel prices
Indian hotel prices vary widely (based on regio & type of accommodation). We place a price indication in the next scheme.
| Accommodation type | Tariffs |
| --- | --- |
| Cheap hotel | €32,00 |
| Common room | €55,00 |
| Exclusive lodging | €90,00 |
| Weekend vacation | €165,00 |
| Supper (per person) | €12,00 |
Average rates for an hotel stay in India
Climate & Weather Forecasts December 2023
India is a versatile country. Take into account a Tropical wet-dry climate. The normal annual temperature is 24,7 degrees centigrade °C. In winter the temperatures drop a bit. It is then (on average) about 16,3 degrees Celsius °C. It is warmer in the summer period. Assume 31,1 degrees centigrade °C. Below you will find the weather forecast for the next 7 days.
{{current_weather.dt | momentjs( atts.date )}}
{{current_weather.temp | temp}} °{{units}}
{{day.dt | momentjs(atts.date)}}
{{day.temp | temp}} °{{day.temp_min | temp}} °{{units}}
{{current_weather.temp | temp}} °
Humidity: {{current_weather.humidity}}%
Clouds: {{current_weather.clouds}}%
Wind ({{current_weather.wind.deg}}): {{current_weather.wind.speed}}{{units_wind}}
{{current_weather.desc}}
{{day.dt | momentjs(atts.date)}}
{{day.temp | temp}}°
{{day.temp_min | temp}} °