Book cheap hotels in Montenegro
Montenegro (Montenegrin: Црна Гора, Crna Gora) is a country in the Balkans (Europe) bordering Croatia, Bosnia and Herzegovina, Serbia, Kosovo and Albania. Montenegro has been independent from the former Serbia and Montenegro since 2006. Some major cities in Montenegro are: Podgorica, Bar, Budva, Cetinje, Kotor and Petrovac. The country has a lot to offer in terms of nature. The country has several National Parks (Lovcen, Biogradska gora, Lake Skadar and Durmitor), Lake Shkodër and a wide variety of plant and bird species. The country is so mountainous that more than 60% of the land is above 1,000 meters. Along the coastline of Montenegro you will find several sandy beaches that are located on the Adriatic Sea. These beaches have become increasingly popular with sunbathers in recent years. The Adriatic Sea is ideal for diving. There are, among other things, historic wreckage, caves, lots of coral and a good view of up to 35 meters. During the winter months it is also possible to practice winter sports in the north of Montenegro. Christianity is strongly represented in Montenegro. You can see this in the many monasteries and churches and the holy mountain Lovćen.
Do you want to book an accommodation in Montenegro? It is a wonderful destination. Some reasons to go here: a green nature, delicious local specialties, architectural landmarks and a very warm culture. There are numerous hotels to book. A cheap budget hotel is available from €40,00 per accommodation. Are you looking for a little more comfort? Then the price is about €101,00 per overnight stay. A holiday in the sun is very pleasant here. There are also plenty of things to do here during the winter months. Book your conveniently located hotel room in Montenegro at the lowest rate. Compare the providers below and get started right away.
| | |
| --- | --- |
| Country | Montenegro |
| Capital city | Podgorica |
| Average hotel room price | €74,00 |
| Official language | Montenegrin, English |
| Official Currency | Euro (EUR) |
| Favorable travel time | April to October |
| Population | 627.082 |
| Land area | 14026 km2 |
| Time zone | UTC+01:00 (CET) |
| National Airline | Air Montenegro |
| Main Airport | Tivat Airport (IATA:TIV) |
| Government website | www.gov.me |
Practical information
Are you going on a trip to Montenegro? Make sure you are well prepared. The country's capital is Podgorica. In the hotel you pay with Euro (EUR). The Montenegrin time zone is UTC+01:00 (CET). The language(s) spoken here: Montenegrin, English. The current population is about 627.082 residents. The total area is 14026 km2. As for power supplies: the current voltage is 230 V, 50 Hz and the socket type is C / F. The prefix is +382.
Compare best hotels in Montenegro (December 2023)
Tourist regions for your hotel stay in Montenegro
Montenegro has different regions for a holiday. Below you will find a summary of beautiful regions. You can then find an explanation and check the current hotel offer. Also click further to hotel accommodations in Peru & Mozambique.
Populaire plekken in deze regio:
Main attractions
Budva is the capital of Montenegrin tourism. With over 330,000 guests in the 2007 summer season, it is by far the most popular tourist destination in Montenegro. Because of its 11,310 m (37,106.30 ft) of sandy beaches in and around Budva, and its vast cultural heritage, beautiful architecture, and vibrant nightlife, Budva is increasingly attracting foreign tourists. The Old Town in Budva has many different tales and stories of its origin. Scholars and Historians believe it to be originally an island, which later joined the shore to form a sand isthmus. Much of the architecture in the Old Town is of Venetian origin. Doors, hinges, windows, balconies and many other small but noticeable things seem to hold the Roman style of the Republic of Venice. The venetian walls of the Old town are a famous tourist attraction. Budva mountain view : Due to its nightlife, Budva is popular among young people. Budva's most famous beach is Mogren. Nestled in-between several large cliffs it is accessed by a 500 m (1,640.42 ft) pathway from Budva's Old town. Other beaches within official city limits include Ričardova glava (Richard's Head), Pizana, Slovenska (Slovenian Beach), Guvance. Many other beaches are located just outside of Budva in smaller adjacent towns and villages such as Bečići, Jaz, Trsteno, Maestral, Miločer, Sveti Stefan, Pržno and Kamenovo.
Perast – Nested at the foot of Sveti Ilija Hill (873m) and facing the Verige Straight, Perast appears to guard the entrance of the Risan-Kotor bay. Resting against the steep and barren hills of the mainland, it opens to the sea and plunges itself towards the two islets, Sveti Djordje with the Benedistine abbey shadowed by cypress trees and the man-made Gospa od Skrpjela. The town grew quickly in the 16th c. becoming a remarkable place of famous seafarers and baroque artists but degraded rapidly at the end of the 18th c. only to become a focus of attention again in the late 19th c. as people began to restore the beautiful palaces of its glorious Venetian past.
Sveti Stefan – one of the most famous sights in Montenegro, the history of Sveti Stefan dates back to the 15th c. when it was built as a fort to help the besieged Kotor by attacking from the rear the Turks who were sheltered in Budva. The island is now a semi-private town-hotel and a €5 fee is charged to enter. It is surrounded by white sandy beaches, the most famous one being Milocer beach, once residence of King Aleksandar and soon to be an Aman hotel.
Kotor – lying huddled underneath the rocks of Mount Lovcen at the farthest end of the fjord, Kotor is unique in its setting and history. Following prehistoric settlements, Kotor was fortified by the Illyrians, a bishop's seat under Roman influence, sacked by the Saracens in 867 and by the Bulgarians in 1002, a trading spot under Byzantine protection, part of the Serbian state of Nemanjics in 1186, an influent trading spot of the Adriatic in the 14th c. of Byzantine and Western influence, under Venetian rule in 1420, fell unto the hands of the Ottomans and sheltered a number of Renaissance artists in the 16th and 17th centuries while resisting Turkish attacks. When the Venetian republic was abolished by Napoleon, the local Catholics and Orthodox united with Montenegro in 1813. Within its high stone walls, the constricted streets are bordered with stone edifices and paved with multicoloured slabs.
Lustica Peninsula – lying between the bay of Tivat and the open sea (Adriatic), it is known for its olive cloves and small rustic villages. Arriving from Tivat, take a right after the airport, or straight ahead if arriving from Kotor and the tunnel. The road follows the coastline, a right branch goes to Krasici and Rose at the tip of the peninsula while the left one leads to Radovici, the largest village on the peninsula. Lustica is known for its beaches, the best in the Boka, some of which are very busy while others are well hidden : Przno (small cove in the large Traste bay, white sandy beach descending slowly into the sea, in front of a hotel), Zanjica (busy, white pebbles, cafes and restaurants), Miriste (smaller and more intimate) On the Budva side of the peninsula (continuing the road from Tivat towards Budva and taking a left turn before the tunnel entering Budva), you will find Jaz (800m long, large pebbles and a restaurant) and Trsteno (deep inlet, 200m long beach which is more secluded than Jaz) Views from climbing Kotor's fortifications.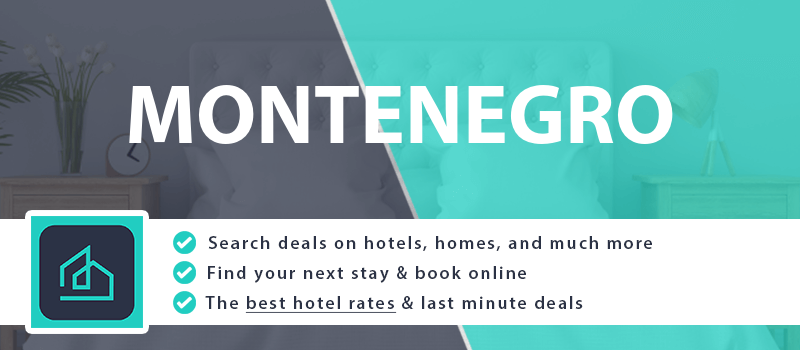 ---
Explanation of public transportation in Montenegro
Montenegro has great facilities for public transport. A popular airport in this area is Tivat Airport. They offer reliable flights. The national airline company is Air Montenegro. They offer various destinations. You can also book a last minute deal. On www.gov.me you can find more information about: city tax (tourism), insurances and the (passport) visa application process.
Normal hotel prices
Montenegrin hotel prices vary widely (based on regio & type of accommodation). You can find the average rates in the following table.
| Accommodation type | Tariffs |
| --- | --- |
| Cheap hotel room | €40,00 |
| Average room | €74,00 |
| Premium accommodation | €101,00 |
| City trip | €222,00 |
| Meal (per person) | €20,00 |
Standard rates for an hotel stay in Montenegro
Climate & Weather Forecasts December 2023
Montenegro is a versatile country. We define the climate as a Temperate oceanic climate. The average temperature here is 9,2 degrees centigrade °C. In winter the temperatures drop a bit. During this period it is about -4,8 degrees Celsius. Summer can get pretty hot. Assume 21,6 degrees centigrade. In the widget below you will find the weather forecast for the next 7 days.
{{current_weather.dt | momentjs( atts.date )}}
{{current_weather.temp | temp}} °{{units}}
{{day.dt | momentjs(atts.date)}}
{{day.temp | temp}} °{{day.temp_min | temp}} °{{units}}
{{current_weather.temp | temp}} °
Humidity: {{current_weather.humidity}}%
Clouds: {{current_weather.clouds}}%
Wind ({{current_weather.wind.deg}}): {{current_weather.wind.speed}}{{units_wind}}
{{current_weather.desc}}
{{day.dt | momentjs(atts.date)}}
{{day.temp | temp}}°
{{day.temp_min | temp}} °