Book cheap hotels in Peru
Peru is a study in diversity. It is considered one of the most ancient cities in South America , but it also has one of the busiest and modern centres of trade in its capital of Lima. It possesses 84 of the world's 118 known life zones, while its different regions enjoy eight kinds of seasons throughout the year. It is really quite a puzzle to understand Peru, thus, it is also quite an enticing destination as one will never get bored with the changing scenery. Peru is the third largest South American country and is considered the seat of Incan civilization. The lost city of Machu Picchu and the Lima Historical Centre are proof to this fact. Lima, the "City of Kings " as named by Spanish conqueror Francisco Pizaro, is the capital of Peru. Lima 's rich artistic monuments and historic sites have been preserved even in the light of the city's development in modern times, thus prompting UNESCO to name it a World Heritage Centre. Lima is also considered a religious city as its locals are predominantly Catholic. Several of the Catholic faith's great saints hail from Peru, including St. Martin de Porres, St. Rose of Lima, and St. John Macias. It is also said that walking the streets of Lima gives one a feeling of holiness.
Do you want to book an accommodation in Peru? It is a wonderful destination. The country is very popular: a beautiful nature, good restaurants, monumental buildings and a wonderful culture. Hotels are available for every budget. A cheap budget hotel is available from €25,00 per room. Are you booking a room in a central location? Then you have to count on an average of €119,00 per overnight stay. A sunny holiday is very popular here. There are also plenty of things to do here during the winter months. Book your hotel room in Peru at the lowest rate. View the featured providers below and find the best deals.
| | |
| --- | --- |
| Country | Peru |
| Capital city | Lima |
| Average hotel price | €53,00 |
| Official language | Spanish, Aymara, Quechua |
| Payment method | Peruvian sol (PEN) |
| Best travel time | May to October |
| Population | 34.049.588 |
| Total surface area | 1285220 km2 |
| Timezone | UTC−05:00 (PET) |
| Flag carrier | LATAM Airlines |
| Central Airport | Jorge Chávez International Airport Lima (IATA:LIM) |
| Government information | www.peru.gob.pe |
Practical information
Are you going on a trip to Peru? Prepare yourself well! The country's capital is Lima. The currency is Peruvian sol (PEN). The Peruvian time zone is UTC−05:00 (PET). The most spoken language(s): Spanish, Aymara, Quechua. The current population is about 34.049.588 citizens in the country. The country's total land area is 1285220 km2. Some additional practical info: the electricity is 220 V, 60 Hz and the type of electrical sockets is A / B / C. The country code for phone calls is +51.
Compare best hotels in Peru (December 2023)
Popular regions for your hotel stay in Peru
Peru has versatile holiday areas. Please select one of the available regions below. You will find more information and check the current hotel offer. Advice: also ask about hotel accommodations in Bangladesh & Uruguay.
Populaire plekken in deze regio: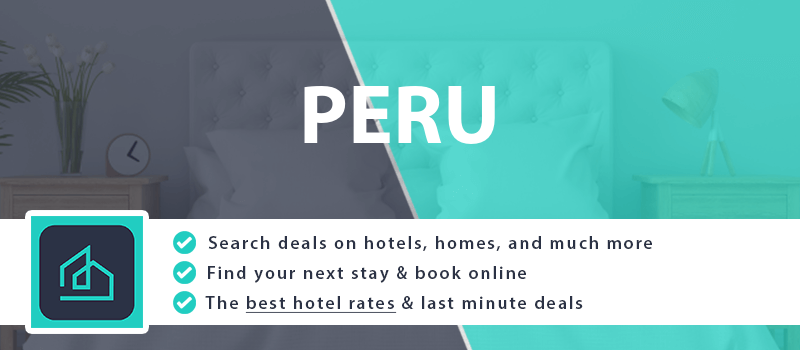 ---
Information on public transportation in Peru
Peru has a well laid out public transport network. A good domestic airport is Jorge Chávez International Airport Lima. They offer reliable flights. The national airline is LATAM Airlines. They fly to different destinations. Possibly you can find a last-minute deal. Via www.peru.gob.pe you can find more information about: tourism, tax, police and emergency services and residence permits (visas) and passports.
Typical hotel rates
Peruvian hotel prices can be different every day. You can find the average rates in the next scheme.
| Type of overnight stay | Tariffs |
| --- | --- |
| Basic accommodation | €25,00 |
| Average room | €53,00 |
| Premium accommodation | €119,00 |
| Full weekend | €159,00 |
| Dinner (per person) | €16,00 |
Average rates for an hotel stay in Peru
Climate & Weather Forecasts December 2023
Peru is a versatile country. The country has a Wet equatorial climate. The average temperature here is 19,7 degrees centigrade °C. In winter the temperatures drop a bit. Take into account about 17,6 degrees Celsius. It's much more comfortable in the summer. Like 21,7°C degrees. In the widget below you will find the weather forecast for the next 7 days.
{{current_weather.dt | momentjs( atts.date )}}
{{current_weather.temp | temp}} °{{units}}
{{day.dt | momentjs(atts.date)}}
{{day.temp | temp}} °{{day.temp_min | temp}} °{{units}}
{{current_weather.temp | temp}} °
Humidity: {{current_weather.humidity}}%
Clouds: {{current_weather.clouds}}%
Wind ({{current_weather.wind.deg}}): {{current_weather.wind.speed}}{{units_wind}}
{{current_weather.desc}}
{{day.dt | momentjs(atts.date)}}
{{day.temp | temp}}°
{{day.temp_min | temp}} °