Book cheap hotels in Tanzania
The state of Tanzania was founded in – 1964 after the independence of Tanganyika and Zanzibar, along with the island of Pemba. The total area of its mainland and this island is equivalent to about twice that of France, for a population of just 29 million. The country's borders are more natural than political. Tanzania is like a 'mainland island', bounded on many sides by water. It is separated from Uganda by Lake Victoria, whilst the volcanic range, with its biggest points of Mounts Meru and Kilimanjaro, lie on the Kenyan border to the north. The immense Lake Tanganyika forms the boundary to Zaire in the west. and the Mbeya highlands along with Lake Malawi define the limits of Zambia to the south-west. Mozambique lies to the south of Tanzania and shares the Indian Ocean coast, which forms Tanzania' 800-kilometre long eastern boundary.
More information about this country
Are you looking for the best hotels in Tanzania? It is a surprising holiday destination. This country has a lot to offer: a beautiful nature, good restaurants, old buildings and a very traditional and unique culture. Hotels are available for every budget. There are quite a few budget hotels from €33,00 per overnight stay. Would you like to enjoy a more exclusive hotel room? Then you have to count on an average of €130,00 per overnight stay. You have many options here for a sun holiday. You can also enjoy a great holiday here in winter. Book your own hotel room in Tanzania easily online. Compare the best providers below and book your accommodation online.
| | |
| --- | --- |
| Country | Tanzania |
| Capital city | Dodoma |
| Average hotel room price | €64,00 |
| Spoken language | English |
| Currency | Tanzanian shilling (TZS) |
| Best time to visit | January, February, June to September |
| Number of inhabitants | 65.497.748 |
| Land area | 945087 km2 |
| Time zone | GMT+3 |
| Flag Airline | Air Tanzania |
| Large Airport | Julius Nyerere International Airport (IATA:DAR) |
| Government website | www.tanzania.go.tz |
Useful travel information
Are you going on a trip to Tanzania? Make sure you are well prepared. The capital is Dodoma. The general means of payment is Tanzanian shilling (TZS). The Tanzanian time zone is GMT+3. People speak here in: English. The current population is about 65.497.748 inhabitants in the country. The country's total land area is 945087 km2. Information about power and electricity: the mains voltage is 230 V, 50 Hz and the plug type is D / G. The international calling code is +255.
Compare best hotels in Tanzania (December 2023)
Nice regions for your hotel stay in Tanzania
Like Kenya, the relief of Tanzania is defined by the Great Rift Valley, with which the geological history of East Africa is inextricably linked. Thirty million years go, violent upheavals of the Earth's crust started a process of fracturing that created a gigantic trough fault — the one that today cuts through the continental plate tor around 6,500 kilometres, from Eritrea to Mozambique. Quite apart from its spectacular escarpments, the Rift Valley is distinguished by deep valleys containing numerous lakes. Together, Lakes Natron, Manyara, Eyasi, Kivu, Tanganyika, Rukwa, Malawi and others provide Tanzania with the largest reserves of water with in Africa. Tanzania consists primarily of a vast central plateau lying at an altitude varying between 1,000 and 2,000 metres. Higher in the north, towards the south the land slopes downwards to form the coastal plain. The majestic peak of Kilimanjaro, dominating the whole of Africa from its height of 5,896 metres, lies just 250 kilometres from the pale sand beaches. Although 75 percent of the territory is covered by shrub savannah, the mountains, plains and lakes offer a wonderful diversity of habitats supporting the largest concentration of animals on the planet. Tanzania has different regions for a holiday. Below you will find a summary of beautiful regions. You will find more information and view the available hotel offer. Also check out hotel accommodations in Slovenia or South Korea.
Populaire plekken in deze regio: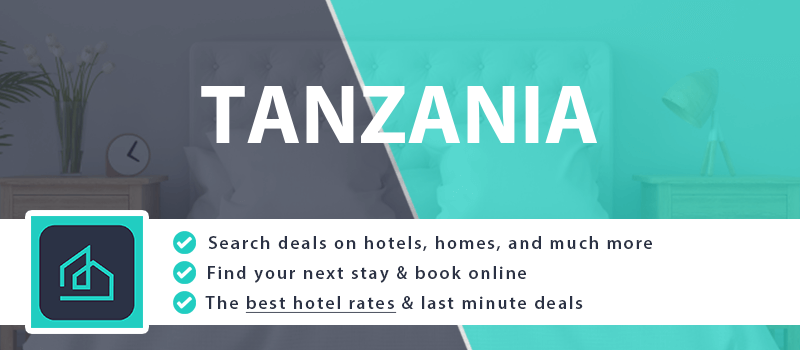 Information about public transportation in Tanzania
Tanzania has a well laid out public transport network. An important airport in this country is Julius Nyerere International Airport. This is a very nice airport. The national airline is Air Tanzania. You can book cheap tickets here. You can also go there for a last-minute deal. On www.tanzania.go.tz you can find more information about: city tax (tourism), laws and regulations and visas & passports.
Typical hotel rates
Tanzanian hotel prices depend on many factors. We place a price indication in the following table.
| Hotel class | Tariffs |
| --- | --- |
| Budget accommodation | €33,00 |
| Average room | €64,00 |
| Luxurious accommodation | €130,00 |
| Weekend vacation | €192,00 |
| Dinner (per person) | €16,00 |
Average rates for an hotel stay in Tanzania
Climate & Weather Forecasts December 2023
Described generally as 'tropical temperate', the Tanzanian climate does exhibit some notable local variations. The coastal enjoys a warm, damp climate due to the monsoons coming in from the Indian Ocean, while the bigger ground has significant rainfall, but escapes the constant light humidity so typical of equatorial regions. The rainy seasons (March to June, then November to December) alternate with the dry seasons. Temperatures vary little. reaching their maximum in December and January, with June and July the coolest months of the year.The average temperature here is 22,9 degrees centigrade. In the winter months it is slightly colder. Take into account about 20,1 degrees Celsius °C. In the summer it is warmer. Assume 24,8 degrees Celsius. In the schedule below we show the weather forecast for this week.
{{current_weather.dt | momentjs( atts.date )}}
{{current_weather.temp | temp}} °{{units}}
{{day.dt | momentjs(atts.date)}}
{{day.temp | temp}} °{{day.temp_min | temp}} °{{units}}
{{current_weather.temp | temp}} °
Humidity: {{current_weather.humidity}}%
Clouds: {{current_weather.clouds}}%
Wind ({{current_weather.wind.deg}}): {{current_weather.wind.speed}}{{units_wind}}
{{current_weather.desc}}
{{day.dt | momentjs(atts.date)}}
{{day.temp | temp}}°
{{day.temp_min | temp}} °