Book cheap hotels in Turkey
This historic country of Turkey, otherwise officially known as the Republic of Turkey, straddles the European and the Middle East continents. The Mediterranean Sea in the south, the Black Sea in the north, and the Aegean Sea in the west surrounds it. In its' 10,000 years of old history, Turkey's critical location has made it the site of the rise and fall of great empires and civilizations. Today, Turkey is a mix of both modern and ancient history. While modern structures pretty much define the physical attributes of the city, remnants of its past such as mosques, churches, temples, statues, palaces, or agoras add an old-world feel to the view. Turkey is divided into 80 administrative provinces and 7 geographical regions. Suggestive of its location, the Black Sea, Marmara, Aegean and Mediterranean regions are all adjacent to the seas. The regions of Central Anatolia, Eastern Anatolia, and Southeastern Anatolia is located in mainland Anatolia. The country's economy is largely dictated by modern industry and commerce, along with its traditional agricultural sector. It is the largest producer of hard-shell nuts, apricot and fig worldwide, and is a major producer of grapes, tobacco, wheat, cotton, and vegetables. The world of course knows the famous Turkish delight and helva. Turkey's top export commodities are textiles, ready-to-wear clothes, and leather. Do you want to book an accommodation in Turkey? It is a beautiful holiday destination. You can enjoy here: a green nature, delicious food and drink, old churches and buildings and a very traditional and unique culture. Hotels are available for every budget. The most affordable budget hotels are available from €49,00 per room. Are you looking for a luxury accommodation? Then you have to count on an average of €88,00 per overnight stay. You can enjoy a sun holiday here. You can also enjoy a great holiday here in winter. Book your favorite hotel room in Turkey right way! Compare the best providers below and book the best offers.
| | |
| --- | --- |
| Country | Turkey |
| Capital city | Ankara |
| Average hotel room price | €58,00 |
| Spoken language | Turkish |
| Official Currency | Turkish lira (TRY) |
| Favorite travel time | May to mid -June, September & October |
| Number of inhabitants | 85.341.241 |
| Land area | 780580 km2 |
| Time zone | UTC+03:00 (TRT) |
| Flag Airline | Turkish Airlines |
| Main Airport | Istanbul Airport (IATA:IST) |
| Government website | www.turkiye.gov.tr |
Important info
Are you booking a trip to Turkey? Make sure you are well prepared. The country's capital is Ankara. In the hotel you pay with Turkish lira (TRY). The Turkish time zone is UTC+03:00 (TRT). The most common language(s): Turkish. They have about 85.341.241 residents. The total land area is 780580 km2. As for power supplies: the mains voltage is 230 V, 50 Hz and the socket type is C / F. The international country code is +90.
Compare best hotels in Turkey (December 2023)
Tourist regions for a hotel stay in Turkey
Turkey has different regions for a holiday. Below you will find a summary of beautiful regions. You can then find an explanation and check the current hotel offer. Tip: also inquire about hotel accommodations in Belize & Swaziland.
Populaire plekken in deze regio:
Top 4 main locations
Ankara: Ankara has been the center of government of Turkey since 1920. Located in Central Anatolia, the site also hold other tourist attractions such as the Byzantine citadel, the museum of Anatolian civilizations and AtatIstanbul.
Antalya: The beach scene is the main attraction in Antalya city, which is surrounded with beach resorts and ancient sites that can be easily visited by travelers. About 15 kilometers from this city, one can bask in the sand and sun of the popular beach town of Side. Another beach spot is the Alanya, which is 40 kilometers from the city.
Bodrum: This quaint, picturesque resort, located in the south of Aegean sea, is adorned with green palm trees, villas, and white sugar cube houses. Bodrum is a jump-off point to the Island of Kos, and is a bustling center of activities such as scuba diving, swimming, boating, and snorkeling.
Ephesus: Ephesus was formerly named Ionia, the once-affluent center of the Greek and Roman days. The Temple of Diana, declared as one of the Seven Woners of the World, continues to give awe-inspiring feel to the city. Today, it is one of the best preserved relics of ancient times.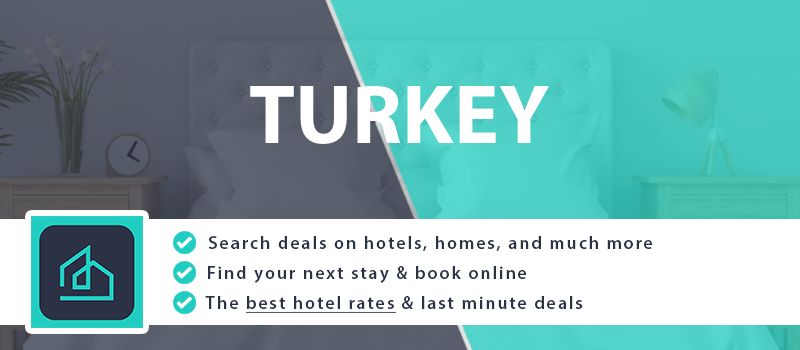 ---
Explanation of public transportation in Turkey
Turkey has a well laid out public transport network. An important airport in this country is Istanbul Airport. Here you book direct and indirect flights. The national flight company is Turkish Airlines. They offer various destinations. Possibly you can find a last-minute deal. Via www.turkiye.gov.tr you can find more information about: tax for tourists, hospital care and the (passport) visa application process.
Regular hotel rates
Turkish hotel prices depend on many factors. We offer a price estimate in the following table.
| Hotel class | Costs |
| --- | --- |
| Basic hotel | €49,00 |
| Average room | €58,00 |
| Luxurious accommodation | €88,00 |
| Weekend trip | €174,00 |
| Meal (per person) | €13,00 |
Expected rates for an hotel stay in Turkey
Climate & Weather Forecasts December 2023
Turkey is a beautiful country. We define the climate as a Warm-summer Mediterranean climate. The average temperature here is 11,7 degrees Celsius. In the winter months it is slightly colder. During this period it is about -3,5°C degrees. It's much more comfortable in the summer. Arround 24,6°C degrees. In the table below we show the weather forecast for this week.
{{current_weather.dt | momentjs( atts.date )}}
{{current_weather.temp | temp}} °{{units}}
{{day.dt | momentjs(atts.date)}}
{{day.temp | temp}} °{{day.temp_min | temp}} °{{units}}
{{current_weather.temp | temp}} °
Humidity: {{current_weather.humidity}}%
Clouds: {{current_weather.clouds}}%
Wind ({{current_weather.wind.deg}}): {{current_weather.wind.speed}}{{units_wind}}
{{current_weather.desc}}
{{day.dt | momentjs(atts.date)}}
{{day.temp | temp}}°
{{day.temp_min | temp}} °