Book cheap hotels in New Caledonia
The Island of New Caledonia and the nearby Society Islands have been an overseas territory of France since 1853. It lies to the south east of Papua New Guinea and to the west of Vanuatu. The Island of New Caledonia itself, lies inside the largest coral lagoon in the world. The largest island in the group is known as Grand Terre and the capital of New Caledonia is Noumea. The three islands that make up the Loyalty Islands group are Ouvea, Lifou and Mare. The indigenous people here are known as the Kanaks and they are of Melanesian origin. They represent 44% of the population.
New Caledonia is a popular tourist destination . The islands lie across the Tropic of Capricorn and have a warm wet season between December and March, with the occasional cyclone, and a cooler dry season for the balance of the year. Some parts of the island lie in a rain shadow and vegetation varies from tropical in some parts to almost arid in others. The island is rich in minerals and mining plays a large part in the economy. The island has ¼ of the worlds nickel resources and nickel mining contributes strongly to the islands economy. Poor mining practices in the past, including open cut mining has significantly contributed to the destruction of some of the islands eco systems.
Would you like to book a holiday to New Caledonia? You can enjoy a wonderful holiday destination here. What makes this country so special: a versatile nature, a delicious local cuisine, beautiful museums and a surprising culture. There is a suitable hotel for every budget. A cheap budget hotel is available from €75,00 per accommodation. Are you looking for a luxury accommodation? A hotel room will cost you about €219,00 per accommodation. A holiday in the sun is very pleasant here. Also in winter you can go here excellent. Book your conveniently located hotel room in New Caledonia without hassle via the internet. View the featured providers below and get started right away.
| | |
| --- | --- |
| Country | New Caledonia |
| Capital city | Nouméa |
| Average hotel room price | €173,00 |
| Official language | French |
| Currency | French Pacific Franc (XPF) |
| Busiest travel time | May, June, September, and October |
| Population | 280.000 |
| Area of the country | 19060 km2 |
| Time zone | GMT+11 |
| Flag Airline | Qantas |
| Major Airport | La Tontouta International Airport (IATA:NOU) |
| Government website | www.gouv.nc |
Handy travel information
Are you going on holiday to New Caledonia? Read carefully about the local rules and protocols. The capital of the country is Nouméa. People pay here with French Pacific Franc (XPF). The New Caledonian time zone is GMT+11. The official language: French. There are about 280.000 residents. The area of the country is 19060 km2. As for power supplies: the voltage is 220 V, 50 Hz and the socket type is C / E. The country code for phone calls is +687.
Compare best hotels in New Caledonia (December 2023)
Special regions for a hotel stay in New Caledonia
Tourism plays a major role in the country's economy with tourist coming from Japan, France, Korea, Australia and New Zealand. The most popular places visited are Noumea and the beautiful Isle of Pines in the country's south. The Society Islands are magnificent, with coral reefs and lagoons of spectacular beauty. Noumea is a microcosm of France set in an island location. The shops, restaurants and cafes have that unmistakeable French ambience and French is the official language. With the Franc and the official currency, you could be forgiven for thinking you had actually woken up after a dream and found yourself in a French seaside town. French colonial architecture is common and the local food have a distinctly French flavour. The Isle of Pines is quite famous for its magnificent scenery with a beautiful island covered with slender pine trees running down to a coral beach and beautiful lagoon. It is truly an idyllic setting for a relaxing holiday. The Isle of Pines is on the cruising itinerary's of many Pacific Cruise liners. New Caledonia is also an easy destination to get to with regular flights to Noumea from Australia, New Zealand and other Pacific destinations.
New Caledonia has special areas where you can spend time during your holiday. Choose one of the regions below. You can then find an explanation and view the available hotel offer. Also click further to hotel accommodations in Serbia and Andorra.
Populaire plekken in deze regio: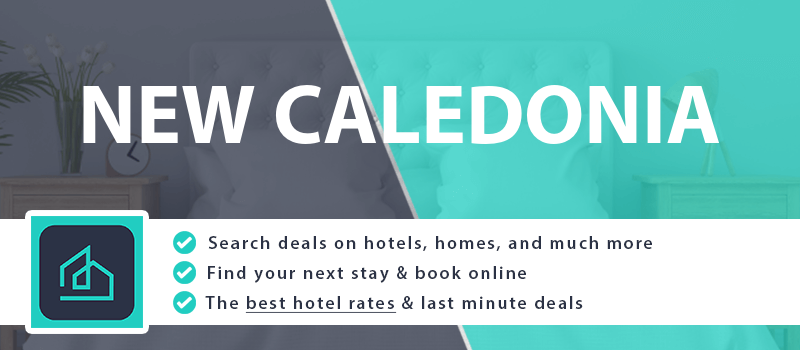 ---
Information about public transportation in New Caledonia
New Caledonia has an excellent public transport system. A popular airport in this area is La Tontouta International Airport. Good transfers are available. The national flight company is Qantas. They fly to different destinations. Also research the last-minute deal options. Via www.gouv.nc you can find more information about: tourist tax, laws and regulations and passport control.
Typical hotel rates
New Caledonian hotel prices vary widely (based on regio & type of accommodation). We place a price indication in the next figure.
| Hotel segment | Tariffs |
| --- | --- |
| Cheap hotel room | €75,00 |
| Regular room | €173,00 |
| Luxurious accommodation | €219,00 |
| Weekend holiday | €519,00 |
| Dining (per person) | €49,00 |
Average rates for an hotel stay in New Caledonia
Climate & Weather Forecasts December 2023
New Caledonia is a beautiful country. We define the climate as a Humid subtropical climate. The average temperature here is 22,2 degrees centigrade. In winter the temperatures drop a bit. It is then (on average) about 18,1 degrees centigrade. It is warmer in the summer period. Assume 26,5°C degrees. In the table below we show the weather forecast for this week.
{{current_weather.dt | momentjs( atts.date )}}
{{current_weather.temp | temp}} °{{units}}
{{day.dt | momentjs(atts.date)}}
{{day.temp | temp}} °{{day.temp_min | temp}} °{{units}}
{{current_weather.temp | temp}} °
Humidity: {{current_weather.humidity}}%
Clouds: {{current_weather.clouds}}%
Wind ({{current_weather.wind.deg}}): {{current_weather.wind.speed}}{{units_wind}}
{{current_weather.desc}}
{{day.dt | momentjs(atts.date)}}
{{day.temp | temp}}°
{{day.temp_min | temp}} °