Book cheap hotels in Kuwait
Kuwait is an exciting Islamic Middle Eastern country which has suffered turbulence and instability in the past years. Still, the country is has recovered from the damages of war, and is now enjoying the attention of international tourists with a lust for adventure wanting to fully explore this Muslim country which is still in the process of post-war reconstruction.
Do you want to go to Kuwait? It is a surprising holiday destination. You can enjoy here: a versatile nature, great restaurants, extraordinary museums and a surprising culture. Hotels are available for every budget. The most affordable budget hotels are available from €101,00 per overnight stay. Are you looking for a luxury accommodation? A hotel room will cost you about €147,00 per night. Book your cheap hotel room in Kuwait easily online. Compare the providers below and book the best offers.
| | |
| --- | --- |
| Country | Kuwait |
| Capital city | Kuwait City |
| Average hotel room price | €116,00 |
| Language | Standard Arabic |
| Currencies | Kuwaiti dinar (KWD) |
| Favorable travel time | November to April |
| Number of inhabitants | 4.268.873 |
| Total surface area | 17820 km2 |
| Timezone | UTC+03:00 (Arabia Standard Time) |
| National Airline | Kuwait Airways |
| Central Airport | Kuwait International Airport (IATA:KWI) |
| Official government website | www.e.gov.kw |
Handy travel information
Are you going on holiday to Kuwait? Below we offer some practical information. The capital city is Kuwait City. The general means of payment is Kuwaiti dinar (KWD). The Kuwaiti time zone is UTC+03:00 (Arabia Standard Time). The most spoken language(s): Standard Arabic. The current population is about 4.268.873 citizens in the country. The total land area is 17820 km2. Information about power and electricity: the current voltage is 240 V, 50 Hz and the socket type is G. The prefix is +965.
Compare best hotels in Kuwait (December 2023)
Popular regions for your hotel stay in Kuwait
Kuwait has different regions for a holiday. Please select one of the available regions below. You can then read additional details and check the current hotel offer. Also check out hotel accommodations in Madagascar & Angola.
Populaire plekken in deze regio: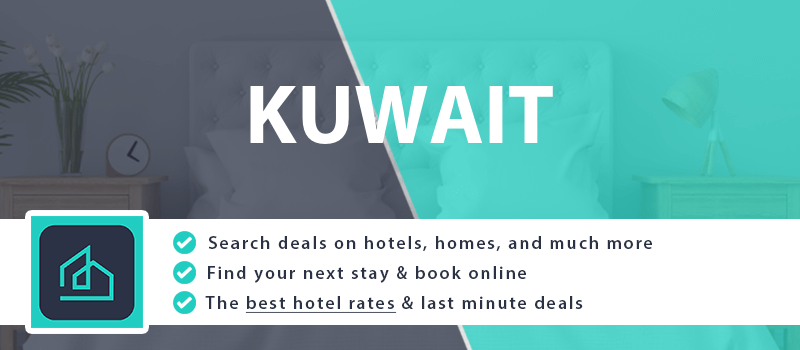 Explanation of public transportation in Kuwait
Kuwait has good public transport facilities. A popular airport in this area is Kuwait International Airport. They offer reliable flights. The national airline company is Kuwait Airways. You can book cheap tickets here. With a last-minute deal you can save extra. On www.e.gov.kw you will find additional explanations about: tourism, tax, laws and regulations and the (passport) visa application process.
Regular hotel prices
Kuwaiti hotel prices can be different every day. You can view the expected rates in the following table.
| Hotel segment | Prices |
| --- | --- |
| Basic accommodation | €101,00 |
| Common room | €116,00 |
| Exclusive lodging | €147,00 |
| Weekend holiday | €348,00 |
| Dinner (per person) | €23,00 |
Standard rates for an hotel stay in Kuwait
Climate & Weather Forecasts December 2023
Kuwait is a special country. We define the climate as a Hot deserts climate. The standard annual temp. is 26,2°C degrees. In winter the temperatures drop a bit. It is then an average of 10,0 degrees centigrade °C. Temperatures rise during the summer. Arround 39,0 degrees Celsius. In the table below we show the weather forecast for this week.
{{current_weather.dt | momentjs( atts.date )}}
{{current_weather.temp | temp}} °{{units}}
{{day.dt | momentjs(atts.date)}}
{{day.temp | temp}} °{{day.temp_min | temp}} °{{units}}
{{current_weather.temp | temp}} °
Humidity: {{current_weather.humidity}}%
Clouds: {{current_weather.clouds}}%
Wind ({{current_weather.wind.deg}}): {{current_weather.wind.speed}}{{units_wind}}
{{current_weather.desc}}
{{day.dt | momentjs(atts.date)}}
{{day.temp | temp}}°
{{day.temp_min | temp}} °