Book cheap hotels in Antigua And Barbuda
Antigua and Barbuda are two special islands. The islands are originally British. Antigua is the main island. This island has the largest surface area and the most inhabitants. The special thing about Antigua is the many beaches: every day you can choose a new beach. Here you have impressive green hills and a beautiful blue sea. Do you want some more rest? Then visit Barbuda. It's much quieter here. Few people live there. You can take beautiful walks along the beach here. Ideal for those seeking tranquility.
Would you like to get an insight into the most beautiful hotels in Antigua And Barbuda? It is a wonderful destination. There are many reasons: a versatile nature, welcoming restaurants, monumental buildings and a wonderful culture. Hotels are available for every budget. You can book the cheapest budget hotels for €110,00 per accommodation. Are you looking for a little more comfort? Then the prices rise towards €397,00 per night. You can enjoy a sun holiday here. Also in winter you can go here excellent. Book your cheap hotel room in Antigua And Barbuda right way! Choose one of the hotel providers and book your accommodation online.
| | |
| --- | --- |
| Country | Antigua And Barbuda |
| Capital city | Saint John's |
| Average hotel room price | €181,00 |
| Spoken language | English |
| Payment method | East Caribbean dollar (XCD) |
| Favorite travel time | May to November |
| Number of inhabitants | 93.763 |
| Total surface area | 443 km2 |
| Timezone | UTC−04:00 (AST) |
| Flag carrier | BMN Air |
| Central Airport | V.C. Bird International Airport (IATA:ANU) |
| Official government website | www.ab.gov.ag |
Important info
Are you planning your trip to Antigua And Barbuda? Read carefully about the local rules and protocols. The capital of the country is Saint John's. In the hotel you pay with East Caribbean dollar (XCD). The Antiguan time zone is UTC−04:00 (AST). People speak here in: English. There are about 93.763 residents. The total land area is 443 km2. Some additional practical info: the voltage of the electricity is 230 V, 60 Hz and the type of electrical sockets is A / B. The country code is +1-268.
Compare best hotels in Antigua And Barbuda (December 2023)
The best regions for your hotel stay in Antigua And Barbuda
Antigua And Barbuda has beautiful areas to spend a holiday. Please select one of the available regions below. You can then read additional details and check the possible hotel offers. Also check out hotel accommodations in Guam or Sint Maarten.
Populaire plekken in deze regio: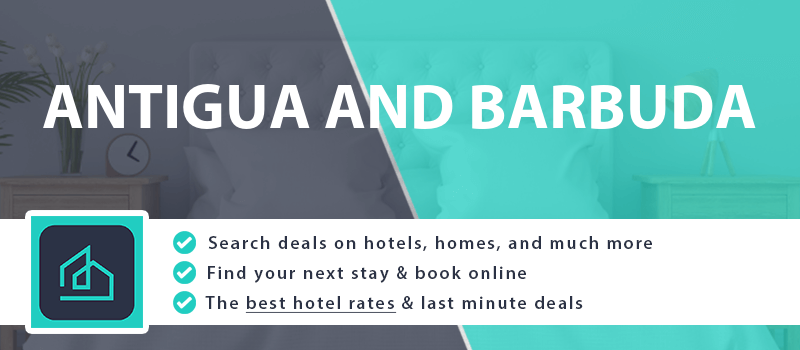 ---
Details on public transportation in Antigua And Barbuda
Antigua And Barbuda has good public transport facilities. A major airport in this region is V.C. Bird International Airport. Here you book direct and indirect flights. The national flight company is BMN Air. They fly to different destinations. Possibly you can find a last-minute deal. Via www.ab.gov.ag more background info is given about: city tax (tourism), police and emergency services and the (passport) visa application process.
Standard hotel rates
Antiguan hotel prices vary widely (based on regio & type of accommodation). You can find the average rates in the next scheme.
| Hotel segment | Costs |
| --- | --- |
| Basic hotel | €110,00 |
| Standard room | €181,00 |
| Exclusive accommodation | €397,00 |
| Weekend holiday | €543,00 |
| Dining (per person) | €39,00 |
Indication rates for an hotel stay in Antigua And Barbuda
Climate & Weather Forecasts December 2023
Antigua And Barbuda is a beautiful country. The country has a Wet equatorial climate. The annual temperature is approximately 26,6°C degrees. Keep in mind some cooler temperatures in winter. Take into account about 24,3 degrees Celsius. It is warmer in the summer period. Arround 28,3 degrees Celsius °C. In the table below you will find the weather forecast for the next 7 days.
{{current_weather.dt | momentjs( atts.date )}}
{{current_weather.temp | temp}} °{{units}}
{{day.dt | momentjs(atts.date)}}
{{day.temp | temp}} °{{day.temp_min | temp}} °{{units}}
{{current_weather.temp | temp}} °
Humidity: {{current_weather.humidity}}%
Clouds: {{current_weather.clouds}}%
Wind ({{current_weather.wind.deg}}): {{current_weather.wind.speed}}{{units_wind}}
{{current_weather.desc}}
{{day.dt | momentjs(atts.date)}}
{{day.temp | temp}}°
{{day.temp_min | temp}} °