Book cheap hotels in Georgia
Georgia (Georgian: საქართველო, Sakartvelo) is located on the border of Eastern Europe and Western Asia, making it a transcontinental state (a country located on two continents). Politically, Georgia is a European country. The country has been independent from the former Soviet Union since 1991. The area borders Russia, Azerbaijan, Armenia and Turkey. The disputed areas of Abkhazia and South Ossetia also fall under Georgian territory. Some major cities in Georgia are: Tbilisi, Kutaisi, Batumi, Rustavi and Poti.
Georgia is known for the war with Abkhazia and South Ossetia that it has been involved in for years. Both areas claim to be independent, while they are supported in this by few international countries. These border areas are often the scene of violent outbreaks. The country is a major producer of tea and oil. Tourists who visit the country often come for the old towns, the Black Sea, spas and winter sports. Georgia is also known for its beautiful mountain landscapes. In recent years, the area has grown strongly as a holiday destination.
A wonderful holiday to Georgia? Enjoy a versatile holiday destination! What makes this country so special: a versatile nature, good restaurants, old buildings and a surprising culture. You can choose from numerous hotels. A cheap budget hotel is available from €39,00 per room. Would you like to enjoy a more exclusive hotel room? Then you pay an average of €77,00 per room. A holiday in the sun is very pleasant here. But it is also crowded in winter. Book your own hotel room in Georgia easily online. Compare the hotel providers below and book the best offers.
| | |
| --- | --- |
| Country | Georgia |
| Capital city | Tbilisi |
| Average hotel room price | €49,00 |
| Spoken language | Georgian |
| Payment method | Georgian lari (GEL) |
| Favorable travel time | April, May & September |
| Population | 3.744.385 |
| Area of the country | 69700 km2 |
| Timezone | UTC+04:00 |
| Flag Airline | Georgian Airways |
| Central Airport | Tbilisi Airport (IATA:TBS) |
| Government website | www.gov.ge |
Useful travel information
Are you booking a trip to Georgia? Below we offer some practical information. The capital of the country is Tbilisi. In the hotel you pay with Georgian lari (GEL). The Georgian time zone is UTC+04:00. The official language: Georgian. The current population is about 3.744.385 citizens in the country. Its total land area is 69700 km2. Most important information about electricity: the default voltage is 220 V, 50 Hz and the plug type is C / F. The country code for phone calls is +995.
Compare best hotels in Georgia (December 2023)
Special regions for a hotel stay in Georgia
Georgia has versatile holiday areas. Choose one of the regions below. We will then share additional data and check the current hotel offer. Advice: also ask about hotel accommodations in Portugal or Armenia.
Populaire plekken in deze regio:
Food and drink
The food in Georgia is delicious and safe. You might not expect it, but the food is very varied and made from local products. Hospitality is very important to the locals. You feel very welcome. It will probably happen that a bottle of wine is opened especially for you or a meal is prepared.
Language
The official language in Georgia is Georgian. In addition, Russian and Armenian are also spoken. Limited English is spoken, but this does not hinder you. You can come a long way with hands and feet. Because the locals are so hospitable, they do everything they can to understand you. More and more young people speak English very well.
Religion
Most Georgians are Orthodox Christians. During your trip through this country you will undoubtedly regularly enter one of the beautiful and atmospheric churches. Then don't dress too naked, and a headscarf is a good idea.
Safety
Georgia is generally a safe country to travel through. Still, a few warnings are in order. Tbilisi is a big city and just like in other big cities you have to use your common sense. So watch out for pickpockets, for example. The country has fought armed conflicts since independence with two insurgent regions: Abkhazia, to the northwest, and South Ossetia, to the north. Both regions are now more or less independent. A visit to these areas or to the direct border with these areas is not recommended.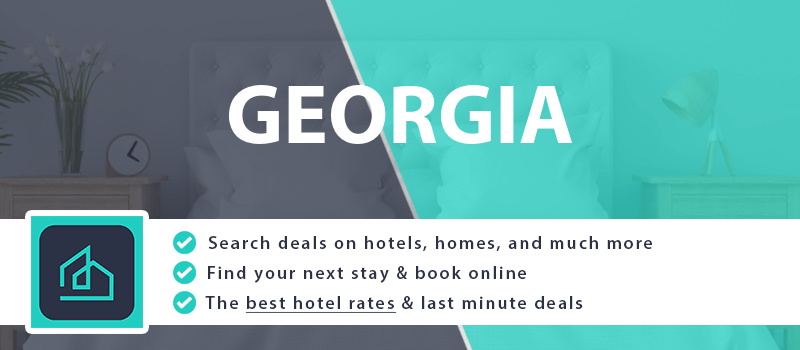 ---
Information about public transportation in Georgia
Georgia has great facilities for public transport. A good domestic airport is Tbilisi Airport. This is a very nice airport. The flag carrier is Georgian Airways. They offer various destinations. You can also go there for a last-minute deal. On www.gov.ge you can find more information about: tax for tourists, police and emergency services and visas & passports.
Regular hotel rates
Georgian hotel prices can be different every day. We offer a price estimate in the next scheme.
| Type of overnight stay | Prices |
| --- | --- |
| Basic accommodation | €39,00 |
| Standard room | €49,00 |
| Luxury accommodation | €77,00 |
| City trip | €147,00 |
| Eating (per person) | €24,00 |
Indication rates for an hotel stay in Georgia
Climate & Weather Forecasts December 2023
Georgia is a wonderful country. We define the climate as a Humid subtropical climate. The average temperature here is 7,7 degrees Celsius °C. Keep in mind some cooler temperatures in winter. It is then (on average) about -10,6°C degrees. Temperatures rise during the summer. Assume 21,6 degrees centigrade °C. Below you will find the weather forecast for today and the next 7 days.
{{current_weather.dt | momentjs( atts.date )}}
{{current_weather.temp | temp}} °{{units}}
{{day.dt | momentjs(atts.date)}}
{{day.temp | temp}} °{{day.temp_min | temp}} °{{units}}
{{current_weather.temp | temp}} °
Humidity: {{current_weather.humidity}}%
Clouds: {{current_weather.clouds}}%
Wind ({{current_weather.wind.deg}}): {{current_weather.wind.speed}}{{units_wind}}
{{current_weather.desc}}
{{day.dt | momentjs(atts.date)}}
{{day.temp | temp}}°
{{day.temp_min | temp}} °