Book cheap hotels in Northern Ireland
Northern Ireland is a stunning holiday destination that is easily accessed with much to see and do. If you haven't visited then you will be missing out on experiences not available elsewhere. Due to its compactness and accessibility no area of Northern Ireland is off limits when you visit. From the Mountains of Mourne down to the many picturesque coastal towns and villages there is a perfect holiday destination waiting for you. From the once oppressive Belfast with its many army patrols to its now tourist attracting streets, investment has meant that Belfast has become a hot spot for would be holiday makers. Why not taste the delights of Bangor or for the more energetic a walk up the Mountains of Mourne? The Causeway in Antrim attracts thousands of tourists a month. How about the Fermanagh Lakelands? The list goes on. Need somewhere to stay? The following page offer a definitive guide to the best hotels in Northern Ireland. Choosing a traditional cottage or a holiday home by the sea, maybe even an apartment in one of Northern Ireland's many towns is made easy.
More information about this destination
A wonderful holiday to Northern Ireland? This is a special holiday destination. This country has a lot to offer: a wooded area, good restaurants, extraordinary museums and a very warm culture. There are numerous hotels to book. The most affordable budget hotels are available from €60,00 per overnight stay. Are you booking a room in a central location? Then the prices rise towards €176,00 per night. A holiday in the sun is very pleasant here. Also in winter you can go here excellent. Book your cheap hotel room in Northern Ireland quickly online. View the featured providers below and find the best deals.
| | |
| --- | --- |
| Country | Northern Ireland |
| Capital city | Belfast |
| Price of hotel accommodation | €159,00 |
| Spoken language | English |
| Official Currency | Pound sterling (GBP) |
| Best time to visit | June and July |
| Number of inhabitants | 1.914.040 |
| Area of the country | 14130 km2 |
| Time zone | GMT+1 |
| Leading airline | Aer Lingus |
| Central Airport | Belfast International Airport (IATA:BFS) |
| Official government website | www.nidirect.gov.uk |
Before you leave
Are you booking a trip to Northern Ireland? It is smart to read well in advance. The capital of the country is Belfast. People pay here with Pound sterling (GBP). The Northern Irish time zone is GMT+1. The official language: English. The country has approximately 1.914.040 citizens in the country. The country's total land area is 14130 km2. As for power supplies: the current voltage is 230 V, 50 Hz and the type of plug is G. The country code for phone calls is +44.
Compare best hotels in Northern Ireland (December 2023)
Tourist regions for a hotel stay in Northern Ireland
Northern Ireland has versatile holiday areas. Please select one of the available regions below. We will then share additional data and research the different hotel offers. Tip: also inquire about hotel accommodations in Sint Maarten or Cuba.
Populaire plekken in deze regio: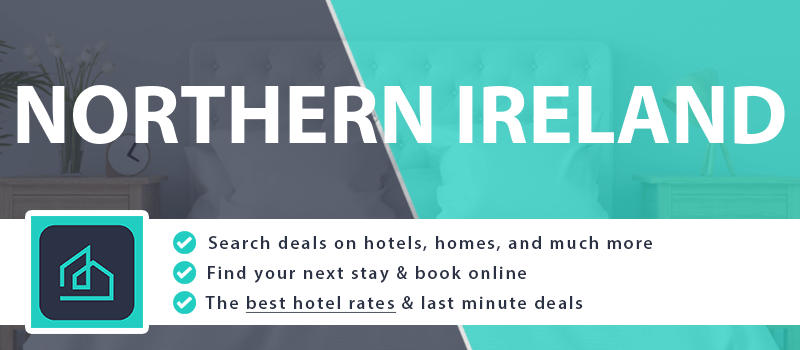 Information on public transportation in Northern Ireland
Northern Ireland has good public transport facilities. An important airport in this country is Belfast International Airport. Good transfers are available. The national airline is Aer Lingus. They offer good conditions. With a last-minute deal you can save extra. On www.nidirect.gov.uk you can read extra details regarding: tax for tourists, public transport and the (passport) visa application process.
Standard hotel prices
Northern Irish hotel prices depend on many factors. We offer a price estimate in the next figure.
| Accommodation type | Costs |
| --- | --- |
| Cheap accommodation | €60,00 |
| Regular room | €159,00 |
| Exclusive accommodation | €176,00 |
| City trip | €477,00 |
| Meal (per person) | €41,00 |
Indication rates for an hotel stay in Northern Ireland
Climate & Weather Forecasts December 2023
Northern Ireland is a versatile country. We define the climate as a Temperate oceanic climate. The average temperature here is 9,7°C degrees. In winter the temperatures drop a bit. During this period it is about 1,8°C degrees. It is warmer in the summer period. Assume 17,2°C degrees. Below you get an impression of the weather of the coming days.
{{current_weather.dt | momentjs( atts.date )}}
{{current_weather.temp | temp}} °{{units}}
{{day.dt | momentjs(atts.date)}}
{{day.temp | temp}} °{{day.temp_min | temp}} °{{units}}
{{current_weather.temp | temp}} °
Humidity: {{current_weather.humidity}}%
Clouds: {{current_weather.clouds}}%
Wind ({{current_weather.wind.deg}}): {{current_weather.wind.speed}}{{units_wind}}
{{current_weather.desc}}
{{day.dt | momentjs(atts.date)}}
{{day.temp | temp}}°
{{day.temp_min | temp}} °