Book cheap hotels in Guadeloupe
Guadeloupe is also known as the Butterfly Island. The island bears this tropical name for a reason. There are beautiful white beaches and there is an azure blue sea. For example Plage des Raisins Clairs. Other attractions are the tropical rainforests, banana plantations, waterfalls and colorful cities. Major attractions include Point de la Grande Vigie, Parc National de la Guadeloupe, Pointe-à-Pitre (the largest city), Réserve Jacques Cousteau (great fun for children), Marie-Galante (known for its windmills) and Route de la Traversée (an impressive walking route).
Are you looking for the best hotels in Guadeloupe? It is a surprising holiday destination. There are many reasons: a green nature, good restaurants, old churches and buildings and a very warm culture. Hotels are available for every budget. There are quite a few budget hotels from €51,00 per overnight stay. Do you want a more luxurious room? A hotel room will cost you about €279,00 per room. You can enjoy a sun holiday here. It is also popular in winter. Book your cheap hotel room in Guadeloupe easily online. Choose one of the hotel providers and find the best deals.
| | |
| --- | --- |
| Country | Guadeloupe |
| Capital city | Basse-Terre |
| Average hotel room price | €183,00 |
| Spoken language | French |
| Payment method | Euro (EUR) |
| Favorable travel time | December to May |
| Population | 395.752 |
| Land area | 1628 km2 |
| Timezone | GMT-4 |
| Flag carrier | Air France |
| Central Airport | Pointe-à-Pitre International Airport (IATA:PTP) |
| Government information | www.guadeloupe.gouv.fr |
Practical information
Are you booking a trip to Guadeloupe? Make sure you are well prepared. The capital is Basse-Terre. In the hotel you pay with Euro (EUR). The Guadeloupe time zone is GMT-4. The most spoken language(s): French. The current population is about 395.752 inhabitants in the country. The area of the country is 1628 km2. As for power supplies: the default voltage is 230 V, 50 Hz and the socket type is C / E. The phone code is +590.
Compare best hotels in Guadeloupe (December 2023)
Popular regions for your hotel stay in Guadeloupe
Guadeloupe has beautiful areas to spend a holiday. Choose one of the regions below. You can then read additional details and view the available hotel offer. Advice: also ask about hotel accommodations in Fiji and Turkey.
Populaire plekken in deze regio: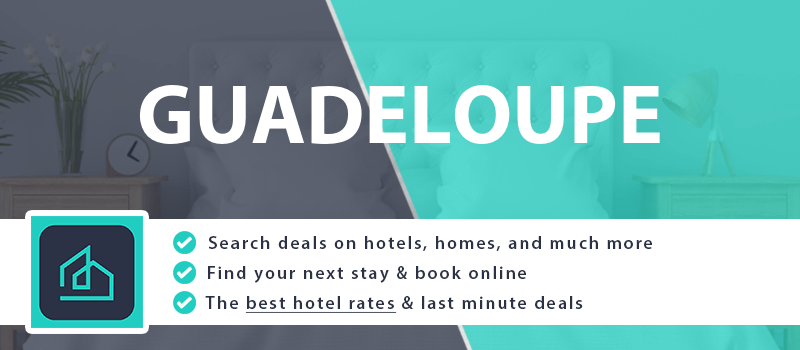 ---
Details on public transportation in Guadeloupe
Guadeloupe offers many options for public transport. A popular airport in this area is Pointe-à-Pitre International Airport. This is a very nice airport. The national airline company is Air France. They offer various destinations. You can also go there for a last-minute deal. On www.guadeloupe.gouv.fr you can read extra details regarding: tourist tax, public transport and passport control.
Regular hotel prices
Guadeloupe hotel prices can vary quite a bit. We offer a price estimate in the list below.
| Type of overnight stay | Prices |
| --- | --- |
| Basic accommodation | €51,00 |
| Normal room | €183,00 |
| Exclusive accommodation | €279,00 |
| Weekend vacation | €549,00 |
| Supper (per person) | €34,00 |
Indication rates for an hotel stay in Guadeloupe
Climate & Weather Forecasts December 2023
Guadeloupe is a beautiful country. The country has a Wet equatorial climate. The average temperature here is 28,0 degrees Celsius. Keep in mind some cooler temperatures in winter. During this period it is about 25,0 degrees Celsius. In the summer it is warmer. About 30,0 degrees centigrade °C. In the widget below you will find the weather forecast for the next 7 days.
{{current_weather.dt | momentjs( atts.date )}}
{{current_weather.temp | temp}} °{{units}}
{{day.dt | momentjs(atts.date)}}
{{day.temp | temp}} °{{day.temp_min | temp}} °{{units}}
{{current_weather.temp | temp}} °
Humidity: {{current_weather.humidity}}%
Clouds: {{current_weather.clouds}}%
Wind ({{current_weather.wind.deg}}): {{current_weather.wind.speed}}{{units_wind}}
{{current_weather.desc}}
{{day.dt | momentjs(atts.date)}}
{{day.temp | temp}}°
{{day.temp_min | temp}} °