Book cheap hotels in Bhutan
Bhutan is one of the most authentic countries in Asia. The country is isolated from the rest of the world. That's because it's between the Himalayas. Tourism has only been allowed since 1974. It is a very special holiday country with few tourists. The country is 150 km wide and 300 km long. The total area is approximately 47,000 km². You can compare it with Switzerland. Bhutan is a fairly sparsely populated country. Don't expect luxury here. You will find primitive hotels and lodgings where you can spend the night. You can read more about it on this page.
Do you want to book an accommodation in Bhutan? It is a beautiful holiday destination. You can enjoy here: a wooded area, great restaurants, monumental buildings and a surprising culture. There is a wide choice of hotels. A cheap budget hotel is available from €60,00 per room. Are you looking for a little more comfort? A hotel room will cost you about €159,00 per overnight stay. You can enjoy a sun holiday here with your family. It is also popular in winter. Book your hotel room in Bhutan without hassle via the internet. View the featured providers below and book the best offers.
| | |
| --- | --- |
| Country | Bhutan |
| Capital city | Thimphu |
| Average hotel price | €67,00 |
| Official language | Dzongkha |
| Official Currency | Bhutanese ngultrum (BTN) |
| Favorite travel time | May to October |
| Number of inhabitants | 782.455 |
| Area of the country | 47000 km2 |
| Time zone | UTC+06:00 (BTT) |
| Leading carrier | Druk Air |
| Large Airport | Paro International Airport (IATA:PBH) |
| Government website | www.bhutan.gov.bt |
Handy travel information
Are you booking a hotel for a trip to Bhutan? Make sure you are well prepared. The country's capital is Thimphu. The currency is Bhutanese ngultrum (BTN). The Bhutanese time zone is UTC+06:00 (BTT). The most spoken language(s): Dzongkha. There are about 782.455 citizens in the country. The total land area of the country is 47000 km2. Information about power and electricity: the current voltage is 230 V, 50 Hz and the type of plug is C / D / G. The phone code is +975.
Compare best hotels in Bhutan (December 2023)
Tourist regions for your hotel stay in Bhutan
Bhutan has versatile holiday areas. Choose from the available regions in the list below. You can then read additional details and research the different hotel offers. Also check out hotel accommodations in Nepal or Malaysia.
Populaire plekken in deze regio:
15 Reasons You Should Go Visit Bhutan
Bhutan is a small country in South Asia sharing its border with India and China, lying in the Eastern Himalayas. It is indeed an astonishingly beautiful country and I say that you should visit Bhutan as soon as possible and make it your next destination for a holiday. You wanna know why? Let me give you 15 reasons why you should visit Bhutan right now:
Let me start by saying that Bhutan is astonishingly, amazingly, mindblowingly beautiful country.
There are lots of beautiful hills and mountains, each beautiful in its own way.
There are so many wonderful isolated places to take a break from the rush of the fast world and cities.
The monuments and architecture in Bhutan is a marvel and unique.
There is so much greenery all around.
 Bhutan is a paradise if you love snow.
 Bhutan has some of the highest unclimbed mountains in the world like Mount Jhomolharu and Jitchu Drake.
You will find beautiful Dzongs around, which were ancient forts used as administrative buildings today.
Taktsang Goemba (Tiger's Nest Monastery) is an architectural marvel located in a vertical cliff 3000m north of Paro which was built in 1692.
Tsechus, which are annual religious festival in Bhutan, are conducted in various dzongs and monastaries, where people from various near and far places visit to witness various cultural shows and mask dances.
Bhutan is a heaven for mountain trekking. Trekking in Bhutan will take you through various challenging mountain routes like crossing mountain passes and snow. These treks in Bhutan are totally worth due to the pristine natural beauty one can witness during these treks.
The Art and Craft of Bhutan is totally amazing. Zorig Chusum, which is the Bhutanese Arts and Crafts is very symbolic and rooted to the Buddhist culture and has been a tradition since the 15th century.
Bhutan is a spiritual heaven. Buddhism isn't just a religion in Bhutan but a way of life. Due to Bhutan being deeply en-grained by Buddhism, Bhutan is really peaceful and is a perfect place to try some meditation retreats getting away from the hustle and bustle of life.
Bhutan is also great for its hot cuisine. It is a country where chilli is not used as a seasoning but more as a vegetable. You should definitely try the national dish, 'Ema-Datshi' which is chilli and cheese stew. So tourists looking for some adventure, don't miss this.
And at the end of the day, you will always find a smiling and hospitable face welcoming you to this beautiful country.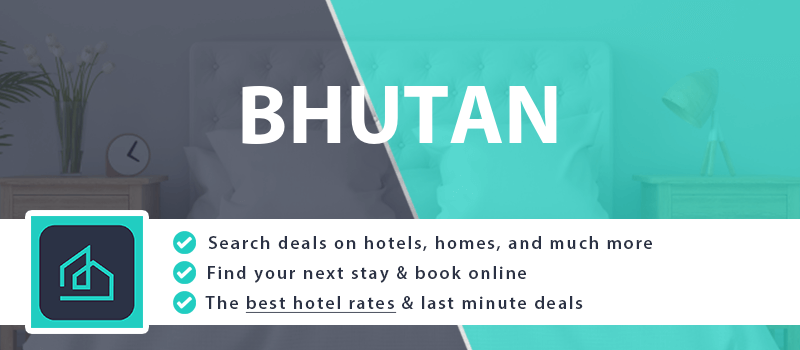 Explanation of public transportation in Bhutan
Bhutan has an excellent public transport system. A major airport in this region is Paro International Airport. Good transfers are available. The national airline company is Druk Air. They offer good conditions. You can also book a last minute deal. Via www.bhutan.gov.bt you can read extra details regarding: tourist tax, police and emergency services and visas & passports.
Standard hotel prices
Bhutanese hotel prices can vary quite a bit. We place a price indication in the list below.
| Hotel segment | Tariffs |
| --- | --- |
| Cheap hotel room | €60,00 |
| Standard room | €67,00 |
| Exclusive lodging | €159,00 |
| Weekend trip | €201,00 |
| Supper (per person) | €23,00 |
Standard rates for an hotel stay in Bhutan
Climate & Weather Forecasts December 2023
Bhutan is a versatile country. We define the climate as a Subtropical highland climate. The normal annual temperature is 12,0 degrees Celsius. In winter it is a bit colder. Take into account about 2,3 degrees centigrade. It is warmer in the summer period. About 18,6 degrees centigrade. In the widget below you will find the weather forecast for the next 7 days.
{{current_weather.dt | momentjs( atts.date )}}
{{current_weather.temp | temp}} °{{units}}
{{day.dt | momentjs(atts.date)}}
{{day.temp | temp}} °{{day.temp_min | temp}} °{{units}}
{{current_weather.temp | temp}} °
Humidity: {{current_weather.humidity}}%
Clouds: {{current_weather.clouds}}%
Wind ({{current_weather.wind.deg}}): {{current_weather.wind.speed}}{{units_wind}}
{{current_weather.desc}}
{{day.dt | momentjs(atts.date)}}
{{day.temp | temp}}°
{{day.temp_min | temp}} °