Book cheap hotels in Puerto Rico
Spanish Caribbean culture mixes with American influence in the island of Puerto Rico. Skyscrapers are the backdrop of olden structures and the hot Caribbean sun. It is also a mixture of cultures as Spanish, American, African, and Indian cultures merge into the people who have the lively and happy-go-lucky disposition in life. Puerto Rico is a commonwealth of the United States by virtue of the Treaty of Paris. It is the United States' island getaway and a very popular island destination as it boasts of the best beaches in the Caribbean.
Do you want to book an accommodation in Puerto Rico? This is a special holiday destination. Some reasons to go here: a natural environment, delicious local specialties, architectural landmarks and a very warm culture. There is a wide choice of hotels. You can book the cheapest budget hotels for €82,00 per night. Do you want a more luxurious room? Then you have to count on an average of €288,00 per accommodation. You can enjoy a sun holiday here. Also in winter you can go here excellent. Book your own hotel room in Puerto Rico easily online. View the featured providers below and book the best offers.
| | |
| --- | --- |
| Country | Puerto Rico |
| Capital city | San Juan |
| Average hotel room price | €170,00 |
| Local language | Spanish, English |
| Payment method | United States Dollar (USD) |
| Favorable travel time | January to May |
| Number of inhabitants | 3.252.407 |
| Land area | 9104 km2 |
| Time zone | GMT-4 |
| Flag Airline | Air Flamenco |
| Large Airport | Luis Munoz Marin International Airport (IATA:SJU) |
| Government website | www.pr.gov |
Useful travel information
Are you planning your trip to Puerto Rico? Below we offer some practical information. The country's capital is San Juan. The general means of payment is United States Dollar (USD). The Puerto Rican time zone is GMT-4. The language(s) spoken here: Spanish, English. There are about 3.252.407 citizens in the country. The total land area is 9104 km2. Information about power and electricity: the voltage is 120 V, 60 Hz and the type of electrical sockets is A / B. The country code for phone calls is +1-787.
Compare best hotels in Puerto Rico (December 2023)
Popular regions for your hotel stay in Puerto Rico
Puerto Rico has versatile holiday areas. Choose from the available regions in the list below. You will find more information and check the current hotel offer. Also click further to hotel accommodations in Georgia or Antigua And Barbuda.
Populaire plekken in deze regio:
Important travel information
Puerto Rico has been notorious for crimes such as drug trafficking and thefts, which often occur in slum areas. Steer clear of these parts in Puerto Rico to prevent any untoward incident. Carjacking is also rampant, so be aware of intersections especially when on the road at night time. It is better to leave your rental car open but take the key and empty the vehicles of your valuables. Do not leave your belongings in your car. Do not park near surfer beaches if you are not a local or are traveling with one. San Juan, as well as cities Ponce and Mayaguez, is not safe to travel at night. If you are a woman, do not go alone in the Condado Beach; always go with a group.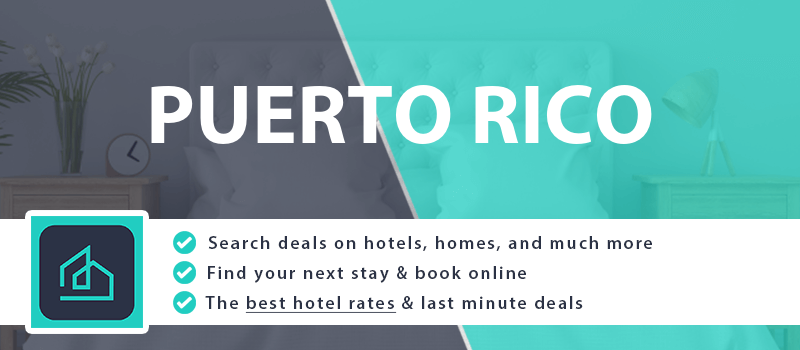 ---
Explanation about public transportation in Puerto Rico
Puerto Rico offers many options for public transport. A major airport in this region is Luis Munoz Marin International Airport. This is a very nice airport. The national airline is Air Flamenco. You can book cheap tickets here. With a last-minute deal you can save extra. On www.pr.gov you will find additional explanations about: tax for tourists, insurances and the (passport) visa application process.
Regular hotel prices
Puerto Rican hotel prices can be different every day. We place a price indication in the next scheme.
| Hotel class | Costs |
| --- | --- |
| Budget hotel | €82,00 |
| Regular room | €170,00 |
| Luxury accommodation | €288,00 |
| Full weekend | €510,00 |
| Supper (per person) | €35,00 |
Indication rates for an hotel stay in Puerto Rico
Climate & Weather Forecasts December 2023
Puerto Rico is a versatile country. The country has a Tropical monsoon and trade-wind littoral climate. The average temperature here is 24,9 degrees Celsius °C. In the winter months it is slightly colder. Take into account about 22,1 degrees centigrade. Summer can get pretty hot. Arround 27,1°C degrees. In the schedule below we show the weather forecast for this week.
{{current_weather.dt | momentjs( atts.date )}}
{{current_weather.temp | temp}} °{{units}}
{{day.dt | momentjs(atts.date)}}
{{day.temp | temp}} °{{day.temp_min | temp}} °{{units}}
{{current_weather.temp | temp}} °
Humidity: {{current_weather.humidity}}%
Clouds: {{current_weather.clouds}}%
Wind ({{current_weather.wind.deg}}): {{current_weather.wind.speed}}{{units_wind}}
{{current_weather.desc}}
{{day.dt | momentjs(atts.date)}}
{{day.temp | temp}}°
{{day.temp_min | temp}} °