Book cheap hotels in Dominica
A holiday in Dominica can be experienced on Nature Island, one of the least developed countries in the Caribbean and known as one of the best kept secrets in the region. Go here for nature, as Dominica boasts towering mountains, mysterious volcanoes, lush tropical rainforests, pristine lakes and some 365 winding rivers begging to be explored. Dominica is therefore not the Dominican Republic, the popular holiday destination with which this island is often confused. Dominica is a mecca for nature lovers who love the great outdoors, as there are few other places in the world that come so close to the ideal image of the Garden of Eden. The country is a paradise of wild orchids, ferns, lilies and countless fruit trees, much of which is still inaccessible. The vast Morne Trois Pitons National Park is one of the best starting points for discovering the beautiful Trafalgar Falls and Boiling Lake, the second largest boiling lake in the world. While on vacation you can watch turtle eggs hatch, spot hummingbirds, snorkel among tropical fish or marvel at the scenery on the Waitukubuli National Trail, the 185-mile hiking trail that crosses the island.
Would you like to get an insight into the most beautiful hotels in Dominica? It is a beautiful holiday destination. You can enjoy here: a beautiful nature, a delicious local cuisine, architectural landmarks and a surprising culture. There is a wide choice of hotels. There are plenty of budget hotels from €54,00 per overnight stay. Are you booking a room in a central location? Then you have to count on an average of €171,00 per room. You have many options here for a sun holiday. You can also enjoy a great holiday here in winter. Book your own hotel room in Dominica easily online. Compare the providers below and find the best deals.
| | |
| --- | --- |
| Country | Dominica |
| Capital city | Roseau |
| Average hotel price | €125,00 |
| Official language | English |
| Currencies | East Caribbean dollar (XCD) |
| Best travel time | October to January |
| Number of inhabitants | 72.737 |
| Total surface area | 754 km2 |
| Time zone | UTC−04:00 |
| Leading airline | American Airlines |
| Large Airport | Douglas-Charles Airport (IATA:DOM) |
| Government information | www.dominica.gov.dm |
Before you leave
Are you going on a trip to Dominica? Below we offer some practical information. One of the most important cities is Roseau. The national currency is East Caribbean dollar (XCD). The Dominican time zone is UTC−04:00. The most common language(s): English. The country has approximately 72.737 inhabitants. The total land area is 754 km2. As for power supplies: the voltage is 230 V, 50 Hz and the type of electrical sockets is D / G. The international access code is +1-767.
Compare best hotels in Dominica (December 2023)
Popular regions for a hotel stay in Dominica
Dominica has versatile holiday areas. Below you will find a summary of beautiful regions. You can then read additional details and view the available hotel offer. Also explore hotel accommodations in Vanuatu and Morocco.
Populaire plekken in deze regio:
10 main attractions
Dominica is known as the 'nature island' of the Caribbean, a pristine place of rainforest, mountains, waterfalls and rocky shores. Dominica is unlike most other Caribbean islands in every way. You don't come here for a holiday on pearly white beaches and a vibrant nightlife, but to fully immerse yourself in nature. Dominica is one of the best places in the Caribbean for hiking through lush jungle and volcanic landscapes. You can even traverse the entire island on foot in two weeks. Shorter walks lead to clear rock pools, photogenic waterfalls or steaming lakes. Dominica has good snorkeling and diving spots and there are quite a few beaches, where you can lay down on soft black sand. In the capital and on the coast you will find the colonial remains of the British and French, who fought for this beautiful island in the 18th and 19th centuries. But Dominica is also the only island in the Caribbean where you can meet the original Indian inhabitants. Do you want to go on holiday to this playground for adventurous travelers and nature lovers? Here you will find 10 tips what to do in Dominica:
Morne Trois Pitons National Park
Boiling Lake
Trafalgar Falls
The capital Roseau
Cabrits National Park
Emerald Pool
Kalinago area
Beaches of Dominica
Champagne Reef
Waitukubuli National Trail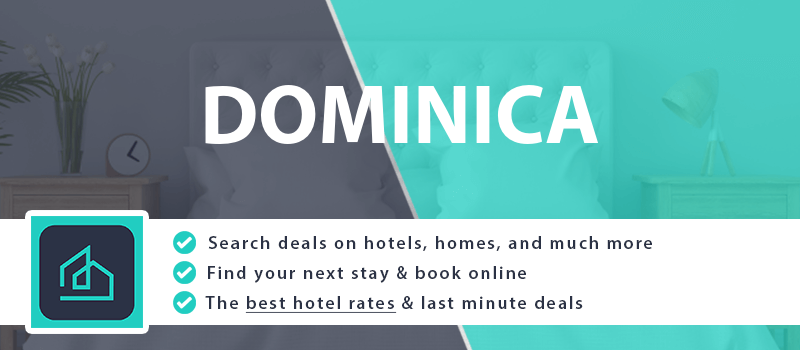 ---
Data about public transportation in Dominica
Dominica has a well laid out public transport network. A major airport in this region is Douglas-Charles Airport. This is a very nice airport. The national airline company is American Airlines. They offer various destinations. Also research the last-minute deal options. On www.dominica.gov.dm you can find more information about: tax for tourists, insurances and passport control.
Typical hotel rates
Dominican hotel prices depend on many factors. We offer a price estimate in the next scheme.
| Hotel segment | Costs |
| --- | --- |
| Basic hotel | €54,00 |
| Normal room | €125,00 |
| Luxury accommodation | €171,00 |
| Weekend vacation | €375,00 |
| Dinner (per person) | €28,00 |
Expected rates for an hotel stay in Dominica
Climate & Weather Forecasts December 2023
Dominica is a beautiful country. The country has a Wet equatorial climate. The normal annual temperature is 22,5 degrees Celsius °C. In winter it is a bit colder. During this period it is about 20,3°C degrees. Summer can get pretty hot. Arround 24,2°C degrees. Below you will find the weather forecast for the next 7 days.
{{current_weather.dt | momentjs( atts.date )}}
{{current_weather.temp | temp}} °{{units}}
{{day.dt | momentjs(atts.date)}}
{{day.temp | temp}} °{{day.temp_min | temp}} °{{units}}
{{current_weather.temp | temp}} °
Humidity: {{current_weather.humidity}}%
Clouds: {{current_weather.clouds}}%
Wind ({{current_weather.wind.deg}}): {{current_weather.wind.speed}}{{units_wind}}
{{current_weather.desc}}
{{day.dt | momentjs(atts.date)}}
{{day.temp | temp}}°
{{day.temp_min | temp}} °