Book cheap hotels in Cyprus
Situated at the far eastern end of the Mediterranean, the lovely island of Cyprus is a rich blend of European and Eastern influences. Its history has been shaped by Roman, Greek and Turkish empires and this has led to a unique culture, cuisine and atmosphere. Popular with British tourists for many years, there is a fantastic variety of resorts from which to choose, each offering its own special character. From lively, vibrant resorts like Ayia Napa, especially popular with young people, to traditional Cypriot villages high up in the Troodos Mountains, you'll find modern beachfront hotels contrasting sharply with old cobbled streets.
Do you want to book an accommodation in Cyprus? You can enjoy a wonderful holiday destination here. You can enjoy here: a natural environment, delicious local specialties, old buildings and a very traditional and unique culture. There is a suitable hotel for every budget. A cheap budget hotel is available from €42,00 per accommodation. Are you booking a room in a central location? A hotel room will cost you about €134,00 per night. A sunny holiday is very popular here. But it is also crowded in winter. Book your cheap hotel room in Cyprus at the lowest rate. Compare the hotel providers below and book rooms at the best price.
| | |
| --- | --- |
| Country | Cyprus |
| Capital city | Nicosia |
| Average hotel room price | €95,00 |
| Spoken language | Greek, Turkish |
| Currencies | Euro (EUR) |
| Best time to visit | April, May, September & October |
| Population | 1.251.488 |
| Total surface area | 9250 km2 |
| Time zone | UTC+02:00 (EET) |
| Leading airline | Cyprus Airways |
| Major Airport | Larnaca International Airport (IATA:LCA) |
| Government website | www.cyprus.gov.cy |
Handy travel information
Are you booking a hotel for a trip to Cyprus? It is smart to read well in advance. The country's capital is Nicosia. People pay here with Euro (EUR). The Cypriot time zone is UTC+02:00 (EET). The language(s) spoken here: Greek, Turkish. They have about 1.251.488 inhabitants in the country. The area of the country is 9250 km2. Information about power and electricity: the mains voltage is 230 V, 50 Hz and the type of electrical sockets is G. The country code is +357.
Compare best hotels in Cyprus (December 2023)
Great regions for your hotel stay in Cyprus
Cyprus has versatile holiday areas. Please select one of the available regions below. We will then share additional data and check the current hotel offer. Also check out hotel accommodations in Saudi Arabia and Slovenia.
Populaire plekken in deze regio:
History surrounds you in Cyprus
As you'd expect from a country with a history as rich as Cyprus, ancient Roman and Greek sites are plentiful, especially around the old capital of Paphos. The best beach in this area is at Coral Bay, but there are also quiet coves and sandy bays nearby. Limassol, on the south coast, is a lively, cosmopolitan all-year-round resort. Here, long stretches of dark sand and shingle are backed by an abundant choice of tavernas and restaurants. Nightlife buzzes in Limassol, especially in the summer months. Ships from all over the world use this busy harbour. There are particularly beautiful soft sandy beaches at Ayia Napa and Nissi Bay on the east coast. The latter is also very popular with families and those looking for a relaxed holiday. Nearby, the modern holiday resort of Protaras has fine white-sand beaches and rocky coves. One of the most memorable features of any holiday in Cyprus is the sheer warmth of the welcome afforded by the Cypriot people. In Cyprus the local people's smiles are as warm as the Mediterranean sunshine!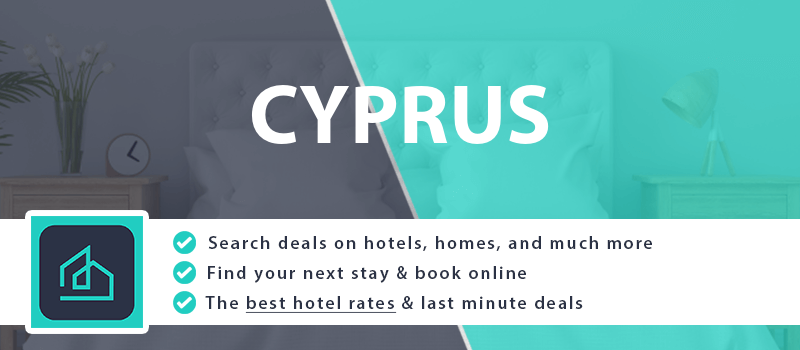 ---
Explanation about public transportation in Cyprus
Cyprus has great facilities for public transport. An important airport in this country is Larnaca International Airport. This is a very nice airport. The national flight company is Cyprus Airways. You can book cheap tickets here. You can also go there for a last-minute deal. Via www.cyprus.gov.cy you can find more information about: city tax (tourism), police and emergency services and passport control.
Standard hotel rates
Cypriot hotel prices depend on many factors. You can find the average rates in the next figure.
| Accommodation type | Costs |
| --- | --- |
| Budget hotel | €42,00 |
| Normal room | €95,00 |
| Premium lodging | €134,00 |
| City trip | €285,00 |
| Dining (per person) | €34,00 |
Average rates for an hotel stay in Cyprus
Climate & Weather Forecasts December 2023
Cyprus is a beautiful country. The climate can best be described as a Mid-latitude steppe and desert climate. The standard annual temp. is 19,6 degrees centigrade °C. Keep in mind some cooler temperatures in winter. It is then an average of 7,4 degrees centigrade °C. It is warmer in the summer period. About 30,5 degrees centigrade. Below you will find the weather forecast for the next 7 days.
{{current_weather.dt | momentjs( atts.date )}}
{{current_weather.temp | temp}} °{{units}}
{{day.dt | momentjs(atts.date)}}
{{day.temp | temp}} °{{day.temp_min | temp}} °{{units}}
{{current_weather.temp | temp}} °
Humidity: {{current_weather.humidity}}%
Clouds: {{current_weather.clouds}}%
Wind ({{current_weather.wind.deg}}): {{current_weather.wind.speed}}{{units_wind}}
{{current_weather.desc}}
{{day.dt | momentjs(atts.date)}}
{{day.temp | temp}}°
{{day.temp_min | temp}} °