Book cheap hotels in Cameroon
Cameroon is a country in Africa that was formed in 1961 by the merging of French Cameroun and British Cameroons. Cameroon borders Nigeria, Chad, the Central African Republic, Congo-Brazzaville, Gabon and Equatorial Guinea. The capital of Cameroon is Yaoundé. Some major cities in Cameroon are: Kribi, Douala, Bafoussam, Garoua and Maroua. The country is known for its varied nature and rich animal world. It has 7 National Parks where you will encounter caves, rainforests, rocks, waterfalls and many different animals. Some of the animals that live in Cameroon are elephants, giraffes, lions, crocodiles, hippos and chimpanzees. The biggest attraction of Cameroon is the Mount Cameroon. This is a volcano about 4000 meters high. Many different plants and trees grow on and around this volcano and many animal species can be found. At the bottom of this volcano, on the coast, you will find mangrove forests, swamps and narrow sandy beaches. In the north of the country you will also find several desert plains. Cameroonian cuisine is known for its grilled chicken and hot sauces.
Are you looking for the best hotels in Cameroon? Enjoy a versatile holiday destination! The country is very popular: a natural environment, delicious food and drink, old buildings and a wonderful culture. Hotels are available for every budget. You can book the cheapest budget hotels for €47,00 per room. Do you want a more luxurious room? Then you have to count on an average of €101,00 per overnight stay. You can enjoy a sun holiday here with your family. There are also plenty of things to do here during the winter months. Book your own hotel room in Cameroon easily online. Compare the providers below and book rooms at the best price.
| | |
| --- | --- |
| Country | Cameroon |
| Capital city | Yaounde |
| Average hotel room price | €62,00 |
| Local language | English |
| Currency | Central African CFA franc (XAF) |
| Busiest travel time | November to February |
| Number of inhabitants | 27.914.536 |
| Area of the country | 475440 km2 |
| Timezone | UTC+01:00 (WAT) |
| Leading airline | Camair-Co |
| Central Airport | Douala International Airport (IATA:DLA) |
| Official government website | www.spm.gov.cm |
Handy travel information
Are you booking a trip to Cameroon? Read carefully about the local rules and protocols. One of the most important cities is Yaounde. The national currency is Central African CFA franc (XAF). The Cameroonian time zone is UTC+01:00 (WAT). People speak here in: English. The country has approximately 27.914.536 inhabitants. Its total land area is 475440 km2. Most important information about electricity: the default voltage is 220 V, 50 Hz and the socket type is C / E. The international country code is +237.
Compare best hotels in Cameroon (December 2023)
Great regions for a hotel stay in Cameroon
Cameroon has beautiful areas to spend a holiday. Please select one of the available regions below. We will then share additional data and research the different hotel offers. Also check out hotel accommodations in Lebanon or Philippines.
Populaire plekken in deze regio: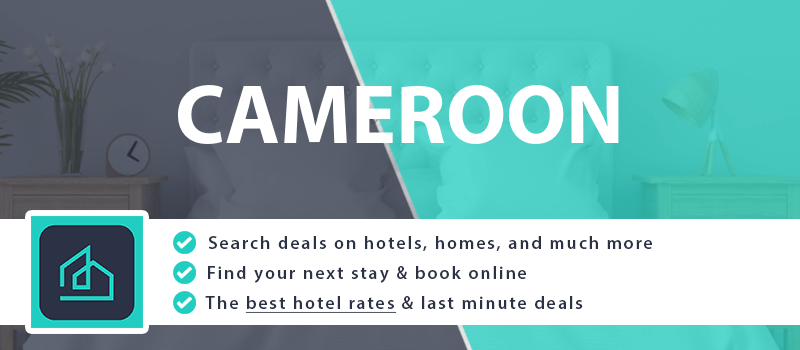 ---
Information about public transportation in Cameroon
Cameroon has good public transport facilities. A popular airport in this area is Douala International Airport. Good transfers are available. The national flight company is Camair-Co. They offer good conditions. You can also book a last minute deal. On www.spm.gov.cm you can read extra details regarding: tax for tourists, insurances and passport control.
Average hotel rates
Cameroonian hotel prices can vary quite a bit. We offer a price estimate in the list below.
| Hotel segment | Tariffs |
| --- | --- |
| Basic hotel | €47,00 |
| Standard room | €62,00 |
| Premium accommodation | €101,00 |
| City trip | €186,00 |
| Dining (per person) | €14,00 |
Standard rates for an hotel stay in Cameroon
Climate & Weather Forecasts December 2023
Cameroon is a wonderful country. The climate can best be described as a Tropical wet-dry climate. The normal annual temperature is 24,9 degrees Celsius °C. In the winter months it is slightly colder. During this period it is about 22,9°C degrees. Summer can get pretty hot. Assume 27,9 degrees centigrade °C. Below you will find the weather forecast for the next 7 days.
{{current_weather.dt | momentjs( atts.date )}}
{{current_weather.temp | temp}} °{{units}}
{{day.dt | momentjs(atts.date)}}
{{day.temp | temp}} °{{day.temp_min | temp}} °{{units}}
{{current_weather.temp | temp}} °
Humidity: {{current_weather.humidity}}%
Clouds: {{current_weather.clouds}}%
Wind ({{current_weather.wind.deg}}): {{current_weather.wind.speed}}{{units_wind}}
{{current_weather.desc}}
{{day.dt | momentjs(atts.date)}}
{{day.temp | temp}}°
{{day.temp_min | temp}} °