Book cheap hotels in Saint Lucia
St Lucia [Saint Lucia in full, of course] is a beautiful tropical island located in the West Indies surrounding the warm Caribbean Sea. It is about 300 miles to the north of Venezuela in South America. It is also a link in the chain of lovely Windward Islands [part of the Lesser Antilles] and is to the south of Martinique and to the north of St Vincent and the Grenadines. South of the Grenadines is the most southerly of the Windward Islands, Grenada itself. To the south of that are the islands of Trinidad and Tobago, close to the Venezuelan coast. Around 100 miles to the east of St Lucia lies the wonderful and very popular holiday island of Barbados.
Are you looking for the best hotels in Saint Lucia? This is a special holiday destination. What makes this country so special: a green nature, good restaurants, monumental buildings and a surprising culture. There are numerous hotels to book. The most affordable budget hotels are available from €71,00 per room. Are you booking a room in a central location? Then the prices rise towards €320,00 per overnight stay. You can enjoy a sun holiday here. Also in winter you can go here excellent. Book your hotel room in Saint Lucia easily online. View the featured providers below and get started right away.
| | |
| --- | --- |
| Country | Saint Lucia |
| Capital city | Castries |
| Average hotel price | €130,00 |
| Local language | English |
| Payment method | East Caribbean dollar (XCD) |
| Best travel time | Mid-December to Mid-April |
| Number of inhabitants | 179.857 |
| Area of the country | 616 km2 |
| Timezone | UTC−04:00 |
| Leading airline | Delta Airlines |
| Central Airport | Hewanorra International Airport (IATA:UVF) |
| Government information | www.govt.lc |
Useful travel information
Are you planning your trip to Saint Lucia? Prepare yourself well! The capital city is Castries. People pay here with East Caribbean dollar (XCD). The Saint Lucian time zone is UTC−04:00. The most common language(s): English. The current population is about 179.857 inhabitants. The total area is 616 km2. Information about power and electricity: the current voltage is 230 V, 50 Hz and the socket type is G. The international country code is +1-758. St. Lucia [pronounced Loo-sha] is 27 miles[ 43km] long and 14 miles [22km] wide. It is very lush and has preserved its green mountainous heart, with banana plantations giving way to vibrant forests. The south of the island is dominated by the Pitons, the jungle-clad twin peaks that symbolise St Lucia. They appear on umpteen post-cards depicting the Caribbean. Culturally, the island is an engaging mix, with Creole artlessness, Caribbean flair and French finesse being underscored by traditional British values.
Compare best hotels in Saint Lucia (December 2023)
The best regions for your hotel stay in Saint Lucia
Saint Lucia has special areas where you can spend time during your holiday. Choose one of the regions below. You can then find an explanation and view the available hotel offer. Also check out hotel accommodations in Mozambique & France.
Populaire plekken in deze regio:
Tourist information
English is the official language, but Creole patois is common-place. That is French and English vocabulary imposed on African grammar. St Lucia feels safe to travellers, but the people can be quite forthright, whilst not as "in-your-face" as Jamaica. They are as friendly as the people of Barbados, without being as primly British. Until recently, agriculture, chiefly bananas, was the mainstay of the economy. However, a World Trade Organization ruling puts this under threat, because by 2006, they must compete with massive US-backed Latin American companies for EU trade. St. Lucia and other small Caribbean countries have had preferential treatment from Europe in the past.
St Lucia is slowly converting to a more tourism-based economy and has its share of luxurious hotels and low-key traditional inns. It is also an extremely popular port-of-call for cruise liners. The capital, Castries, is  perfectly suited to the largest cruise ships, which dock at Pointe Seraphine Cruise Terminal, on the outskirts of the town. At the terminal, is a small precinct, with a choice of duty-free shops selling jewellery, designer clothing and local crafts. A variety of excursions are also available in air-conditioned mini-buses. Taxis also queue up, offering guided trips for those who prefer to look around on their own. Water taxis ply the harbour between the terminal and another duty-free mall, La Place Carenage.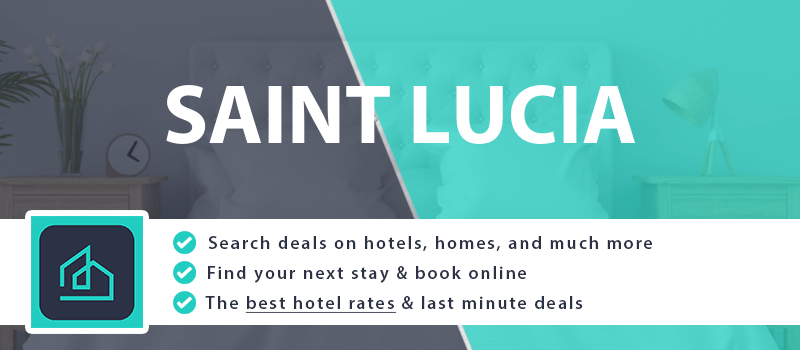 ---
Information on public transportation in Saint Lucia
Saint Lucia has an excellent public transport system. A good domestic airport is Hewanorra International Airport. Here you book direct and indirect flights. The national airline company is Delta Airlines. They offer good conditions. Possibly you can find a last-minute deal. On www.govt.lc you can find more information about: tourist tax, hospital care and residence permits (visas) and passports.
Average hotel prices
Saint Lucian hotel prices can be different every day. We offer a price estimate in the following table.
| Accommodation type | Prices |
| --- | --- |
| Budget hotel room | €71,00 |
| Normal room | €130,00 |
| Exclusive lodging | €320,00 |
| City trip | €390,00 |
| Dinner (per person) | €31,00 |
Expected rates for an hotel stay in Saint Lucia
Climate & Weather Forecasts December 2023
Saint Lucia is a beautiful country. We define the climate as a Wet equatorial climate. The normal annual temperature is 26,3 degrees centigrade °C. In winter it is a bit colder. It is then (on average) about 24,2 degrees Celsius. Temperatures rise during the summer. Assume 28,0°C degrees. Below we show the weather forecast for this week.
{{current_weather.dt | momentjs( atts.date )}}
{{current_weather.temp | temp}} °{{units}}
{{day.dt | momentjs(atts.date)}}
{{day.temp | temp}} °{{day.temp_min | temp}} °{{units}}
{{current_weather.temp | temp}} °
Humidity: {{current_weather.humidity}}%
Clouds: {{current_weather.clouds}}%
Wind ({{current_weather.wind.deg}}): {{current_weather.wind.speed}}{{units_wind}}
{{current_weather.desc}}
{{day.dt | momentjs(atts.date)}}
{{day.temp | temp}}°
{{day.temp_min | temp}} °