Book cheap hotels in Australia
The World Down Under offers a delicate beauty far and beyond the senses of avid travellers. Australia started its indigenous way of life, thousands of years ago, even before the famous Captain Cook landed on its pristine shores. Now, its antiquated lifestyle has been replaced with a twenty-first century metropolis, as exemplified by its effervescent cosmopolitan, Sydney. Sydney brags, aside from the high quality of life that it offers, one of the world's greatest harbours. Melbourne, on the other hand, is far more European in style, filled with trams and pavement cafes as well as vigorous sports and cultural scene. The coastal Darwin, Perth and Brisbane offer other amazing adventures to explore. Australia also boasts of a life of wide, sterile deserts, where kangaroos and emus bound through the dry environment, to tropical rainforests, rugged mountains and unsoiled beaches, perfect for environmental enthusiasts. Whatever the season may be, Australia is one of the must-see places where one can put aside their Crocodile Dundee cliché, and enjoy what the real Australia has to offer.
All you need to know about this destination
A wonderful holiday to Australia? This is a special holiday destination. There are many reasons: a wooded area, great restaurants, architectural landmarks and a wonderful culture. There are numerous hotels to book. You can book the cheapest budget hotels for €63,00 per night. Are you looking for a luxury accommodation? Then you have to count on an average of €139,00 per overnight stay. You can enjoy a sun holiday here with your family. You can also enjoy a great holiday here in winter. Book your cheap hotel room in Australia quickly online. Compare the best providers below and find the best deals.
| | |
| --- | --- |
| Country | Australia |
| Capital city | Canberra |
| Average hotel price | €102,00 |
| Local language | English |
| Currencies | Australian dollar (AUD) |
| Best time to visit | January to December |
| Number of inhabitants | 26.177.413 |
| Surface area | 7686850 km2 |
| Timezone | UTC+05:00-UTC+11:00 (NFT) |
| Leading airline | Qantas |
| Large Airport | Sydney Airport (IATA:SYD) |
| Government information | www.australia.gov.au |
Handy travel information
Are you booking a hotel for a trip to Australia? Below we offer some practical information. The capital of the country is Canberra. People pay here with Australian dollar (AUD). The Australian time zone is UTC+05:00-UTC+11:00 (NFT). The most common language(s): English. The country has approximately 26.177.413 inhabitants in the country. The total area is 7686850 km2. Most important information about electricity: the electricity is 230 V, 50 Hz and the plug type is I. The phone code is +61.
Compare best hotels in Australia (December 2023)
Special regions for a hotel stay in Australia
Australia has beautiful areas to spend a holiday. Choose from the available regions in the list below. You can then read additional details and check the possible hotel offers. Also explore hotel accommodations in United Kingdom & Hungary.
Populaire plekken in deze regio:
Main Attractions
Uluru (Ayers Rock)
It is the largest monolith in the world with a base that is 9 kilometers around and reaches 348 meters into the air. Uluru – Kata Tjuta National Park can be found 450 kilometers southwest of Alice Springs.
Great Barrier Reef
This is the largest and as claimed, the best diving reef in the world. The traveller's gateway to the reef is the party town of Cairns, along Queensland's northern coast. Tourists can enjoy scuba diving and snorkeling as this undiscovered world displays its beauty right before your eyes.
Monkey Mia
Located in Shark Bay, along Western Australia's coast, it is a protected World Heritage Area a solid day's drive north of Perth. 'Wild dolphins come into the shallow waters and swim around, delighting their audiences.
Daintree Rainforest
A haven to 30% of the nation's frog, marsupial and reptile species, 65% of the bat and butterfly species and 20% of bird species. The rainforest is located in the far north of Queensland.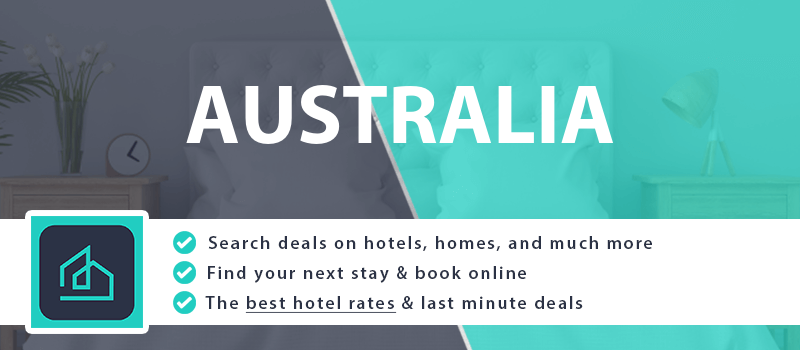 Information on public transportation in Australia
Australia has good public transport facilities. A good domestic airport is Sydney Airport. This is a very nice airport. The national airline is Qantas. They offer good conditions. Possibly you can find a last-minute deal. On www.australia.gov.au more background info is given about: tourist tax, police and emergency services and passport control.
Normal hotel prices
Australian hotel prices can be different every day. We offer a price estimate in the list below.
| Hotel class | Tariffs |
| --- | --- |
| Basic accommodation | €63,00 |
| Normal room | €102,00 |
| Exclusive lodging | €139,00 |
| City trip | €306,00 |
| Dining (per person) | €44,00 |
Indication rates for an hotel stay in Australia
Climate & Weather Forecasts December 2023
Australia is a versatile country. The climate can best be described as a Hot deserts climate. The average temperature here is 21,9 degrees centigrade. In winter it is a bit colder. It is then (on average) about 13,2°C degrees. In the summer it is warmer. Like 29,9 degrees Celsius °C. In the table below we show the weather forecast for this week.
{{current_weather.dt | momentjs( atts.date )}}
{{current_weather.temp | temp}} °{{units}}
{{day.dt | momentjs(atts.date)}}
{{day.temp | temp}} °{{day.temp_min | temp}} °{{units}}
{{current_weather.temp | temp}} °
Humidity: {{current_weather.humidity}}%
Clouds: {{current_weather.clouds}}%
Wind ({{current_weather.wind.deg}}): {{current_weather.wind.speed}}{{units_wind}}
{{current_weather.desc}}
{{day.dt | momentjs(atts.date)}}
{{day.temp | temp}}°
{{day.temp_min | temp}} °